Piling rigs and motor graders will be a major focus area for us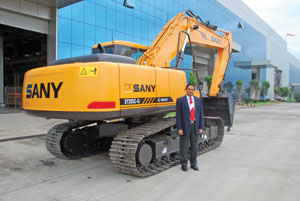 Piling rigs and motor graders will be a major focus area for us
01 Jan 2013 CW Team
TR Badarinarayan, CEO, Sany India
Meet the expert provider of construction machinery and services. Whether it is stationary pumps, truck-mounted concrete pumps, batching plants or concrete mixtures, Sany India has it all. In the first half of 2012, the 10-year-old company announced the acquisition of global concrete machinery enterprise Putzmeister. During the same period, it also inaugurated its first state-of-the-art fully integrated crawler crane product line. Evidently, the future outlook for the company appears exceedingly positive, as Editor-in-Chief PRATAP VIJAY PADODE discovers in conversation with TR Badarinarayan, CEO, Sany India. Excerpts:
Sany India has built the 6S service centre for customers. What is 6S all about?
Offering the customer sales, service, spares, school, survey and showroom is 6S. This concept has been very successful in China where we have 12 big 6S centres across the country. The premise is to move beyond the concept of just having the branch office as a mediator between the customer and the head office. So, this centre consists of a showroom where all products are displayed; demonstrations done, and training given after purchase. Market research is also done simultaneously and spare parts are available here. We plan to establish this concept in India starting from Delhi within a year. Being the first to initiate it, we will eventually spread to other metros. The basic requirement is a large area and good infrastructure.
What equipment do you offer in the Indian market?
When we purchased Germany-based Putzmeister last year, we did not want to duplicate it and confuse the customer. So, Putzmeister, under Sany, continues to do all the concrete equipment and run as a profit centre. Hence, in our Chakan plant, we don't do any concrete equipment as we did earlier. However, our focus is on three types of equipment relevant to India. Of these, one is excavators. We started with trading and are now slowly indigenising whatever we can. For instance, instead of getting the Cummins engine from China, we started using Cummins engines from India. When we introduced the excavator last year, we were at zero percentile of the market share. At the end of the 10th month, we reached almost 5 per cent. We made a small dent of 300-350 machines available in a wide range starting from 7.5 tonne to around 30 tonne. Also, 13, 20 and 21 tonne models are very popular across India.
How about the other two products?
The second product is crawler cranes; they have also made a good dent in the market. For this, last March we inaugurated a factory to make some of the components, like the boom, counterweight, etc. File production was successfully done. Going forward, we will do only that part and get the important things from China. However, at present, we are importing 100 per cent. With the market for crawler cranes being good in India, they are available from 70-80 tonne right up to 400 tonne. And we continue to have a good market share here. The third product is truck-mounted cranes or mobile cranes. With our market share being about 10 per cent, we are again importing all the requirements. However, we still need to grow as this will be a big business in India.
What is your market share in crawler cranes?
In crawler cranes, there are two or three segments: small capacity, mid-size and large capacity. We have a good market share of about 35 per cent in the small and mid-size capacity. In large capacity, we could be at about 8-10 per cent. Also, small crawler cranes are the requirement in India. Large and very high capacity cranes, the dominant market in Europe, are slumping now. So we have to wait for the new budget, government and infrastructure policies to spur the business for crawler cranes.
What are the distinguishing features in your cranes in terms of safety?
First, our mobile cranes are mounted with the best-in-class chassis. Also, all components crucial for truck-mounted cranes are brought in. This is where we differ from Chinese manufacturers. We use international, renowned brands for our engines and hydraulics. When it comes to safety, this is the selling point. We take utmost care not just to safeguard the person near the machine, but also people around it. We have a video screen to view all operations step-by-step that makes working safe and comfortable.
According to you, are existing safety norms self-sufficient?
At present, existing norms for both crawler and mobile cranes are stringent. Some European norms have now become widespread and are seen as international norms. However, safety is applicable to everybody, in India or abroad. The manufacturers' association is doing a good job and continues to strive to make these norms simpler.
How are you tackling the issue of availability of trained operators?
We have built a training centre in our campus that will be operational soon. The idea is to train both buyers and operators. Going forward, we plan to hold examinations to give ratings and certifications to operators, qualifying them for other opportunities.
As you import a whole lot of equipment here, what is the impact of the volatility in forex?
This is a problem for everyone. Pricing becomes volatile for each one of us when it comes to buying bits of components or depending on raw materials, etc. I lose out when the market determines the price and I am not able to be competitive. Unfortunately, this is the worry for all manufacturers.
But is there no system of stocking?
Within the framework, there is a mechanism from the RBI with forward trading. At times, if the dollar comes down, we still have to pay higher. But this has to be balanced out. This is part of routine finance for some companies. However, at times we do forward trading when the dollar exchange rate looks reasonably low and we feel it might go up. But that's not a solution.
With regard to concrete equipment, is your range now just Putzmeister or Putzmeister and Sany?
The range includes Putzmeister and Sany. Initially, Putzmeister only specialised in concrete pumps. They did not have the batching plant and transit mixer, which Sany had. Hence, we have now passed that on to Putzmeister.
So, how has the progress been?
This is a well-managed and professional company with efficient people in Goa and they continue to manufacture as they always did. In addition, they are also using our transit mixture and batching plant. There will be immense progress because even with the market moving slowly in India, concrete is a fundamental requirement.
Any technological changes taking place in concrete equipment?
Technology has taken huge strides in terms of efficient and economical ways of mixing, high level of computerisation in batching plants, etc. In the case of transit mixtures, earlier 4 cu m was a big thing to have; 6 cu m was considered luxurious. Now, 6 cu m is basic and people have moved to 8 cu m. Also, the required chassis is available in India. This is certainly economical in terms of transportation. And for transit mixers, prices are balanced because of large imports or large volume base.
How do you see the market now?
We are positive; when the cycle has come to the bottom, we hope it will climb up. If not, it will be the end of the road for all of us. Personally, I feel the market will improve if the Budget and the Government are in place. Keeping in view the 2014 elections, there has to be a little homework done on the committee's side. The Government of India has to make sure how the country is to be shaped. If we are not in the race 2014 onwards, we are out of the race totally with the global economy. However, 2013 will be the turning point, especially the first quarter.
In terms of managing costs, are there any new initiatives in the works?
This is an everyday job for us and it's challenging. It is difficult to earn profits unless we gear up to initiatives like increasing efficiency. We may not increase the number of people but, at the same time, we are not losing out on talent.
How has Sany India performed so far?
In my one-year association with Sany India, I have contributed to economising, improving efficiency and building the team. We have managed to cut down cost without compromising on our traditions and principles. In some cases, we have succeeded to an extent; the impact may be about 5 per cent. However, we still have to go a long way.
Any new products or plans for 2013?
At present, we have piling rigs and motor graders as part of Sany India and this will be a major focus area for us. We are trying to make improvements for it to suit Indian conditions.
Could you share the mix in terms of ratio proportion of investment or source utilisation?
Considering that about 50 per cent will be in exports, excavators will be 50 per cent, cranes 35 per cent, and the balance will be piling rigs and motor graders.