Bedroom furniture that's not just for sleeping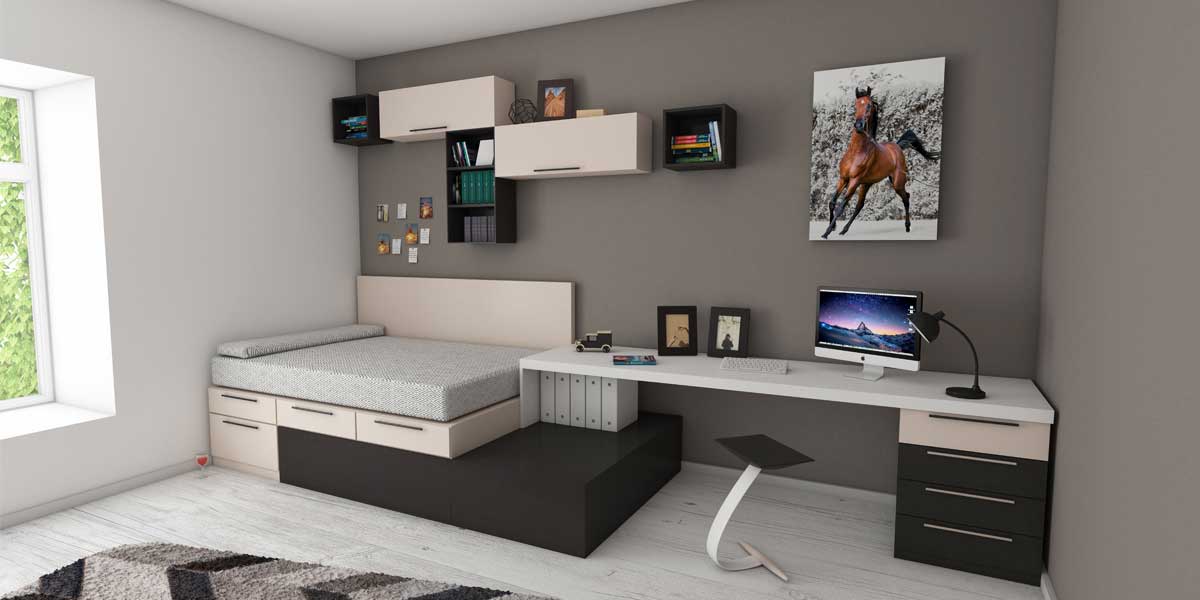 Bedroom furniture that's not just for sleeping
25 Jan 2022 CW Team
Have you ever wanted to add some furniture to your space but couldn't accommodate it? Most homes have space constraints, which limits your ability to play around with the furniture in your home. However, what if we told you, you could revamp your bedroom furniture and make it more functional? Yes, it is possible! With these multifunctional furniture ideas for your bedroom, it is possible to transform your bedroom and create a more functional yet aesthetic space.
"Furniture is the backbone of interior designing; without good or smart furniture it is difficult to fit utilities in small cranked up space. Like every other human we all desire to have a dream house inspired from Pinterest and fancy blogs site. Living in large cities with smaller homes may not accommodate your wishes, but fit in all your accommodation at small cozy spaces, one always looks up to multifunctional furniture" says Dhwani Kanani, Independent Interior Designer.
Shelf floor lamp
When creating a lighting plan for your room, floor lamps are a great way to add accent lighting. However, you can utilize the space used by a floor light more efficiently and opt for a lamp with shelves. A floor lamp with shelves is great as it illuminates the room from a height while giving you a display area. You can use it to store books, display plants and other decorative pieces. You can also replace your bedside table and lamp with this floor lamp shelf. The lamp can illuminate your room at night, while you can use the shelves to store your knick-knacks.
Bedroom bench
Bedroom benches make for a great multipurpose piece in your bedroom. They create extra seating space, provide storage and are also super chic. Adding a bedroom bench at the foot of your table acts as a great accent piece. It can be a great place for you to get ready and can also be used to store shoes. Pick your bedroom bench in a bright colour or opt for the accent colour in your room.
Folding table
A folding table has to be the most versatile piece of multifunctional furniture you can add to your bedroom. A folding table can be used as a study table or a dressing table. You can add shelves inside the folding table and use that space to stash your products or electronic items. This table can be opened when in use, and folded back whenever needed. It helps clear out a lot of walking space and makes your room look more open.
Under the bed storage
As beautiful as floating beds look, they aren't very practical. If you are short on space or need additional storage space, under the bed storage is a life saviour. Hydraulic beds are equipped with storage and are easy to access. It adds an ample amount of space to store your bedsheets and duvets along with any extra items you may want to be kept safely.
Window seat
If your home has windows that cover half your wall, the space under them is usually unused. Instead of adding a cabinet or a dresser, it is a better idea to transform it into a beautiful seating area. You can add cabinets below the window and add cushy seating on top of it. This makes for a beautiful seating nook and also creates additional storage.
According to Dhwani, independent interior designer, "Some pieces of furniture are combined and turned into one compact object allowing it to consume less space. Like, several chairs combined into one, turning a table into a compact cabinet, folding the bed into the wall or having sofa just underneath the bed. Also, some furniture make life easier when connected to Alexa or Google Home. It benefits a lot of people who can have multipurpose things working at the same time".
"In general, there are pros and con to everything so does multifunctional furniture. Some people don't find it economically viable to buy such expensive furniture, also some are concerned about its durability. Occasionally, the mechanism of multifunctional furniture tends to break down, and one thing that holds the system fails to serve its purpose. So, it ends up being a liability in terms of convenience" she adds.