Luxury bedrooms by A Square Designs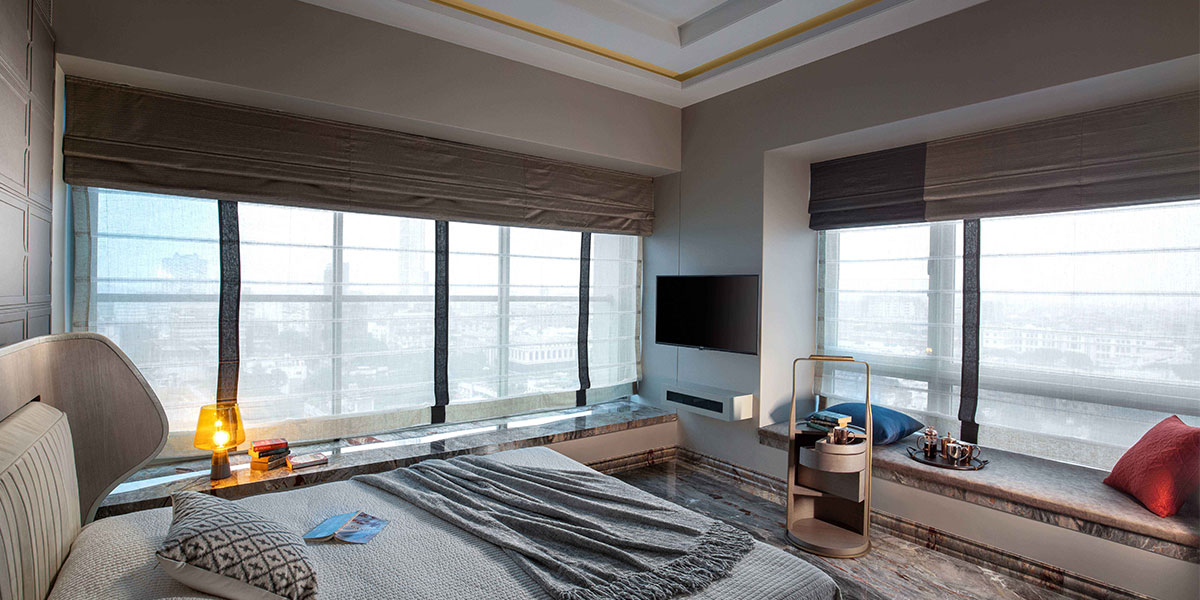 Luxury bedrooms by A Square Designs
08 Nov 2021 CW Team
Muted colour palettes peppered with bright tones evoke soothing and relaxing environments in these bedrooms. Interesting wall paneling and headboard designs add details to the otherwise minimal aesthetics of the rooms that rely on superior materials and exclusive design features to evoke luxury.
Modern opulent bedroom
The high headboard and elaborately designed paneling of the bed back wall set a rich backdrop to this bedroom covered in a gorgeous marble flooring. Set in a muted palette, this bedroom exudes a luxurious opulence. The bedside table has a chic design with statement knobs that add a design element to the room. On the contrast of the dark table top, sits a white bedside lamp that's both aesthetically pleasing and illuminates the room.
A designer rug at the side of the bed, seamlessly blends with the marble flooring while adding a little bit of texture to the space. A window seating next to with its bottom similar to that of the flooring is elevated with some cushions and the with drapes, that blend with the theme of the room.
Regally luxurious bedroom
The regal blue of the upholstery of the bed and the lounger brings an eye-catching element to this room. Pedestal side tables of two different heights add a classical touch. In contrast to the bed and the lounge is the flooring of this room in a dark coloured marble. A grey carpet blends with the furniture of the room and creates an elevation of the aesthetics of the room.
The floor to ceiling glass window floods the room with natural light. Printed blinders add to the beauty of the room.
Quirky chic bedroom