Monochrome bedrooms by Essentia Environments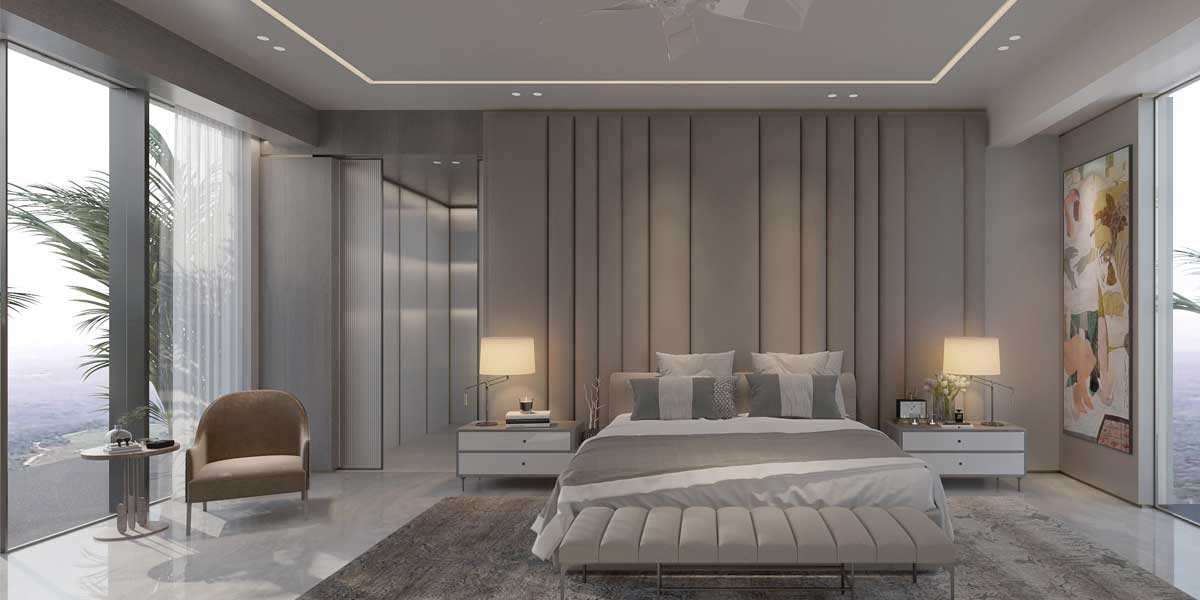 Monochrome bedrooms by Essentia Environments
21 Oct 2021 CW Team
Bedrooms with designs that are unhurried, intentional and thoughtful, create sanctuaries of calm and elegance in a home. The neutral backdrop and minimal design highlight the use of exquisite of the finest materials used in curating these bedrooms.
Each room is painted in shades of beige, whites and greys as their base building a depth in each one of them and tying the ecosystem of the bedroom together. This creates a welcoming and warm environment. The palette is muted however, fine quality of every building material, furnishing and design elements screams luxury and elegance.
Design elements in monochrome bedrooms
These monochrome bedrooms have beautiful modern chandeliers mounted from the ceiling as the centre piece of the room, claiming attention and adding an element of design. These chandeliers besides being illuminating light fixtures, create a dreamy atmosphere. The bedside lamps are also a functional-designer element to the bedroom that are useful and aesthetically pleasing as well.
To break the monotony of the muted palette of these bedrooms, modern abstract wall art is displayed on their walls. These art pieces in complementary colours to the palette bring life to the space and add a dash of colour to it. They are large and cannot be missed also highlighting the various seamless features of these bedrooms.
Furniture and furnishings
Custom made furniture, from couches to lounge chairs, fit seamlessly in these bedrooms adding the right silhouettes to the space. Designed to suite the theme of the room, these furniture pieces have modern cuts and are upholstered in the same palette as that of the room. They are monotone and muted in nature.
The carpets or rugs in the room are textured or shaded in the colours of the room to make a slight differentiation in space of the room and yet flawlessly fit inside of it without creating a contrast.
The monochrome bedrooms by Essentia Environments exude luxury, craft, style and elegance with minimalistic design elements and modern touches.
Also read
https://www.constructionworld.in/latest-construction-news/real-estate-news/interiors/bedroom-elegance-redefined/29491
https://www.constructionworld.in/latest-construction-news/real-estate-news/interiors/modern-elegant-living-room-by-inhabit/29489

You have 2 FREE Article(s) left
Access Unlimited Content with

Subscription