ABB launches high-output motors in India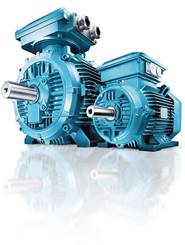 ABB launches high-output motors in India
ABB India announced the launch of a new range of low voltage, high-output, International Electrotechnical Commission (IEC) induction M3BP motors for its industrial customers in India. These induction motors are compactly designed and require minimum space, thereby reducing the total size of the equipment and cost of ownership.
The M3BP motors are made-in-India process performance motors that deliver an output ranging from 75kW to 560kW and are offered in 280 – 355 frame size. Their compact design enables easy installation, commissioning, and maintenance. ABB's presence in segments such as cement, pulp & paper, metals, water & wastewater and applications including, compressor, fan, crane and pump crusher is expected to further strengthen after the launch.
As mentioned by Sanjeev Arora, President, ABB Motion India, the motors are manufactured in their factories located in Bangalore and Faridabad.
These process performance motors are designed and built in line with the M3BP motors that are available at ABB's global factories. They are used to power heavy duty applications in tough environments and to operate critical processes with minimum downtime.
ABB is a global engineering company based in Oerlikon, Switzerland. They have been connecting software to its electrification, robotics, automation and motion portfolio since the past 130 years and more.
Opinion Poll
Question : As we enter FY 2021-22, a report estimates a 11% GDP growth. What is the most critical investment the construction and infrastructure sector needs to make this year?