Bundelkhand Eway: Ashoka Buildcon lays 12,700 tonne of DBM in 61 hours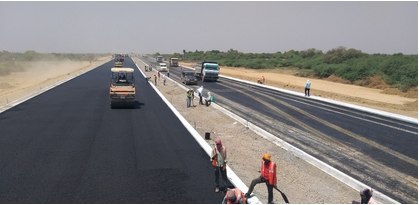 Bundelkhand Eway: Ashoka Buildcon lays 12,700 tonne of DBM in 61 hours
May 26 2021,09:05 AM CW Team
Bundelkhand Expressway is a 296 km long, four lane wide (expandable to 6) access controlled expressway in the state of Uttar Pradesh, India. It will connect Gonda village in Chitrakoot district with Agra–Lucknow Expressway at Kudrail village in Etawah district.
It is being developed by the Uttar Pradesh Expressway Industrial Development Authority (UPEIDA), Government of Uttar Pradesh with an estimated cost of Rs 14,716 crore (including land cost). The project was launched in April 2017 by the Chief Minister of Uttar Pradesh, Yogi Adityanath.
Ashoka Buildcon Limited is constructing one of the six packages (Package III) in this Bundelkhand Expressway. This package stretches 49 kilometers from Kaohari (Dist. Mahoba) to Baroli Kharka (Dist. Hamirpur) in Uttar Pradesh at an estimated cost of 1079 Cr.
Continuing its tradition of setting new benchmarks in the construction industry, Ashoka has once again demonstrated by successfully laying 12,700 tonne of DBM, non-stop, in a span of 61 hours. This resulted in the construction of 2.19 km of four lane dual carriageway.
This achievement is the result of collaborative efforts in meticulous planning of procuring all materials on time , allocating appropriate human resources for the continuous operation, ensuring plant and machinery in working condition besides applying risk mitigating strategies such as keeping the spares on standby to minimise disruptions, ensuring safety of workmen etc.
Contingent Plan to achieve this mission was also in place by deploying OEM crew of Pavers and Hot mix Plant to ensure continuity in this mission.
This mammoth task was achieved due to complete support of UPEIDA which is being led by its CEO, Mr. Avinash Awasthi along with Chief Engineer Mr. Manoj Gupta. The effort included participation of PIU consultants M/s ICT Ltd. and External Technical Auditors M/s RITES to create the history.
The mission kicked off in the early hours of April 16, 2021 and was completed late in the evening of April 18, 2021. It was a power packed effort where Man and Machine were put to test in a race against time. About 20 engineers and managers, 32 surveyors and supervisors, 20 Quality Control personnel, 200 operators and drivers and more than 70 labours were deployed across the three days to accomplish the task. The fleet of mechanical assets used included two hot mix plants (200 TPH), Sensor Pavers (11.50m width), 5 Tandem Rollers, 2 Pneumatic tyred Rollers and about 150 dumpers for the transportation of bituminous mix.
---
Also Read: Awanish Kumar Awasthi: Purvanchal Expressway project to be completed between June 15-30
Opinion Poll
Question : How can India stem inflationary trends likely from the currently all-time-high steel prices?