AAI floats O&M tender for 1.5 MW rooftop solar at Chennai Airport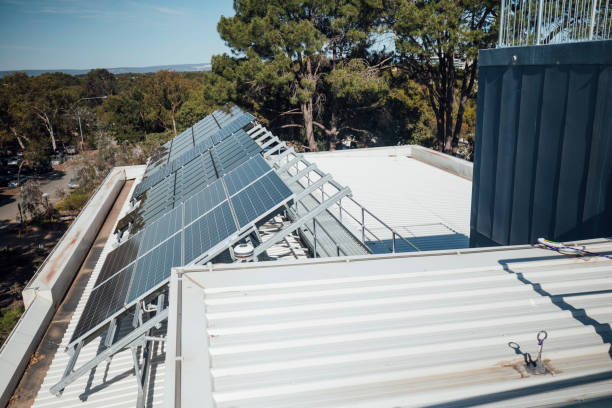 AAI floats O&M tender for 1.5 MW rooftop solar at Chennai Airport
May 19 2021,06:05 PM CW Team
Airports Authority of India (AAI) has invited tenders for facility management and comprehensive operation and maintenance (O&M) of the 1.5 MW grid-connected rooftop solar plant at the integrated cargo complex of Chennai Airport. The tender contract will include a period of three years, from 1 August 2021 to 31 July 2024.
The evaluated amount of the contract is Rs 16.3 million. The last date to present the tenders is 31 May 2021, and tenders will be unfolded on June 2. Interested contractors will not have to pay any earnest money deposit to engage in the bidding.
The bidder should have a background and experience in the O&M of a grid-connected solar power plant of capacity not less than 1.5 MW during the last seven years. The bidder must have experience fulfilling three works of 40% of the estimated expense of the contract, or two works of 50% of the approximated cost of the project, or one work of 80% of the project's estimated cost.
The cost of produced works should be led to the current costing level by increasing the actual cost of work at a simple rate of 7% per annum, computed from the last date of tender submission to the date of completion of the contract.
The bidder's average financial income should be at least Rs 1.56 million during the last three financial years, and the bidder's net worth should be Rs 778,993.
As per the installation specifications stated, there are 4,850 solar modules of 310 W capacity provided by Emmvee and two grid-tied inverters supplied by TMEIC of 750 kW respectively. The installation was performed by RelyOn Solar, which was responsible for the O&M of the system for three years until 30 April 2021. The extended contract period is programmed to complete in July 2021.
Earlier, AAI opened a tender for comprehensive O&M of a 2 MW of rooftop solar project for three years at the Netaji Subhash Chandra Bose International Airport in Kolkata.
Previously, AAI had declared a notice inviting contractors for the operation and annual comprehensive maintenance of a 300 kW solar PV power project. The tender was for three years, with the project placed in Prayagraj in Uttar Pradesh.
---
Also read: Madhya Pradesh floats tender for grid-connected rooftop solar projects
Also read: Bids invited for rooftop solar projects with net metering
Opinion Poll
Question : How can India stem inflationary trends likely from the currently all-time-high steel prices?