Loans worth Rs 12,696 crore sanctioned by IREDA in 2019-20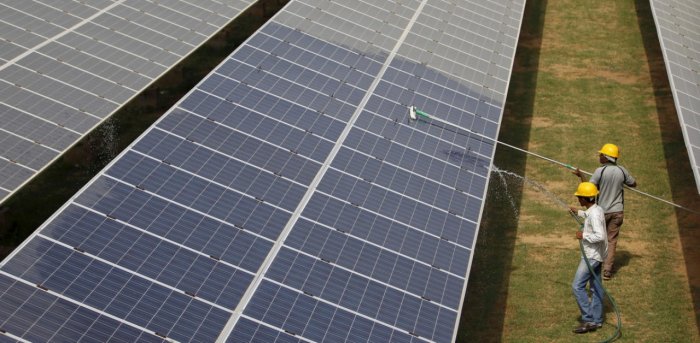 Loans worth Rs 12,696 crore sanctioned by IREDA in 2019-20
As per a statement issued by the Ministry of New & Renewable Energy, the Indian Renewable Energy Development Agency Ltd (IREDA) has sanctioned loans worth Rs 12,696 crore and Rs 8,785 crore has been disbursed, in support of capacity addition of 5,673 MW during 2019-20. The annual accounts for the financial year 2019-20 were adopted at the 33rd Annual General Meeting (AGM) of IREDA, the PSU under the Ministry of New & Renewable Energy (MNRE), held on November 11.
Pradip Kumar Das, Chairman and Managing Director (CMD) of IREDA, while addressing various shareholders and directors, brought into attention the PSU's performance in the financial year 2019-20. At this briefing, he notified them that the company's net income witnessed an overall increase to haul an eventual figure of Rs 2,372.38 crore. In the process, IREDA registered a growth of almost 17.32 %. Overall the company's transactions entailed
sanctioning loans worth a total sum of Rs 12,696 crore
.
The statement added that in a bid to lend support to a capacity addition of 5,763 MW, IREDA has further shelled out an additional Rs 8,785 crore, also during the course of the current financial year.
The loans authorised in the course of the current financial year serve the purpose of supporting a capacity addition of almost 5,673 MW in this year, a figure that exceeds the statistic of 3,266 MW that was registered in the
fiscal year 2018-19
. Additionally, the sanctioned loans will be comprising takeover loans as well as other co-financed projects.
In his address, the
CMD further brought into the spotlight
the fact that the nation's green energy portfolio is registering a consistent growth in terms of both quantity as well as quality. With various policy motions of the government in places such as Solar and Wind hybrid technologies, Offshore Wind energy, Pradhan Mantri Kisan Urja Suraksha evem Utthan Mahabhiyan (PM-KUSUM) Scheme, Biofuels like Compressed Biogas and Ethanol, Solar rooftop program, E-mobility and associated infrastructure, and others, the green energy portfolio is poised to get an additional boost as well, he added.
He also mentioned that IREDA will carry on with its efforts for securing novel lines of credit along with the cooperation of various multilateral and international lenders in a bid to satisfy the resource needs of the Renewable Energy sector. Further, the IREDA will also keep at its efforts of raising funds from various relevant sources and devote itself to the establishment of numerous alternative financial mechanisms.
Opinion Poll
Question : How will the Union Budget 2021-22 impact EPC projects?