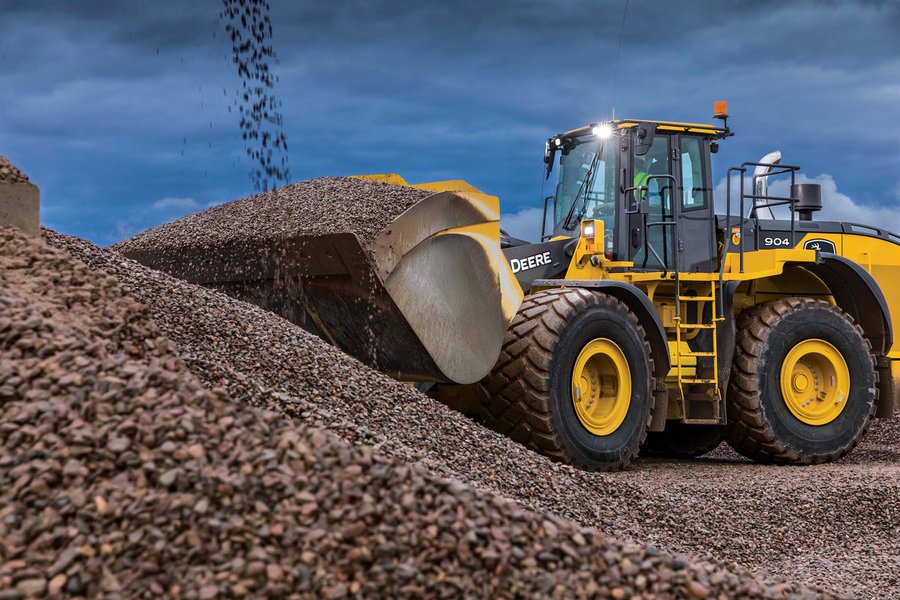 John Deere launches 904 P-Tier wheel loader at World of Asphalt
04 Apr 2022 CW Team
John Deere unveiled its 904 P-Tier wheel loader under its new naming system at World of Asphalt this week to expand the naming to most of its L Series loaders.
G, P, and X are the three-tier levels used in the naming system for equipment. The company is also introducing an industry-first: wider rear views from the machine to improve situational awareness among operators. According to Luke Gribble, Deere's solutions marketing manager for loaders and aggregates solutions, the tiers will be rolled out to all of the company's large loaders later this year, except the 944K hybrid wheel loader. The P-tier for wheel loaders has the same advanced features as the L Series models from the company. G stands for budget models, while X stands for the company's most cutting-edge features and hybrid diesel-electric technology. Those letters take the place of the letter that appears after the model number. The 904 P-Tier has replaced the 844L Aggregate Handler, but there are a few differences between the two. In addition, the 904 P-Tier has more horsepower, breakout force, and hydraulic pressure. Deere required a larger bucket to fill a standard 24-ton truck in two passes. The bucket capacity ranges from 9.3 to 9.8 cubic yards. To support the added weight, Deere increased the counterweight and added larger tilt cylinders to the front of the loader. According to Gribble, the company also gave it wider tyres for added weight and stability. Deere also provided high-capacity, heavy-duty axles for the 904 P-Tier. Other fuel-saving features include a more fuel-efficient engine, lockup torque converters, and a dedicated steering pump. Auto-idle is a standard feature. It has a 429-horsepower engine and weighs 80,905 pounds when fully loaded. The full turn tipping load is 52,214 pounds, and the hinge pin height is 15 ft 2 inches. Hydraulic controls are mounted on the seat of the 904. Spill guards and curved side cutters are built into the material buckets.
Image Source
---
Also read:
John Deere launches 350 P-tier, 380 P-tier midsized excavators
Opinion Poll
Question : what is your impression of work in the construction industry?