Burj Al Arab Unveils Newly-Refurbished Lobby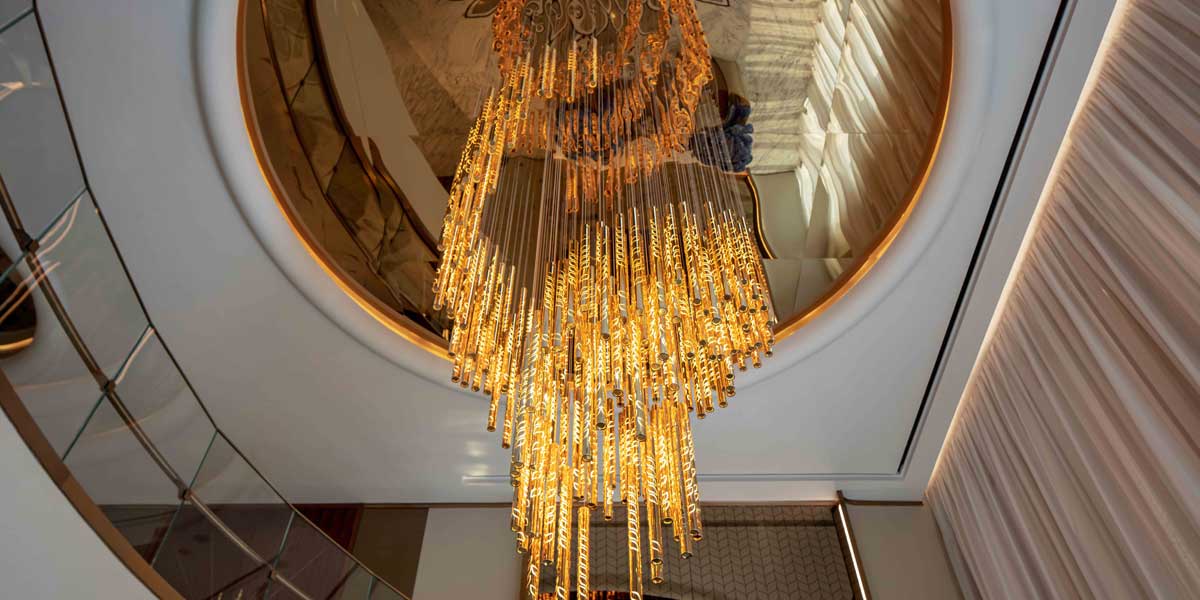 Burj Al Arab Unveils Newly-Refurbished Lobby
11 Nov 2021 CW Team
Sans Souci, a Czech designer and maker of glass lighting and architectural installations, debuts its latest lighting work at Dubai's new Burj Al Arab lobby in 2021. The beautiful chandelier, which is made up of 210 crystal tubes and weighs roughly 450 kilos, was developed from Sans Souci's distinctive Symphony line.
The piece elegantly blends traditional craftsmanship with cutting-edge nanotechnologies. Each glass tube was coated in gold and etched with a unique leaf design borrowed from the luxury hotel's wallpaper using cutting-edge methods.
The beautiful spiral chandelier is the custom showpiece for the newly rebuilt Exit Lobby, which was designed by KCA International for Jumeirah Group. The installation's design makes use of light to create a luminous work of art in the new space's centre.
"Burj Al Arab is a globally-recognised symbol of Dubai and luxury so we were delighted to work on this project." commented Elie El Khoury, Managing Director of Sans Souci Middle East. "We wanted to create a unique installation for the new interior that embodies the opulence of this iconic hotel."
Jiří Krišica - Head of Design at Sans Souci, added "The core design for this piece is taken from our Symphony collection and we then worked with the design team to create a truly unique chandelier that highlights the stunning interiors of the hotel. The final effect is an installation that plays with light and shade, creating a beautiful focus for the space."
The new Exit Lobby at the Burj Al Arab will open to the public for the first time next month. This exhibit will join the W Hotel-The Palm, Waterfront Market, Central Park Towers in Dubai, and Al Rayyan Hotel in Doha on Sans Souci's Middle East project list.