Charming modern classic living room by Inhabit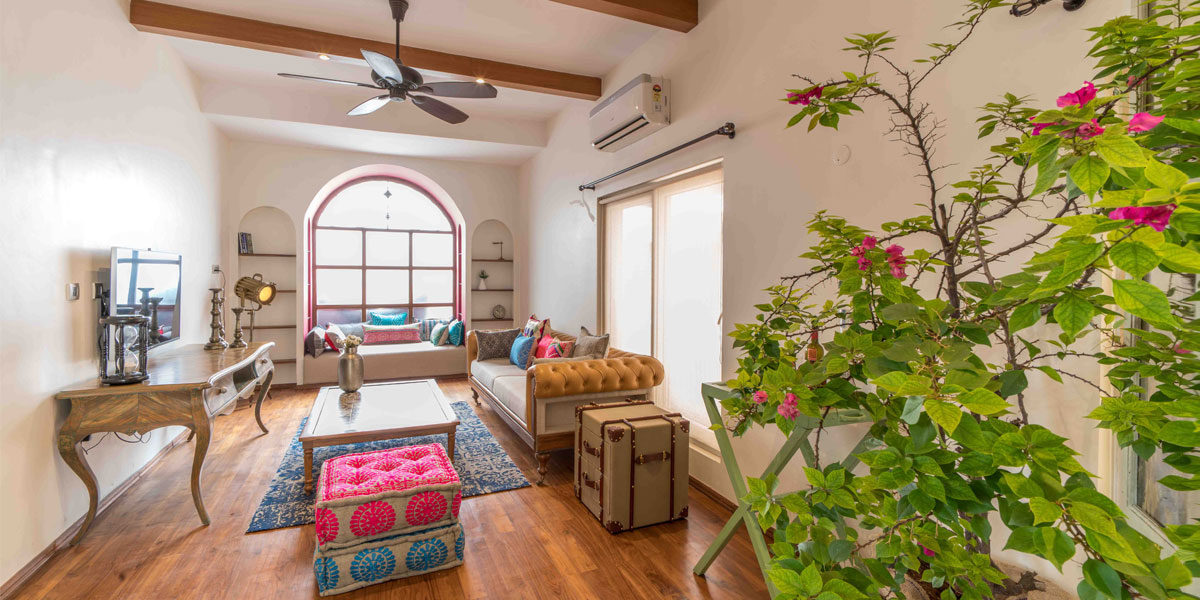 Charming modern classic living room by Inhabit
14 Oct 2021 CW Team
Graceful arches, wooden beams in the ceiling and reclaimed teakwood flooring create a warm and inviting vintage-inspired space. Arches used in this modern set-up enhance the height of the ceiling visually, leading to an expansive feeling. Flooded with lots of natural light, the living room comes alive with bursts of bright colours and a large, flowering plant. The resultant interiors are eye-catching, vibrant and soothing.
The wooden furniture has curvatures and turned legs, polished in browns setting them in close proximity to nature. The distressed painting on the furniture brings a delightful, old-world charm to this modern set-up. Setting up tall indoor planters adds that touch of nature to the room giving it a splash of vibrance and adding to its charm.
The décor of this living room is an elegant blend between vintage and modern charm. A simple old-school vase with flowers on the coffee table, a sand timer on the side console and old belted trunks stacked upon each other next to an iron lantern bring depth and character to the room.
One wall of this living room has a large window with glass from floor to ceiling in a pink frame. This floods the room with natural light. On either side of this large window are grooves in the wall that are also used for décor or storing books. This living room has colours from the soft furnishings and plants coupled with muted tones of colour in the furniture and wall shades.
Also read:
https://www.constructionworld.in/latest-construction-news/real-estate-news/interiors/rustic-bedrooms-by-sanjyt-syngh/30059
https://www.constructionworld.in/latest-construction-news/real-estate-news/interiors/expansive-luxury-living-rooms-by-essentia-environments/27115
You have 2 FREE Article(s) left
Access Unlimited Content with

Subscription