Exquisite Launches Will Ramp Up Your Home Decor Game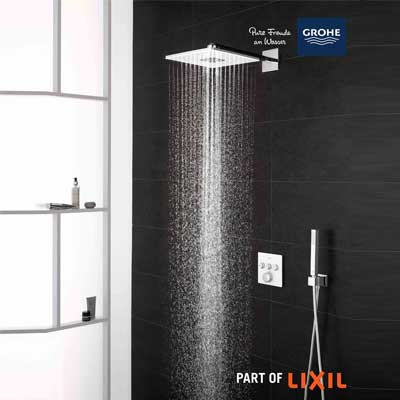 Exquisite Launches Will Ramp Up Your Home Decor Game
15 Nov 2021 CW Team
SmartControl Concealed by GROHE :
GROHE, a world leader in sanitary fittings and a part of the LIXIL Group, produces SmartControl Concealed. It's a sleek, user-friendly shower control system that lets you run your shower with only a click of a button.
SmartControl Concealed, with its flat, streamlined shape, provides precise control while being simple to clean, and it works with a broad selection of head and hand showers to give you all the design options you need.
With a wall plate that is just 10mm deep and controls that reach only 43mm from the wall, GROHE SmartControl Concealed packs a lot of performance into a little space. SmartControl Concealed also has a built-in sealing technology to prevent water from penetrating the wall.
With SmartControl Concealed, you can control up to three showers with just one trim. With a GROHE Rapido SmartBox, you can install up to three SmartControl valves, as well as a thermostat or mixer, in one trim, allowing you to operate two head shower sprays and a hand shower from one location. SmartControl Concealed simplifies more than just switching between showerheads or combining them. Water flow may be precisely controlled thanks to the integrated volume control. The flow is started or stopped by pressing the button, and the volume is adjusted by turning the knob. It couldn't be simpler to use with easy-to-read, straightforward symbols.
Even the aesthetics of the GROHE SmartControl Concealed are designed to produce a pleasant shower. It's available in two distinct designs – round or square – and two different finishes – a stylish chrome and a sleek Moon White acrylic glass.
Adjustable Table Fittings by Hafele
Our way of life is always changing in response to new places, changing times, and growing technology. With simply a tap, click, or swipe, we can have access to and manage practically every element of our life. While technological advancements are generally positive, they may foster a sedimentary lifestyle in some people, particularly those who spend a lot of time on laptops or computers. The inescapable remote and work from home situation has resulted in a massive increase in inactivity, which may not be good for our physical and mental health in the long run.
Recognizing the current trend Smart height adjustable table fittings from Hafele are ergonomically engineered to provide you with the most flexibility and comfort. Alti 120 and Alti 80 are two versions in this series that may be deployed anywhere a workstation is needed, including workplaces, commercial business centres, shared workspaces, colleges, and households.
This range allows you to adjust the height of your worktable to your preference; while sitting, it helps you maintain proper posture to avoid back problems or muscular or eye strain, and while standing, it helps you burn calories by boosting your cardiovascular activity. Constant movement decreases the development of adverse risk factors that can lead to obesity, thrombosis, diabetes, and high cholesterol by adjusting the amount of stress placed on the body and increasing particular body part rest periods. This increases mental wellness as well as productivity.
Alti 120 is a two-legged table system that is excellent for bigger places such as offices and commercial spaces, whilst Alti 80 is a one-legged table that is great for bedside corner desks or smaller locations. The tables may be controlled using their dedicated handsets or the AiDesk mobile application through Bluetooth.
This programme allows you to keep track of how much time you spend sitting and standing, as well as how many calories you burn in a certain period of time. The provided handset for the Alti 120 includes extra capabilities such as the ability to keep your favourite settings in the memory option and USB charging. With Hafele's Height Adjustable Table Fittings, you can lead the revolution and embrace a better, more convenient, and ergonomic working style.
Arlequin Collection by Saint Louis
Saint-Louis crystal has been a permanent feature in elite dining rooms, imperial palaces, and presidential feasts throughout the world since King Louis XV gave it his royal mark of approval in 1767. Saint-Louis crystal vibrates with the tremendous genius inherited from history and the remarkable creative fantasy inspired by contemporary trends. It is unrivalled, thick, clear, sonorous, and dazzling, born of a ball of fire and the breath of man.
Saint-Louis is the manufacturer of its time, a combination of history and creativity that never stops drawing inspiration from current aesthetic trends to update and create its character. External designers such as Paul Nicolas, Jean Sala, Jean Luce, Michel Colle, and Maurice Dufrêne, to mention a few, contributed their talents to Saint-Louis during the surge of innovation that swept through the early twentieth century, between Art Nouveau and Art Deco. The gorgeous Arlequin Collection is unveiled by this renowned company, which is available at Emery Studio.
The Arlequin Collection, named after the legendary Commedia dell'arte figure Harlequin, features a wide selection of colours. From a deep dark blue to a dazzling amethyst, from a two-light sconce to a 36-light chandelier, every piece will add a splash of colour to your space.
In 2019, the line is expanded with three horizontal chandeliers in five distinct colour palettes, following the new chromatic associations of 2016. The Arlequin Collection is a collection that emphasises cuts and colours in a variety of sizes that may be used in a variety of interior design projects. The stunning Arlequin Collection is ideal for enhancing any decor, regardless of size or style. This unique lighting collection is both awe-inspiring and full of personality.
Statement Chairs by Inhabit
Neeta Kumar, furniture and interior designer, and founder of Inhabit, has carved out her own niche in the interior design industry with her acute anti-minimal and fiercely innovative approach to design. She just debuted a collection of eye-catching statement chairs. Every piece is painstakingly crafted from recycled teak wood and features an outstanding design appeal.
This collection includes statement chairs constructed of reclaimed teak wood and natural burlap, which gives the pieces a little of edginess. The classic pieces include striking silhouettes and earthy tones, as well as the brand's signature high-quality woodwork and upholstery. The chairs are effortlessly beautiful and a tribute to Inhabit's commitment to creating furniture that is ecologically friendly.
The statement chairs in this collection are comprised of reclaimed teak wood and natural burlap, giving them an edgy feel. The classic pieces have bold shapes and earthy tones, exhibiting the brand's high-end woodwork and upholstery. The chairs are just stunning, and they demonstrate Inhabit's commitment to producing furniture that is both ecologically friendly and long-lasting.
Camélia Collection, Daum by Emery Studio
Daum, the famed glassmaker maestro, has maintained a love relationship with the greatest painters of the period since 1878, giving their work a second life of crystal and colours. Daum has not missed any of the magical meeting of creative invention and modern savoir-faire, which has always renewed the union of art and art craft, from the Ecole de Nancy to Art Nouveau to Art Decoratif, from Majorelle to Dali, Arman and Hilton McConnico.
Few businesses have collaborated with as many artists: for almost 140 years, over 350 extraordinary signatures have formed an unrivalled history, a one-of-a-kind collection. How can those works be translated into crystal sculptures? Daum's secret, shaper of the exceptional, highly knowledgeable workshop, wonder laboratory, and creator of exquisite goods, is hidden here. Emery Studio is launching the Daum Camélia Collection this year.
Daum introduces a new camellia-themed series to its flower collection. This flower may blossom in a variety of locations and settings whether used as the focal point of a table centrepiece, vase, mirror, or perfume bottle. Daum's studio has let its imagination run wild to produce a stunningly delicate collection.
Camélia includes a magnum piece with asymmetrical decorations on both sides, a large vase with blossoming petals, a centrepiece dish revealing the flower's heart and pistils, an Art Nouveau-inspired vase embossed with the iconic flower, a small 15cm vase, a mirror cradled in a stunning pink crystal camellia, a table-top flower, and finally a small bowl that can be displayed within the assortment's larger dish.
Each of these items was meticulously carved by the brand's artisans before going through a colour selection procedure. The brand wants to showcase the 1970s with this new collection and pay respect to women's empowerment and chutzpah.
Camellia is a flower with a lot of personality, as visually striking as it is delicate and peaceful.
Daum took a fresh perspective, pulling inspiration from classic representations influenced by the Decorative Arts of the past. This collection is available in purple or pink, with distinct interpretations and settings: the pink version emphasises the collection's romantic aspect, whilst the purple pieces emphasise its more radical and energetic side.