Furniture pieces that pep-up your homes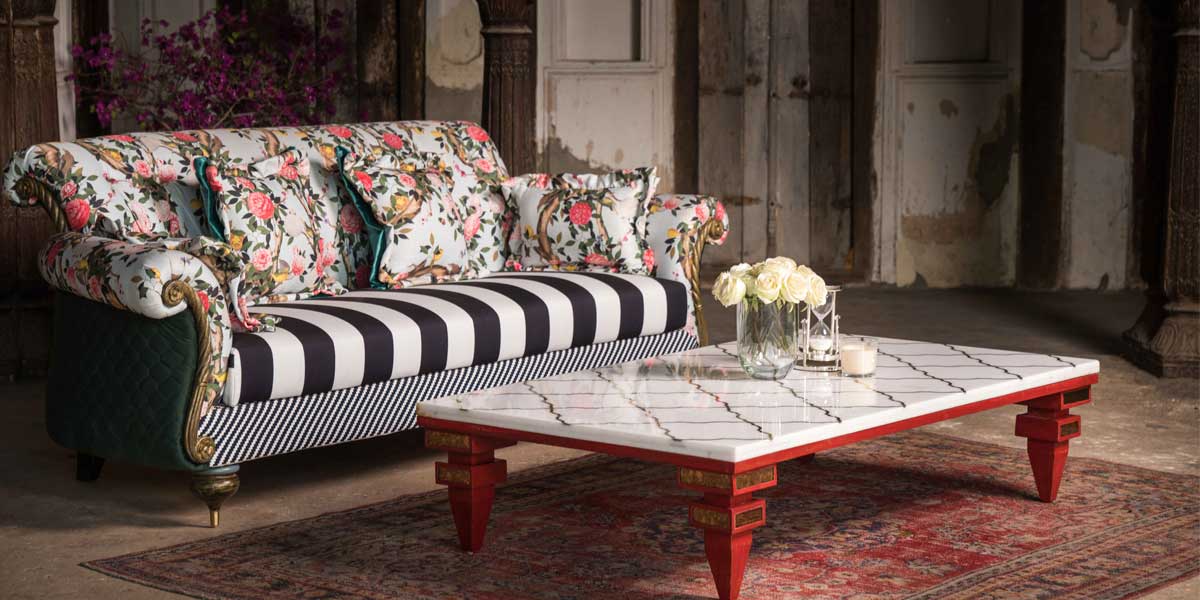 Furniture pieces that pep-up your homes
01 Jun 2021 CW Team
Exquisite, chic and high end. Furniture that adds personality to your homes and displays a luxurious taste, style and designs.
Noveau – Bespoke furniture collection by Inhabit
As the name suggests, the Noveau collection by furniture and interior designer Neeta Kumar is a magnificent range of modern furniture for contemporary homes. This collection features bold furniture pieces with curved lines, floral prints and organic shapes. The timeless pieces have strong silhouettes and colourful tones, showcasing the brand's trademark high-quality carpentry and upholstery.
The striking Noveau collection comprises statement chairs, a sofa set and a dining table. The furniture pieces can give a fresh summer touch to the interiors adding a sophisticated touch to your homes. The collection perfectly embodies personality to add character and accentuates the overall aesthetics with one-of-a-kind forms and a vibrant colour palette.
A unique and inviting blend of authenticity and functionality, the Noveau range features a vibrant and attractive interplay of colours to welcome the season. Crafted with high-end materials and exhibiting innovative design, every piece is in this collection is meticulously created.
Stylish TV stands by Ashley Furniture Homestore
A blend of styles and textures that create an awe-inspiring visual treat in any interior set-up are these vintage-inspired stylish TV stands. With their timeless look, this collection made of wood, allows you to add that much-needed extra chicness and warmth to your modern space.
 Budmore 60" TV Stand: Adding a touch of country style to your living area, the Budmore 60" TV stand is visually appealing with the flexibility you need. This chic TV stand's four adjustable end shelves offer lots of storage, while the two stationary middle shelves are roomy for TV components. Two sliding barn doors can easily be positioned as you desire. For an uncluttered look, slide the doors over the two ends and use those areas for hidden storage. The Budmore 60" TV stand is made of veneers, wood and engineered wood with metal components and features industrial black finished hardware.
 Wystfield TV Stand: Sporting a two-tone finish that pairs a distressed vintage white with an aged natural pine-colour top and shelves, the Wystfield TV stand elevates the art of rustic farmhouse living. Enhancing its charm: a sliding barn door with inset metal grill and antiqued gray industrial hardware. Made of pinewood, veneers and engineered wood, the Wystfield TV stand features four spacious shelves.
Westconi TV Stand: By pairing contemporary design with rich elements, the Westconi TV Stand is sure to bring sophistication and a touch of elegance to your home. The sleek TV stands feature a white finish and bright nickel-tone hardware. The Westconi TV Stand comprises two closed cabinets, two drawers and two open shelves. Enhance the interiors of any space with the Westconi TV Stand, which evokes a contemporary, country home design aesthetic. This TV stand is a breath of fresh air with its sleek form, spacious storage and white hue.
Statement accent chairs by Essentia Environments
Essentia Environments unveils a collection of accent chairs that showcase the brand's design philosophy of using clean and minimal aesthetics to evoke maximum appeal.
A strikingly sophisticated style, high functionality and supreme comfort are the hallmarks of the accent chairs launched by Essentia Environment. Simple lines and sculptural forms lend this collection a wow factor that is at once captivating. A careful combination of materials, delightful colours and refined textures give the chairs a modern edge.
The first test of a chair is in its ergonomics, and these chairs come up trumps in that aspect. Even when they display an avant-garde design, they remain absolutely functional and practical. Their perfect construction, precise stitching and impeccable finishes place them on par with any international brand. The versatile collection offers many interesting options to elevate the style quotient of your space.
Versatile Lowboard from Yomei's Magic Matrix Collection
A versatile lowboard from its Magic Matrix collection has been launched in India by Plüsch, pioneers in bringing the finest German luxury brands to the country.
The Magic Matrix Lowboard is a multifaceted piece of furniture or system that offers endless options for mixing and functionality. It can be used as a lowboard, sideboard, or highboard. With a storage cabinet available in two widths – 73 cm and 98 cm – as the basis, you can line up any number of items, each available with flap or drawers, or stack them on top of each other to create many different configurations. 
Sleek and elegant, the units are connected by means of a slim stainless-steel profile. They can either be placed on a 10-cm high stainless-steel leg or on a base with stainless steel cover. The surface is made of leather produced with a special folding technique.
The lowboard comes with a presentable back so that it can be used as a room divider. The units can be combined to have openings on different sides. If using it as a TV unit, it can be equipped with a 270-degree rotating TV holder with a back panel and infrared repeater. Cable ducts provide for easy and invisible cable routing.
Totem – Statement side tables by Draenert
As the name Totem suggests, the side tables in this collection belong to a family or a tribe, yet showcase diverse personalities. The Totem tables are like members of a family – similar, yet individually different from each other. The trademark components of the Draenert brand, natural stones, are combined with wood and metal elements to achieve a vibrant and sophisticated look. There are three side tables in the collection each of which showcases uniquely blended geometric shapes to lend a sculptural look to your interiors.
Vividus – a masterpiece bed by Hästens
Hästens has created Vividus with the ambition to surpass every other bed and to redefine the boundaries of comfort, quality, craftsmanship and ergonomics. Hästens Vividus is a masterpiece of the finest natural materials, traditional craftsmanship and meticulous attention to detail.
This bed is the result of a centuries-long passion for workmanship and passion in expert bed and mattress making. Hästens Vividus is a showcase of the finest natural materials, painstaking traditional handcraft and detailing. The exquisite Vividus bed is made of materials that are sustainably produced and ethically sourced. Expert hands craft springy horsetail hair, long-fibre cotton, superior wool and cushioning flax into this luxurious bed.
The spectacular Hästens Vividus bed comes in a range of colours such as Blue Check, Silver Beige Check, Black Check, Gold Check, Graphite Check, Solid Grey Check and Solid Pearl Check among others.