Home collections that add character to your space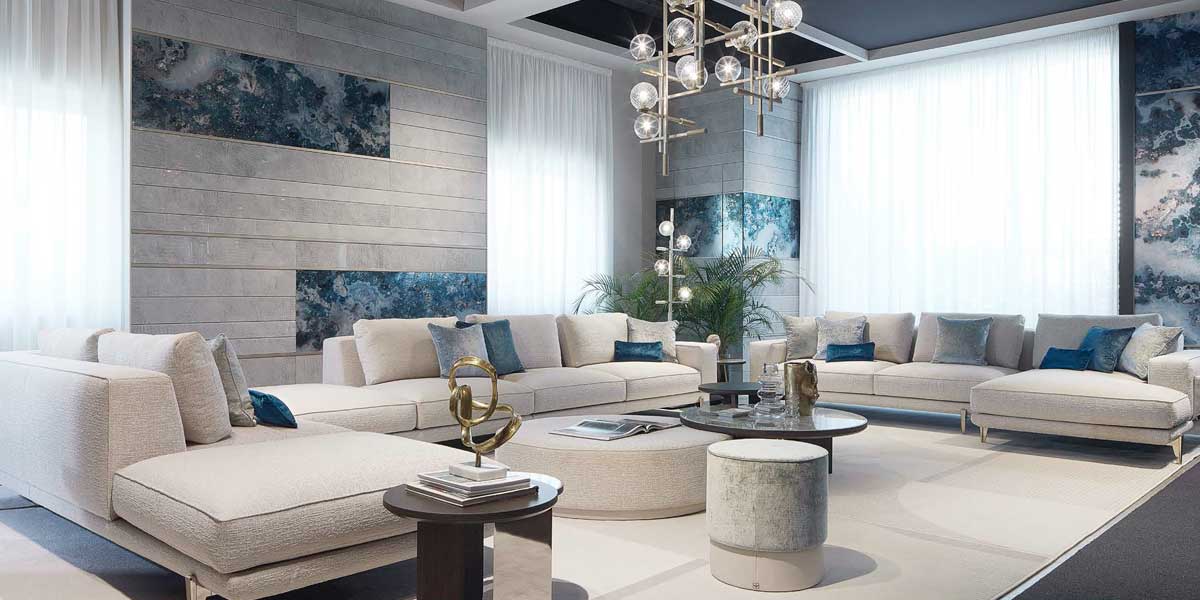 Home collections that add character to your space
20 May 2021 CW Team
Chic, elegant and exquisite spaces created by a designer that liven up your homes and give them a personality you have been looking for.
Home collection by Sicis
Modular sofa: Comprising a diverse set of units, the modular sofa offers lavish and refined seating. It has a structure in solid wood, plywood and polyurethane foam in various densities. The base frame in aluminium is polished in matt bronze nickel/matt champagne/ glossy black nickel/ glossy champagne galvanized. Foot inserts are in vetrite.
Liam side table, Liam coffee table, and Liam side table low: All the tables can be customised by all vetrite colours and wood finishings from the Sicis collection. The steel legs come with a distressed paint finish, and wooden legs are in finishings form the collection.
Ottoman: Ammonite special: The statement-making ottoman has a frame made of solid timber, plywood and polyurethane foam padding, and is accented with a decorative artistic mosaic insert.
Fluxus ceiling lamp: A play of glass spheres of various sizes and finishes creates a scintillating look. The brass frame with brushed bronze or nickel finish supports decorative glass spheres in amber, bronze or chrome finish; and small spheres in matching artistic mosaic.
Gem Glass wall panels: The glass panels on the wall bring the timeless and limitless beauty of precious stones, lava rock as well as dream landscapes. Sicis combines the enchanting magic of gemstones and the fantasy of unknown places using glass, a mysterious and versatile material in its Gem Glass panels. A combination of special techniques and processes give life to glass sheets that evoke eye-catching visuals.
Chic Kisper bedroom set by Ashley Furniture
Kisper King Platform Bed: The right blend of high-style contemporary and mid-century minimalism, the Kisper king platform bed with upholstered headboard rises to the occasion. Covered in a gorgeous graphite-tone fabric, the slanted padded headboard offers a luxurious backrest for watching TV or catching up on bedtime reads. Made of wood, veneers and engineered wood, the Kisper King Platform Bed features a brushed dry-brown wood finish and polyester upholstery. Furthermore, included slats eliminate the need for a foundation/box spring.
Kisper Dresser and Mirror: This set is made of wood, veneers and engineered wood and features a mirror that attaches to the back of the dresser. The dresser has 9 smooth-gliding drawers with dovetail construction (top drawers felt-lined). A mastery in simplicity, this set is dressed to impress with a brushed dry-brown wood finish that's wonderfully complex. Framed drawer accents and a wire-brushed texture give the richly veneered pieces added interest.
Kisper Chest of Drawers: Made of wood, veneers and engineered wood, the Kisper Chest of Drawers features a brushed dry-brown wood finish and 5 smooth-gliding drawers with dovetail construction (top drawer felt lined). Framed drawer accents and a wire-brushed texture give this richly veneered piece added interest.
Kisper Nightstand: The Kisper Nightstand features a brushed dry-brown wood finish and 1 smooth-gliding drawer with dovetail construction and felt lining. Open concept cubby and wire-brushed texture give this richly veneered piece added interest.
Open kitchen and dining furniture by Alsorg
The open kitchen and dining room areas are tied together with wall panellings that complement both furniture settings. The wall panellings are finished in veneer and lacquer finishes, that can be customized.
The dining furniture is a 6-seater set showcasing metal coatings in a grey colour palette. The base of the table exhibits an oxidised finish in a gradient tone. The dining chairs have also been finished in an oxidised grey finish. The structure of the chairs is in metal, with premium leather upholstered on them. The dining tabletop is a translucent glass with hints of the base visible through it. The glass sits perfectly in a metal band running on the periphery of the tabletop.
Right next to the dining area is an open kitchen. Ample storage sections ensure a clutter-free counter-space. At the same time, all essentials remain within an arm's reach since the open shelves can store a huge quantity of items that may be required while cooking.
The kitchen island is loaded with accessories and under-counter appliances which address one's daily cooking requirements. The inbuilt crockery unit provides additional functionality, at the same time accentuating the aesthetic appeal of the kitchen
Chic walk-in wardrobes by Aparna Kaushik
Michelangelo stone affixed wardrobe:
This elegant monochrome walk-in wardrobe exudes a luxurious vibe with the Michelangelo stone as flooring and a hint of gold in the wallpaper behind the dressing mirror. A full-length mirror next to the sliding wardrobes enhances the rich environment. Wall fixed laps next to the larger mirror adds additional charm to this space.
Dark veneered walk-in wardrobe:
The dark veneer used for the wardrobes sets off the Michelangelo flooring and wall cladding to bring refinement to space. Back-lit mirrors and hidden lights on the shelves create a chic atmosphere. The central unit is placed to have the display of favourite accessories and easy access. A dresser on the side elevates the charm of the room.
French influence walk-in wardrobe:
French influence extends beyond fashion to the window-styled closet doors in this elegant master walk-in wardrobe. Beautiful indoor planters add charm to this space while the seating of the dresser in blue breaks the colour monotony. A dark veneered central unit and statement carpet bring character to this wardrobe. This glamorous space celebrates timeless design.
Pink Onyx walk-in wardrobe:
Pink Onyx wall cladding, complemented by a chandelier of the same shade, creates a dreamy atmosphere in this perfectly organized walk-in wardrobe. Backlight shelves provide for a lit storing of clothing and accessories while the white dresser and pouf perfectly complement this setting.
Statement consoles by Beyond Designs
Cannes six-door credenza:

Impeccable craftsmanship shines through this stunning credenza made of wood and finished in French polish. It has a black glass top. Brass handles add the perfect finishing touch.
Miraya dresser :
Intricate brass inlay and Mother of Pearl detailing elevate this credenza to a piece of art. This multi-functional console adds character to any space.
Classic console :
A striking combination of bevelled mirror with antique gold finish results in a sleek and sophisticated console.
Dover sideboard :
Cane work on the doors lends this sideboard with a black glass top with high gloss a touch of vintage chic. The monotone look defined by cane work makes this piece of furniture blend seamlessly in any space adding that personality it needs.
Houdini Cabinet by Giorgetti launched by Sources Unlimited
Houdini is a sculptural cabinet that blends the manufacturing skills of the 123-year-old company with designer Roberto Lazzeroni's distinctive features of essential and soft lines. With its many hidden chests and drawers, the cabinet opens out to uncover secret storage units. It is like a magical jewel box, a precious treasure chest. The cabinet comes in one-door and two-door units. In the two-door version, the columns are two chests that open to reveal shelves, compartments, drawers, as if it were a box of wonders. Combining the most modern technologies with largely manual workmanship, the cabinet is designed to fit into any part of a home.