Modern minimalism at Nagpur-based mansion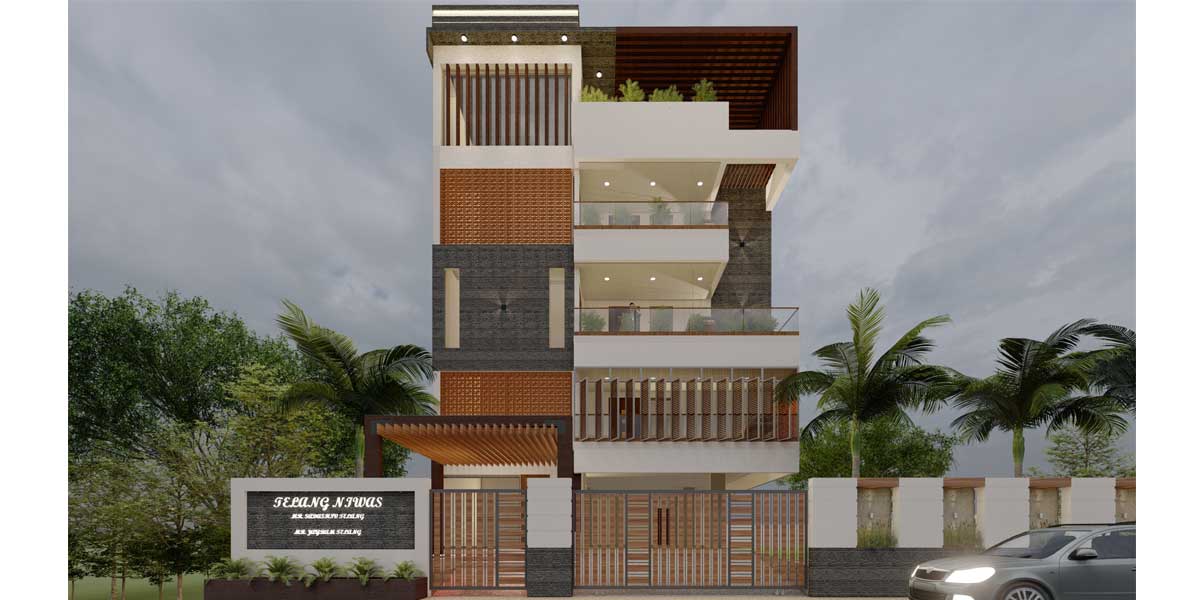 Modern minimalism at Nagpur-based mansion
Apr 27 2021,02:04 PM CW Staff
A 10,000sq.ft. mansion in Nagpur with modern minimalistic theme earthy interiors. The three-storied bungalow situated in the centre of the city is made to house a large joint family tasteful designed by Manasi Khanwalkar, MaK Architects.
The layout extends into large open spaces. Each floor has three bedrooms and attached balconies, a walk-in wardrobe, bathroom and powder room, formal and informal living room, dining room and kitchen. Every floor is connected with common stairs and an elevator that opens up to a lobby.
Common spaces and exteriors 
The running theme through the common spaces in this home is earthiness and minimalism that is brought to life by the use of terracotta, teak wood and brass fittings.
Metal louvres complete the volume grid on the porch and on the balconies and terrace provide screening against glare and light showers, while still allowing ventilation. Terracotta jali & natural stone is used for wall cladding and common area flooring which gives a fresh and earthy look and blends with the lush green surrounding. Huge voids created inside the terracotta jail, allow natural light to hit every corner of the house.
Earthy interiors and bespoke furniture 
To give this project a unique flavour and personality the designer Manasi has chosen to pick décor items from local craftsmen made of mostly teak wood or veneer. Metalwork of brass is used to break the monotony which dominates the interior spaces.
The doors and windows especially are designed using hundred years old seasoned teak wood frame and panel preserved from the client's old residence. So are the wall lights made with the same wood to complement the look of this home.
Every furniture piece in this house is customised based on the clients' taste and personality. To promote the economic growth of Indian businesses, every fabric and soft furnishing is also sourced from small scale businesses that sell their merchandise online.
Rooms with personality 
Every personal room in this house is designed keeping in mind the personality and functional requirement of the client while maintaining the theme of an overall mansion. The flooring is made using two different types of Italian marble and tile along with the skirting which was locally available from Indian vendors like Nitco, Kajaria.
Every room has an attractive light feature, an accent wall and seating in nude shades to bring a warm and cosy feel to this space. A dash of colour is added using wall hangings or bedspreads to each room.