My approach is very global," says Sanjyt Syngh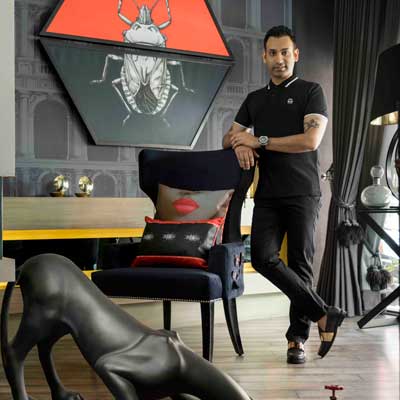 My approach is very global," says Sanjyt Syngh
13 May 2021 CW Team
In conversation with Sanjyt Syngh, Founder, Sanjyt Syngh Design Consultancy, about his design sensibility and his philosophy of 'thinking glocal.'
Luxury and bespoke defines the designing style of Sanjyt Syngh, the Founder of Sanjyt Syngh Design Consultancy, New Delhi. Combining visual appeal with functionality Syngh has been designing spaces that are tailored to meet the requirements of the end-user while reflecting their personalities. Syngh has studied Design and textiles at Fashion Institute of Technology, New York and Spatial Design at Chelsea College of Art and Design, University of Arts London. His designs are a confluence of ideas that have local roots and a global appeal.
How has your design philosophy changed over time, especially in the light of the pandemic?
I would say not much has changed for us. We always try and create experiences for our clients with comfort and safety in mind. We have been doing home offices in almost every project. We try and create luxurious bathrooms with adjoining spa and salon equipment.
What changes have you made in your work protocol due to the pandemic?
I would say 'Safety First'. Zoom has come to the rescue. We do most of our meetings and presentations online. Samples are sent to clients and discussions happen over phone or video calling. Site meetings are limited hence productivity is higher.
Take us through your design process from conception and design to final build.
My process is very organic. I build layer upon layer. It is like walking through a forest. I work out of New Delhi, but I try and create work that you can see anywhere in the world. My approach is very global. I am looking to create spaces that have an identity appealing to the inhabitants.
What is your profile as a stylist like?
It is definitely an extension of interior design. Both these jobs go hand in hand. Styling has to complement the interiors and vice versa. So, while creating the concept, we start searching for art and accessories. Sometimes it is these objects or artefacts that define the space.
How do you integrate sustainable features with aesthetics while designing a space?
I feel sustainability is more to do with material specification. We always consider that during the space planning stage.
What is your vision for a design firm?
As I mentioned before that my approach is very global and I try and create work you can see anywhere in the world. So besides doing global work we would like to take on international projects. We have already taken the first leap and working on a few projects in Dubai.
Tell us about the projects you are working on currently.
There is some exciting work underway. We are working on a few farmhouses in Delhi, 4 villas in Dubai. A large showroom in Delhi, a couple of office spaces, a loft space in Delhi.
What advice would you like to give to aspiring architects/designers?
Design is truly design when it comes from the heart. Design should enhance your space. It should talk to you, it should work for you. Everything has a story to tell, be it a cushion, a chair, an ensemble or even a tattoo. It is these stories that reflect your style. So stay true to your aesthetics and 'Think Glocal = Global + Local.'