Smart living with innovative solutions for your home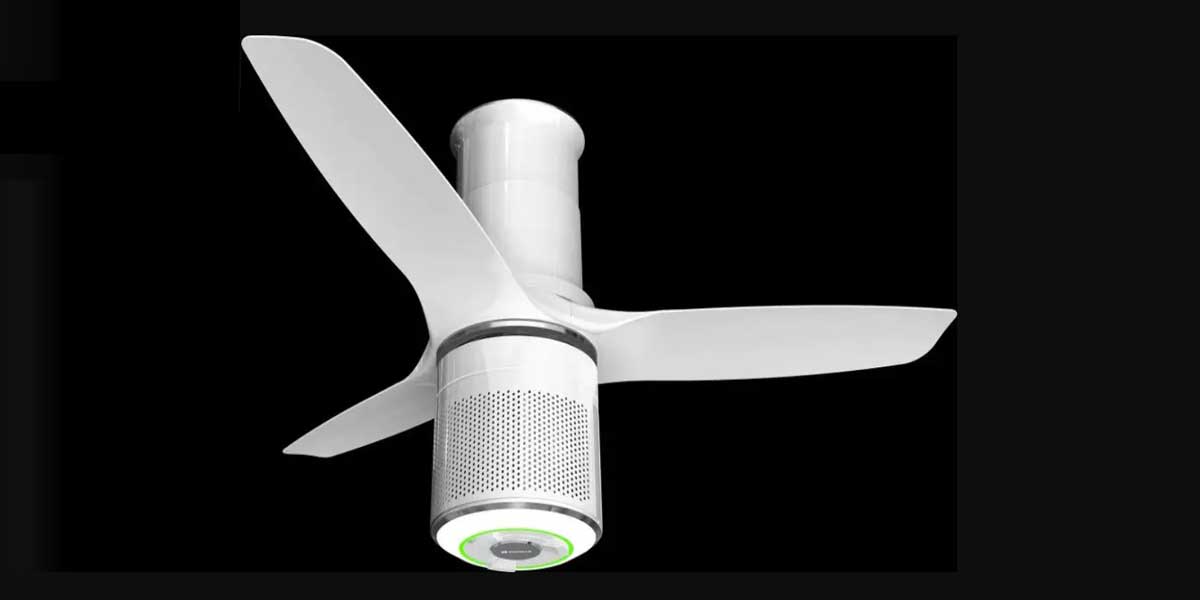 Smart living with innovative solutions for your home
Apr 08 2021,12:04 PM CW Team
With an aim to provide better living solutions, multiple brands are coming up with innovative solutions and technological advances with their product portfolios.
----------------------------------
Air purifier ceiling fan by Havells
Havells India Limited, aligning with the brand philosophy of 'making a difference' has unveiled a ceiling fan that comes equipped with a 3‐stage air purifier that filters PM2.5 and PM 10 pollutant along with VOC filtration and delivers an approximate Clean Air Delivery Rate (CADR) of 130 cu. m/hr. In addition to this, the fan also embeds a HEPA filter, activated carbon and pre‐filter that absorbs toxic elements and infuses fresh air with essential nutrients. The fan also offers aerodynamic blades for silent operation and high air delivery and features such as remote‐control operation, under light and LED air purity indicator, etc. The industry-first Air Purifying ceiling fan ‐Stealth Puro Air is targeted to promote a healthy lifestyle and add superior comfort and well‐being to consumer's fast‐paced life, priced at ₹15,000.
Voltas Beko makes new additions to Its appliance range


Voltas Beko, in keeping the brand promise and commitment to stand by the 'Make in India' initiative, is strengthening its portfolio with the launch of a range of home appliances that include air coolers, microwave oven, washing machine, dishwashers and refrigerators.
The brand has slated to launch a 5 Star rated Top Load Washing Machine, having industry-defining USPs like Fountain Wash and, adjustable Jet function. The overall Washing Machine portfolio will now cater to 7.5 to 14 kg capacities. Consumers can also experience Frost Free range with StoreFresh technology refrigerators in diverse design and colour patterns. The Direct Cool refrigerator portfolio shall dawn features like Active Fresh Blue Light and Rapid Cooling, within major capacities, all with standard BEE Star Rating. Voltas Beko also has plans to expanding its microwave and dishwash category as well.
AI enabled smart bathroom solutions by Watertec


Watertec India Pvt. Ltd, a leading name in premium bath fittings and accessories, has envisaged a mission to replace substandard metal products with good quality Engineered Polymer products at affordable costs. Watertec's end-to-end bathroom solutions have internal designs that consist of scientifically formulated raw materials that are anti-fungal, anti-bacterial & anti-odour in nature while having external designs that promote ergonomic & minimal touch usage. To further meet the market demands Watertec aims to tap the intelligent bathroom segment by introducing a host of new product lines.
The Aqceto Label, is one of Watertec's newest range of products that reflect the ethos of the brand and are crafted to perfection
The Conti+ Washroom & Shower solutions from Watertec are products with exceptional sensory qualities, cast in attractive shapes, combined with technically sophisticated functions.
Touchless Cisterns By Oli are an upgrade for your toilet to a smart cistern with a hygienic sensor activated dual flush
Watertec's Urimat is equipped with innovative designs in urinal shaping which will bring in a paradigm shift in the market in terms of water conservation. The waterless urinals use liquid sealers and rely on density differential between the sealant and the liquid waste.
Holistic sleep solution by Nilkamal


Targeted towards the millennial digital-savvy audience, Nilkamal has recently introduced the country's first holistic sleep solutions brand, Doctor Dreams.
Doctor Dreams leveraged social listening to understand the numerous sleep-related pain points of a consumer. Basis on this understanding and driven by the passion to offer the best sleep solution to this country, Doctor Dreams created a comprehensive sleep ecosystem with its host of products, accessories, and softer solutions. These mattresses have been designed keeping in mind the sleep patterns, body ergonomics, and India's prevalent weather condition. With an innovative design that comes packed in a box, Doctor Dreams mattresses are the embodiment of the brand's proposition, 'Happy Sleep Delivered.'
'Work from home' fan collection by Anemos


Perfectly suitable for everyone working from home, Anemos brings a collection of table fans suitable for the work desk. The collection includes 7 inches Mini Jet, the Retro Pink and Retro Blue table fans, Adam Fan, The Dyson - a 12-inch bladeless desk fan and more. These fans are compact table fans that can be comfortably positioned on the work desk or in the corner of any room. They range from a vintage look to a sleek bladeless desk fan to suit the needs of any décor and design in a space.
Altaj, woven leather doors by Lualdi


Altaj, a unique collection of woven leather doors by Italian brand Lualdi showcase features like minimalism, quality and functionality. These bespoke doors have a three-dimensional effect that impart a sense of depth to the look. Apart from being so sleek that they almost disappear into the wall, these doors have a distinguishing detail of gleaming bronze profile, that frames and protects it. The highest quality and finish of the leather used, lend a rare sophistication to the materic and elegant doors. There are three leather finishes available – Woven leather Moro, Dove grey smooth leather, Moka smooth leather. Altaj doors can give any space a distinctive ultra-luxurious look.
Statement table lamps by Beyond Designs Home


Adding colour, class and elegance to your table top décor, the bespoke furniture makers Beyond Designs Home have come up with a range of statement table lamps that allow any space to make a style statement with its décor theme. These table lamps are made using the finest materials - wood, brass, mercury glass, suede fabric with finishes like nickel and antique gold. They are designed to create an exclusive appeal, and be eye-catching accent pieces.
Clove Table Lamp
A classy brass base with an orange suede shade results in a bright lamp.
Richey Small Accent Lamp
With a brass base finished in nickel, this lamp offers a sophisticated gleaming look.
Clove Stem Buffet Table Lamp (small)
Sleek and classic, this handcrafted wood lamp has MS antique gold finish.
Tall Table Lamp
This elegant lamp is made of mercury glass for the base with a white shade.
Drustan Small Accent Lamp
Rich emerald green shade combined with a brass base in nickel finish offers a regal look.
Staande Table Lamp
Tall brass base with a rustic finish offers stark contrast to the orange suede shade to create a striking look.