These Luxurious Items Will Add Elegance to Your Home Decor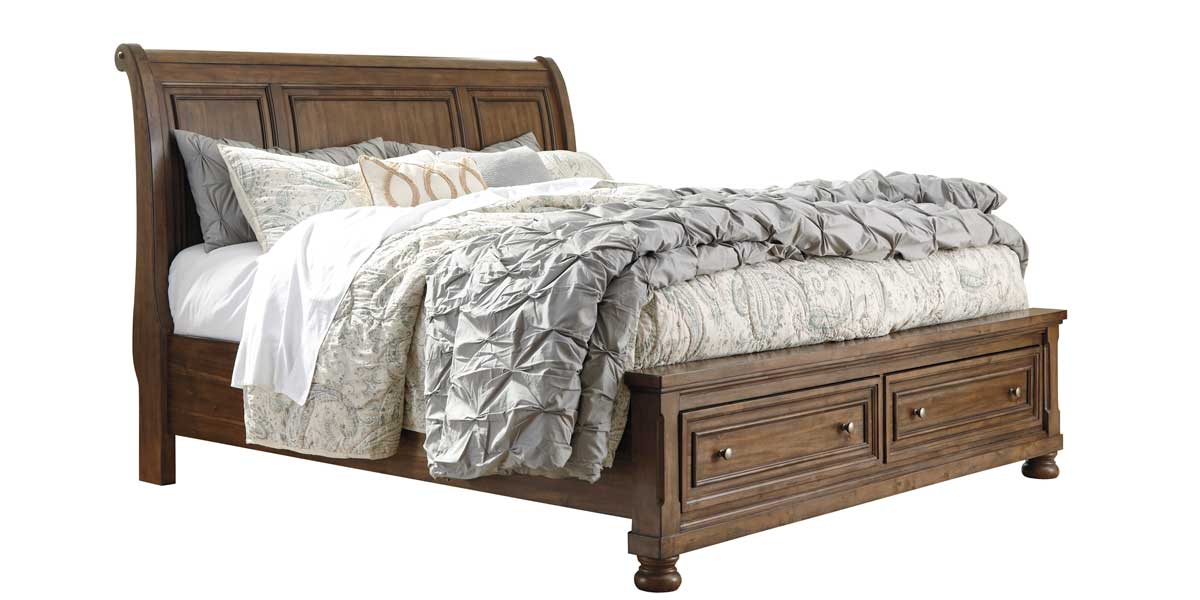 These Luxurious Items Will Add Elegance to Your Home Decor
10 Mar 2022 CW Team
Flynnter Bedroom Furniture by Ashley Furniture Homestore
Flynnter King Sleigh Bed with Two Storage Drawers:
The Flynnter King Sleigh Bed is elegant and beautiful, and it suits today's design tastes. The inherent grain of the acacia veneers is shown in an organic way thanks to a smoke brown finish. This bed features a headboard, storage footboard, and rails made of wood, engineered wood, and veneers. Two smooth-operating drawers with dovetail construction and aged brass-tone knob hardware are included on the footboard.
Flynnter Nightstand: This nightstand is made of wood, engineered wood, and veneers and has a tobacco brown finish with antique brass-tone knobs. A secret pull-out tray underneath the bottom drawer keeps your small treasures hidden. With two smooth-gliding drawers and dovetail craftsmanship, this nightstand is a terrific small-space alternative.
Flynnter Chest of Drawers: This five-drawer chest is built of wood, engineered wood, and veneers and features five dovetail drawers (the top drawer is felt lined), aged brass-tone knob hardware, and a tipover restraint system.
Flynnter Dresser and Mirror: This magnificent dresser and mirror features seven dovetail drawers that glide smoothly (top drawers felt lined). It has aged brass-tone metal knobs and a tip over restraining system and is made of wood, engineered wood, and veneers. The mirror is mounted on the back of the dresser.
Flynnter Media Chest: The Flynnter Media Chest with extensive storage satisfies your desire for history while displaying tranquil beauty. It's clearly a work of love, made of veneers, wood, and engineered wood. This media cabinet, which evokes a country house design approach, will enhance the interiors of any area.
A new hugger model wooden ceiling fan with Light by Pushkar
Elevate your area with Anemos' innovative dual-purpose fan, which allows you set the tone for your home while keeping it cool with ambient lighting. Pushkar, a light-up wooden blade fan, is appropriate for standard ceiling heights. It's an excellent choice for anyone who enjoys contemporary or modern ceiling fans. Pushkar's clean and elegant design complements every space. The fan's beauty is enhanced by the wooden blades, and the light in the centre enhances its utility. The three blades are not only attractive, but they also help to circulate air and keep the space cool.
Hafele Argento Kitchen Sinks
The ARGENTO sinks are available in a variety of sizes and combinations to suit each user's specific needs and design choices. All ARGENTO sinks are made of Stainless-Steel Grade 304, which provides exceptional durability and performance while reducing the risk of corrosion and rusting. This, along with the sink base's Asphalt coating, gives an extra layer of protection and prevents damp and corrosion. The inherent aseptic quality of stainless steel makes the sink surface hygienic and easy to clean after the day's many various duties. Extra deep bowls with depths ranging from 8 to 10 inches are included in the sinks to easily handle even large pots. The sound suppression cushions absorb noise created by utensils throughout the washing process, making chores at the sink quieter. With a beautiful European Satin Finish, the ARGENTO sinks fit in effortlessly with the overall aesthetics of your kitchen and come with a 10-year warranty.
Noiseless fans by Anemos
Altus ceiling fan: For such spaces, the Altus Hugger fan was created. The same width and speed as a standard Altus, the Altus Hugger ceiling fan distributes cool air evenly throughout the room. It also has reversible functionality, making it appropriate for all seasons.
Bali ceiling fan: Bali DK is a modern spin on a classic ceiling fan design. It's a great pick for any room and goes with practically any decor. It comes with a remote control so you can adjust the speed as needed. A strong airflow fan that saves electricity. It's appropriate for any season.
Cirrus ceiling fan: This is specifically built for low-ceiling installations, measuring 13 inches from ceiling to fan cap bottom. Despite its small size, this hugger is a very powerful air mover.
Hero ceiling fan: The Hero is a stunning ceiling fan with carved hardwood blades that resemble the propeller of a jet wing. A fantastic choice for any style of décor, particularly modern and minimalist. Mustang ceiling fan: The Metropolitan classic fan is a terrific choice for your new home, with an appealing and modern take on a classic design that goes perfectly with modern style or fusion décor. A powerful fan with multiple speed settings to keep the airflow consistent and as needed across the room.
Nostalgia ceiling fan: The designer ceiling fan in the Nostalgia white colour is a great combination of modern efficiency and a traditional fan style. The fan's overall design is enhanced by the fan's unusual curved blades. The Nostalgia is a powerful fan that generates strong airflow around the room and complements both modern and classic/vintage décor.
Awe-Inspiring New Crystal Sculptures by Daum available at Emery Studio
Adélie by Alain Choisnet:
Sculptor Alain Choisnet's latest work, Adélie, enchants us with her natural attractiveness, her free and sensual attitude, and her kindness. She exudes tranquilly and tranquillity thanks to a combination of several shades of amber, a warm and beautiful colour. Alain Choisnet's fascination with women's natural elegance allows him to conjure refinement in each of his models today, creating feminine finesse and sensuality. His sculptures accentuate feminine beauty, immortalise a gesture or an attitude, and transport us to a specific emotional state.
Douce Muse by Luo Li Rong:
Luo Li Rong's latest sculpture, Douce Muse, a lovely pianist, exudes an unmistakable sense of harmony. Luo Li Rong's works are incredibly delicate, with superb sculptural work, as seen by the delicate drapery and hair in the wind of Douce Muse. The artist wants to conjure soothing music and communicate a sense of serenity and comfort to the viewer through the little flautist. Douce Muse is a testament to Daum's expertise and mastery of the "lost wax" technique, a delicate casting and crystal melting process that allows for the creation of remarkable shapes, huge proportions, and fine details. The crystal paste, a one-of-a-kind material, adds a new dimension to this amazing work of art. It brings the slightest fluctuations of light to life through its purity and line harmony.
Galatéa by J.P Richard:
Galatéa, by sculptor Jean-Philippe Richard, is instantly recognised thanks to the artist's strong mark, which he has shared with Daum since 2002, always through sculptures of thin women. Through long slender silhouettes, the artist explores poetry and feminine delicacy, reaching beyond the boundaries of realism. Galatéa is a big sculpture made of crystal paste in beautiful tones of pink and purple, created using the lost-wax method, a true Daum crystal factory know-how that allows the fabrication of sculptures with exacting details and a silky and luminous portrayal. "Pâte de cristal transcends the shape, contributing an air of mystery by avoiding a too-figurative reading. It disturbs the reading of the shape – complicates it, even – and thus brings the imaginary into play." Jean-Philippe Richard
Also Read
https://www.constructionworld.in/latest-construction-news/real-estate-news/interiors/exclusive-luxury-bathrooms-by-design-atelier-/32769
https://www.constructionworld.in/latest-construction-news/real-estate-news/interiors/lavish-yet-comfortable-decor-items-to-induce-panache-in-your-space/32770