This Festive Season Embellish Your Houses With These New Arrivals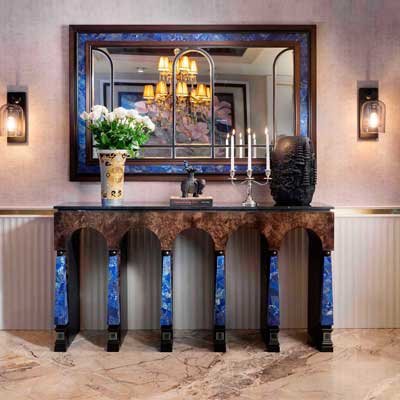 This Festive Season Embellish Your Houses With These New Arrivals
30 Sep 2021 CW Team
Festive Decorations by Ochre at Home
The days leading up to the festivals are brimming with new ideas for how to decorate your home. Designer Ajay Arya uses indigenous lotuses, jasmine (juhi), and rose flowers in abundance to fill the home with fragrance and freshness, successfully combining the humble terracotta with opulent silver for table setting and using indigenous lotuses, jasmine (juhi), and rose flowers in abundance to fill the home with fragrance and freshness. At the same time, regal accents are added to the interiors with expensive silver accessories and semi-precious lapis lazuli.
A glowing and welcoming foyer: A large traditional feeling is set off with an elaborate Antique Silver French mirror, while a silver urli filled with lotuses welcomes you. The hurricane candle lamp and string lights add to the room's good vibe. The décor is simple but beautiful, and it is extremely inviting.
Elegant living room : The living room is equipped with an exquisite velvet couch in the colour of siege green from Ochre at Home's new furniture collection. The back of the two-seater couch with carved features is covered in an amazing Zoffany art deco pattern. The center table is constructed of geometric pattern burl veneer, and the two additional side tables not only match the coffee table, but can also be readily joined with it to make serving appetisers and other items easier. Tall raw wood and brass candle stands provide the ideal festive touch. The colourful design is completed by a vase of fresh Bangalore roses, a coffee table on Royal Palaces, and a few chosen accessories.
An Indian flavoured table setting : The designer obtains an entirely distinctive appearance by mixing expensive metal with earthy terracotta. To lend a natural flare to the sumptuous setting, he utilises native flowers such as lotuses for accent and jasmine (juhi) for napkin rings, as well as the leaves of the vegetable cabbage. Silver and terracotta candles contrast and complement each other well. The tableware is likewise a similar combination, which creates a sense of cohesion and enjoyment.
Festive Candles by Ellementry : With its finely produced items, lifestyle home décor business Ellementry has made an amazing impact in a short time. Ellementry is a refined style of life that celebrates modest luxury through elegant and sustainable designs. They've released a collection of beautiful holiday candles to bring a little additional warmth to your house.
The holiday season has begun, and we are all in a celebratory mood. Despite being under Ellementry's realm, the company has attempted to make the holiday season pleasant and hopeful. As a result, Ellementry has introduced terracotta, ecomix, and glass bowl candles perfumed with natural soy.
These fragrance candles are the finest Diwali presents since they aren't just pretty to look at. They also urge the receiver to unwind and concentrate so that new objectives may be formed and new beginnings can be made. They are large enough to not burn out in one sitting, in addition to looking excellent. A handful have a single wick, while the remainder have four. Hand-poured natural soy wax manufactured with vegetable-based materials that is biodegradable and non-toxic is used in these candles.
Soy candles burn at a lower temperature, resulting in a cleaner, longer-lasting product. These candles come in a variety of scents, including mahogany, mint eucalyptus, rose patchouli, vanilla and lavender, and citronella.
Once the candle has burned out, all of the candles come in reusable eco-friendly pots that may be used as planters or to hold creative tools. Candles with thoughtful designs are the ideal present that will stand out among all the holiday treats.
Luxury Fabrics and Leatherettes by Nirmals Furnishings
Azalea is a 100% polyester jacquard collection with intricate woven patterns and golden colours. The bright collection is ideal for the upcoming holiday season. The Talisker collection's bespoke red velvet deco cushion completes the look.
The Bourbon line by the House of Marseda, a Nirmals Furnishings brand, has mesmerising textured leatherette in a bright colour that adds elegance.
The Bourbon line from the House of Marseda, a Nirmals Furnishings company, was used to create a layered feel, inspired by the undulating patterns of step farming. The Fisherman from Kare Design in Germany and the Ring Holder from Nude in Turkey are decorative in the photo.
The Azalea fabrics, consisting of 100% polyester jacquard laid over a rich, textured teal velvet from Twizzle, have distinctive notes thanks to their royal tones and precisely woven patterns.