Vibrant cosy home by SK Design Studio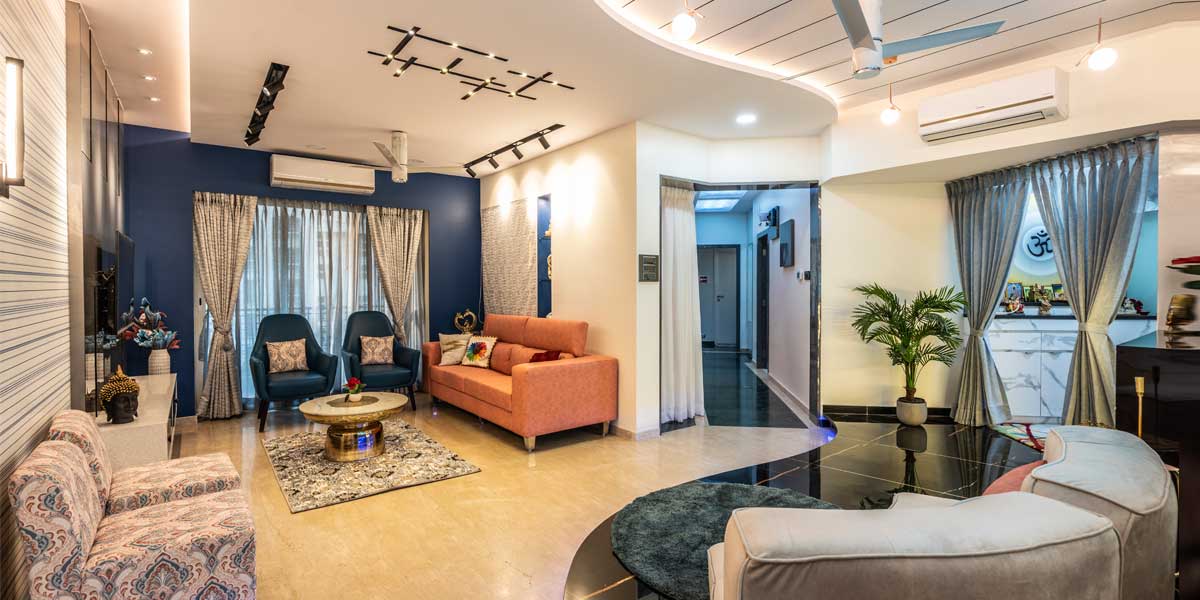 Vibrant cosy home by SK Design Studio
May 10 2021,04:05 PM CW Team
From an in-house musical-themed cosied space to a home office, this vibrant house has it all.
SK Design Studio has created a home that suits the needs of each family member. With elegance, they have embraced colours and themes in the various spaces of this home to bring out a blended personality of those who reside in it.
Entrance and living area
A colourful vibe is described right at the entrance of Verma's household with a beautiful enlarged Buddha painting compliments with light fixtures holding deities that add to the serenity of the home as well as bless their space. Small planters are added to bring a sense of freshness.
The home opens up into a large living area adorned in a blue and white theme. The walls and ceiling have a geometric design painted on them that adds an edge to the room. The accent wall is painted an indigo blue to give depth to this space. Multiple seating in the form of couches in complementary colours is added to break the monotony of this room.

On the opposite end are a small bar unit and a small space dedicated to music. A light fixture in blue adds a different vibe to this home.
Dining area
Fit for a nuclear family, the dining area in this house is created as a cosy space for everyone to sit and enjoy their meals together. Comfortable chairs with a stylish wall and statement light fixture add to the beauty of this room. In-house planters add a dash of colour on the dining table and on side units with appliances.
The master bedroom
Adorned in neutral tones of beige and brown this room has a king-size bed and a large window space with curtains in the same shade. Lighting panels on the false ceiling makes the room lit. Floor to ceiling length wardrobe with mirrors and a design unit adds to the beauty of this room. A dash of colour is added with a throw pillow and bedspread.
Home office and kids' room
Perfectly suited to the children vibe, this bedroom is vibrant and full of life. With graffiti on the accent wall and a brown and mustard wardrobe, this space is colour coordinated with a white ceiling to make it bright and appealing.
The home office or study is painted in the same colours with a small seating, desk and cabinets for storage. A wall clock in similar colours is added to match the vibe of the space.
The Kitchen
Matching to the living space, the kitchen has a blue and white theme. A modern modular setup, it has large storage cabinets. Spaces dedicated for appliances and an exhaust that opens up into the washing area where one can see the cityscape. The lighting panel is fitted in the ceiling that evenly lights up this space.
Opinion Poll
Question : How can India stem inflationary trends likely from the currently all-time-high steel prices?