When a 90 year-old company gets a Year 2020 makeover!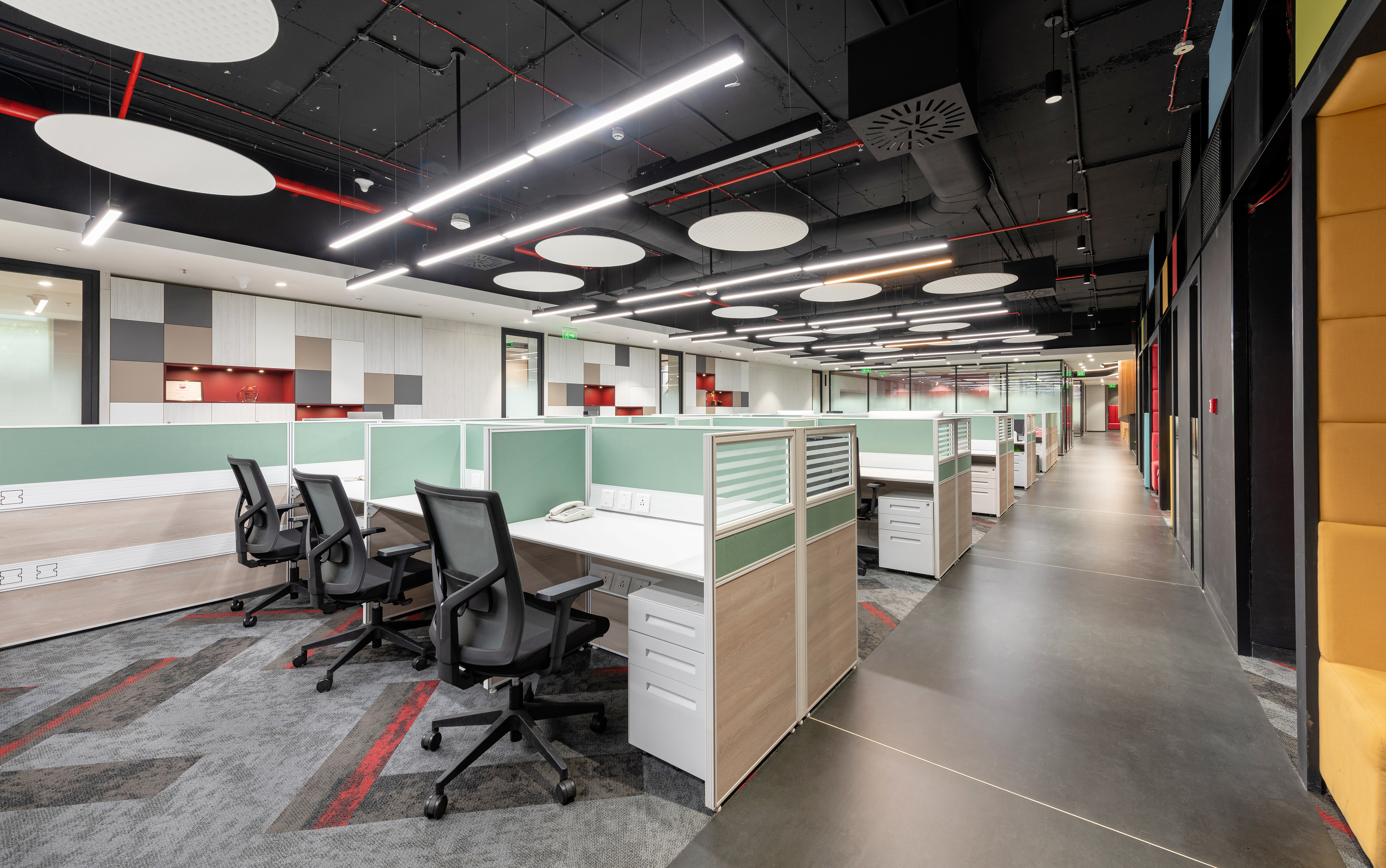 When a 90 year-old company gets a Year 2020 makeover!
Client: The Hafele Group, established in 1923 at Nagold, Germany, that manufactures home interior hardware products.
Hafele's products carry a high reputation with the architect and interior design community for their German precision and overall elegance. Not surprisingly, their new corporate office at Kanjurmarg, Mumbai, was expected to sport the same level of sophistication. The brief to the KCL Team was as much: Create an interior design personality that reinforces Hafele's reputation for innovation, quality and longevity. At the same time, the environment had to reflect vibrancy and happiness.
Design approach: Matching product utility and sustainability
The design team was very clear about establishing an exemplary balance between functionality and sustainability while choosing materials for all aspects of the project. They had to meet global standards of biodegradability, recycling potential and reuse. It was not just a feel-good parameter, but a real marker of the client's and design firm's commitment to nature.
Flooring, being an integral part of the interior design plan, had to complement the environmental consciousness that had been set. The team studied the expected footfall patterns of each space in the proposed facility, in conjunction with the aesthetic and functional expectations. The high maintenance areas like the cafeteria and passage used hard floors. For cabins, meeting rooms and workstation areas, carpet tile was the crucial choice as sound absorption, underfoot comfort and colour alignment was important.
Flooring as a curated orchestra of mind, geometry and Smarter Impact
The plan was an enchanting pairing of colours, textures and angles that gave an ageless, but fresh
look to the floor. Bright maroon was mixed with corporate greys and interspersed with gleaming touches of polished metal. It was a combination that could be pulled off successfully only with Shaw Contract's focus on the Smarter Impact philosophy it practices.
Result: A celebration of quietude, collaboration and focus
The net output was a meticulous alchemy of elements that are expected in a vibrant workplace. An employee, as he/ she desires, can choose between working in an intensely private space or an enjoyably collaborative space in an instant; all facilitated by the visual and tactile effects of Shaw Contract's carpet tiles.
"I believe that workspace design is not only about dealing with the built environment. It is also about understanding the finer points in workings of an organisation. The architect's or interior designer's job is to provide a suitable design response to the functional needs of an organisation, and also to the aspirations and well-being of the individuals who use the space," says Ar Ketan Chavan, KCL Design & Architecture.
"Since Flooring is an integral part of the interior designconcept, what I really like about our new office is the appropriateness of each design element to a specific spaceand the people using it. That makes our maintenance tasksmuch simpler. KCL Design & Architecture have delivered atruly functional office," adds Rajesh Shetty, Head Design & Implementation, Hafele India.