Telangana building permissions, certification go online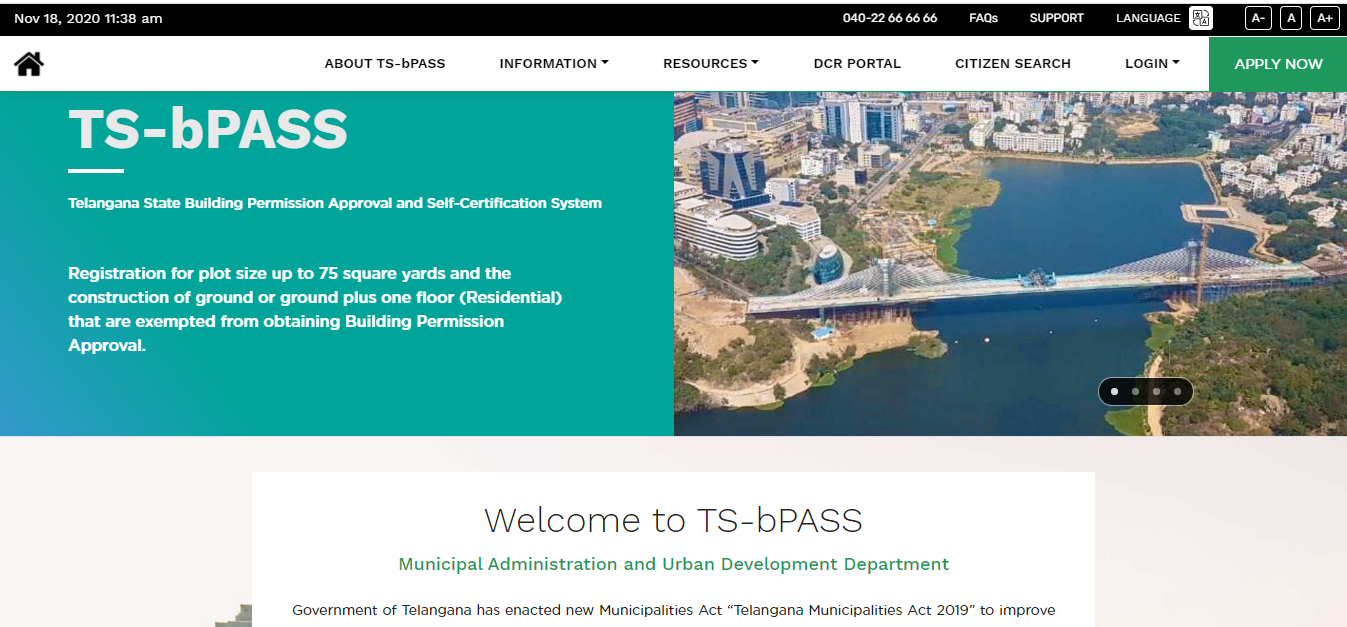 Telangana building permissions, certification go online
Telangana Government has launched a portal for building and layout permissions, in a transparent time-bound manner.
Telangana State Building Permission Approval and Self Certification System, or TS-bPASS, is a self-certification system that aims at doing away with delays and bureaucratic hurdles in obtaining building permissions, making approval more user-friendly by providing a streamlined online system for hassle-free, time-bound speedy approvals. According to a media release, CREDAI Hyderabad played a pivotal role in the formulation of the policy, with a thorough evaluation and inputs from all stakeholders for the smooth execution of TS-bPASS.
TS-bPASS also aims at building citizen awareness and ensuring that they adhere to the building and layout permission rules of the state government. As per the new law, people constructing a building within 75 sq yards (62.71 sq m) land need not obtain any permission from the authorities concerned. However, they must register with the urban local body using TS-bPASS. Similarly, citizens can obtain instant permission for constructions to an extent of 75 sq yards (62.71 sq m) to 600 sq yards (501.68 sq m) through self-certification under TS-bPASS and commence their construction work.
TS-bPASS

·

TS-bPASS will procure clearances from various departments such as fire services, electricity boards, traffic and planning departments, through a single window.
·

Acceptance of self-certification of buildings constructed up to ground plus one floor (G+1) on a plot area of under 675 sqft.
·

Penalty on all departments for delaying clearance.
·

A robust, secure and progressive regulatory website to oversee the approval process
·

The TS-bPASS website would expedite clearances and in turn, eliminate any room for corruption.
·

The facility would first be mainly applicable for residential properties
The authorities concerned will examine the applications seeking permissions for building constructions in an area of more than 600 sq yards (501.68 sq m) and issue necessary permissions within 21 days. In case of shortfall of any documents, the authorities will communicate it to the applicant within 10 days. Under the new Act, all municipalities including GHMC/HMDA are mandated to clear all the building permit applications within the stipulated 21 days failing which the permission is deemed to have been approved. An automated certificate will be issued to the applicant with the signatures of relevant authorities including the municipal commissioner and the town planning officer on behalf of the municipality concerned, to enable them to obtain bank loans or other financial assistance. The occupancy certificates also will be issued within 15 days upon submitting relevant documents.
"This paves the way for registration and instantaneous mutation of agricultural lands by a tahsildar, further benefitting the sector," said RK Rao, President, CREDAI Hyderabad. "Further, the GRID policy launched by the state government will facilitate the decluttering of the development across the city, reducing the pressure on existing physical infrastructure and aid in the overall development of the city."