Infra-Nirbhar webinar to discuss infrastructure funding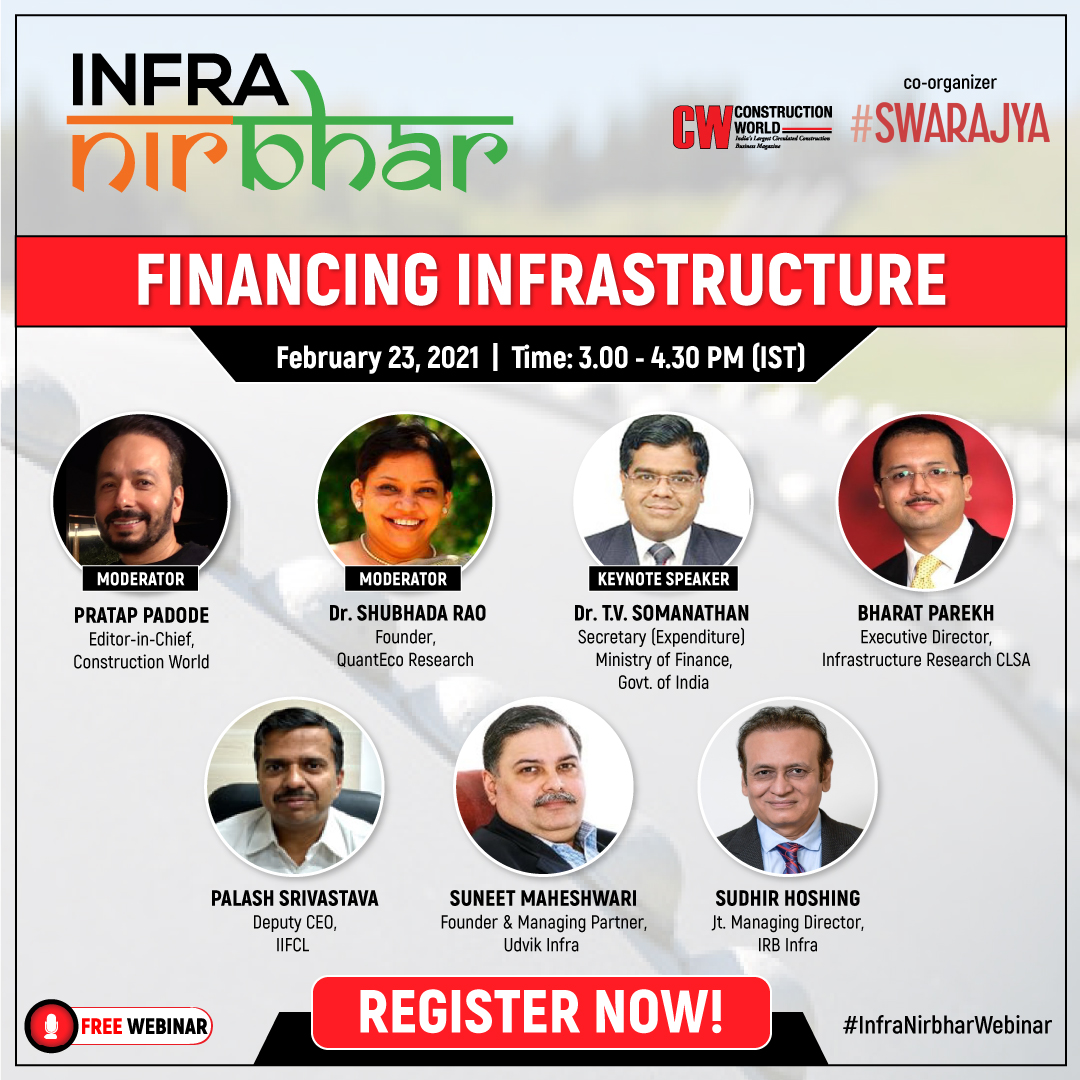 Infra-Nirbhar webinar to discuss infrastructure funding
22 Feb 2021 Editorial Team
Prime Minister Narendra Modi while addressing the nation on the 74th Independence Day announced the ambitious Rs 100 lakh crore allotment for the national infrastructure pipeline (NIP) to provide an overall boost to infrastructure development of the country.
Identifying "intent, inclusion, investment, infrastructure and innovation" as the key elements of India's journey for "Atmanirbhar India", Modi emphasised the importance of infrastructure in speeding up the nation's development. Therefore, the organisers of the "Infra-Nirbhar" webinar series, CW and Swarajya say, an amalgamation of infrastructure with atmanirbharta (self-reliance) is a subject that lends itself to discussion.
What does it take to fund the ambitious infrastructure plan that this government has proposed while pegging the economy's revival on that sector? To highlight the demands, challenges, methods and opportunities in infrastructure finance, the next session in the "Infra-Nirbhar", the free webinar series by Construction World and Swarajya magazine, will be on "Financing Infrastructure", tomorrow, Tuesday 23 February, from 3:00 pm to 4:30 pm .
Dr TV Somanathan, Expenditure Secretary, Union Ministry of Finance, will deliver the keynote address.
In the effort to catalyse financing in infrastructure, the government announced a dedicated bank for financing infrastructure development projects. The dedicated bank was called "a provider, enabler and catalyst for infrastructure financing". Creation of a new Development Finance Institution (DFI) to spearhead government spending in infrastructure came as a big announcement. Initially, DFI will be capitalised with Rs 20,000 crore of government equity, allowing it to leverage debt of up to Rs 5 trillion to provide the much-needed financing to infrastructure. The stage is set. But is it enough? How will the remaining amounts be financed? Will we resort to foreign investments after all? Those and more intriguing questions would weave themselves into the discussion.
Other speakers at this webinar are:
Bharat Parekh, Executive Director, Infrastructure Research, CLSA
Palash Srivastava, Deputy CEO, IIFCL
Suneet Maheshwari, Founder & Managing Partner, Udvik Infra
Sudhir Hoshing, Joint MD, IRB Infra
Dr Shubhada Rao, Founder, QuantEco Research (Co-Moderator)
Pratap Padode, Editor-in-Chief, Construction World (Co-Moderator)
Click HERE to register for the FREE webinar.
Also Read: InfraNirbhar: Webinar series by CW and Swarajya
Also Read: Infra-Nirbhar webinar series kicks off with "Metro Vision"