India's first undersea road tunnel - Mumbai Coastal Road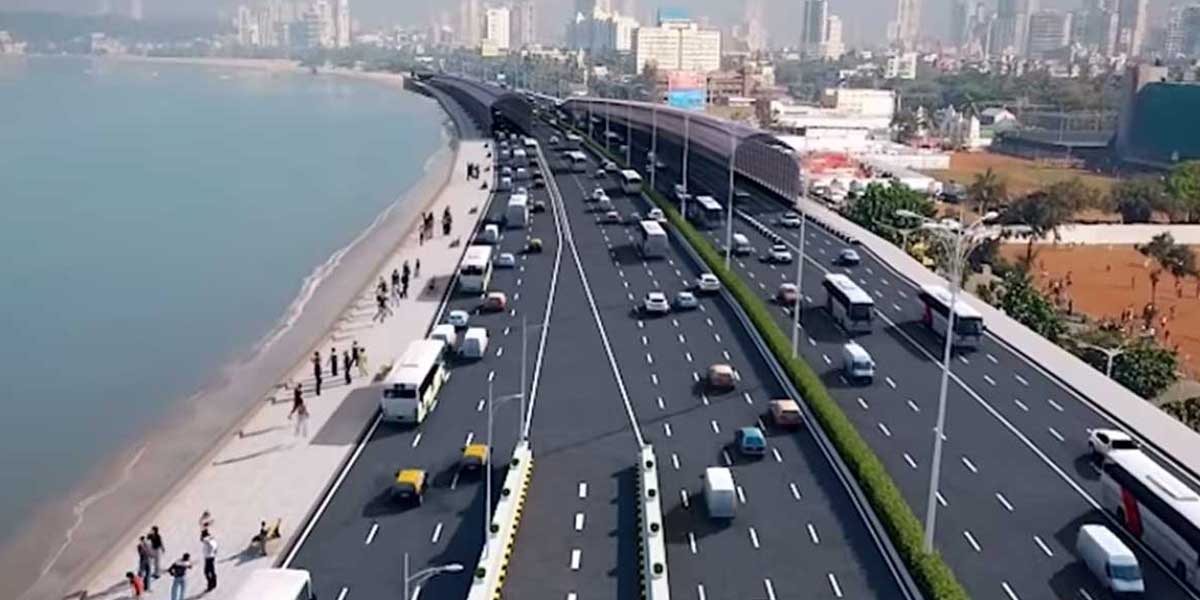 India's first undersea road tunnel - Mumbai Coastal Road
03 Jan 2022 CW Team
MUMBAI COASTAL ROAD
The Municipal Corporation of Greater Mumbai has envisioned The Mumbai Coastal Road project to alleviate Mumbai's traffic congestion. Mumbai Coastal Road is 29.8 km long freeway would run along Mumbai's western coastline connecting Princess Street Flyover in South Bombay with Kandivali in the northern suburbs.
29.8km long Coastal Road construction is divided in 2 phases. The project's 10.58 km Phase 1 (southern section) is under construction between Marine Drive and Bandra Worli Sea-link. It comprises of an 8-lane road reclaimed from the sea, bridge on stilts, elevated road, twin-tunnels under Malabar Hills, new green spaces, sea wall / break water wall and multiple interchanges for traffic dispersal. The project's Phase 2 involves constructing a 19.22 km northern extension between Bandra – Versova – Kandivali comprising of a 9.6 km Bandra-Versova Sea Link with connectors to Bandra (1.17 km), Carter Road (1.80 km) and Juhu Koliwada (2.80 km). Both the Phases are expected to be complete by July, 2023.
With estimated cost of Rs 12,700 crore of Phase-1. The project comprises of 3 civil packages. Package 1 from Priyadarshini Park to Baroda Palace and Package 3 from Princess Street flyover to Priyadarshini Park is bagged by Larsen & Toubro. Package 2 from Baroda Palace to the southern end of Bandra Worli Sea Bridge is bagged by a joint venture between Hindustan Construction Company and Hyundai Development Corporation.
This mammoth project for one of the world's most congested cities has not been an easy one. It involved the contractors overcoming a number of substantial challenges. The stretch from Marine Drive to Girgaon Chowpatty, where the road would run beneath the sea through a pair of twin tunnels, was the most technically complex part of the project, TBM Mavala- the largest tunnel boring machine are been deployed in India to carry out the tunneling work.
The tunnel, once ready, will be India's first undersea road tunnel. Besides the tunnel, the complexity involved in the project was the land that needs to be reclaimed. From Malabar Hill to the Sea Link, the Coastal Road will mostly be built on reclaimed land, around 50-70 meters inside the sea.
Coastal Road is projected to be used by 130,000 vehicles daily, the project will result in a better commute and ease of traffic between South Mumbai and the Western suburbs, saving approximately 70% travel time Also, it will result in saving of 34% fuel valued $100 million annually. Moreover, the coastal road will have a dedicated lane for buses and emergency vehicles such as ambulances. Other than these, the enhanced infrastructure in the form of walking paths, cycling and jogging tracks, an open-air theatre and free parking lots at Amarsons, Haji Ali and Worli interchanges with a capacity of 1,652 cars add to the positives. On the environmental side, it will improve the conditions with 91 hectares of green space and provide protection against coastal erosion along with a reduction in the carbon footprint of 1826 Carbon dioxide every year. Last but not the least, the coastal road will be toll-free (green rupee image crossed). In a nutshell, the coastal road will enhance connectivity and will improve living standards and help promote economic growth due to more opportunity of easy connection to many commercial hubs of city.
However, the project has encountered its fair share of protests, 6 PILS, court battles, and a nine-month work suspension along the road. But now the work is fully functional. Cranes, dumpers, trucks and other heavy equipment's have replaced the sunset view, all the way from Chowpatty beach to Worli, behind yellow barricades are hundreds of workers beavering away round the clock at several of Mumbai's iconic spots.
Once operational the coastal road will not only help deal with present-day problems but will also ensure that the city's traffic management becomes 'future ready'- which is a necessity for Mumbai's future economic growth.