Chenab bridge arch to be completed today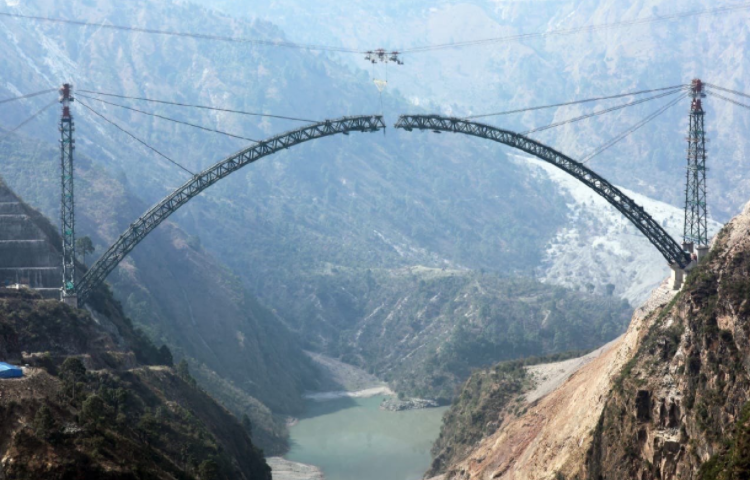 Chenab bridge arch to be completed today
The nearly 0.5 km long arch of the world's tallest railway bridge—the Chenab bridge in the Kauri area of Jammu and Kashmir━is all set to be completed today.
The 5.3 m last piece of metal will be fitted at the highest point today and join the two arms of the arch that currently stretch towards each other from both the river banks. This will complete the arch's shape that will then loom 359 m above the Chenab river.
The arch is the most difficult part of the Rs 1,400 crore Chenab bridge that will complete the 111 km long stretch connecting Katra with Banihal. It will symbolise the Kashmir rail link to be ready for at least a century.
Currently, the Kashmir link means a 25 km stretch from Udhampur to Katra, an 18 km stretch from Banihal to Qazigund in the Valley and thereafter the 118 km Qazigund to Baramulla line. All these lines have been operational for years. The only missing piece in the link is the Katra-Banihal stretch, and the bridge over Chenab was the main engineering hurdle holding up the progress all these years.
The cable crane that will complete the arch measures around 900 m and is said to be the longest in the world, made especially for this project. Over the last 2.5 years, engineers have been building the arch with the help of two mammoth cable cranes installed on both banks of the Chenab—the Kauri end and the Bakkal end.
A major challenge was that the 550 m arch, weighing 10,000 metric tonne, had to stand only with the support from the two embankments and without any intermediate pier since the river is 359 meters below and no pier could possibly come at a height like that.
From "support to support", the distance is 467 m. The whole bridge is going to weigh around 29,000 metric tonne. Engineers started work from both embankments simultaneously, starting with the installation of the cranes that would launch the arch.
Each specially designed cable crane, installed at the two banks by Afcons, are around a kilometre long. The two cranes have been working independently and also in synchrony, from each bank and joining pieces of the arch bit by bit.
For the wielding of the pieces, a national accredited welding lab cum workshop was erected on the construction site to speed up work—a first for a project in India. Steel pieces are cut with computerised machines and are then tested as per the standard before being approved for deployment.
---
Also read: World's tallest railway bridge by Indian Railways
Also read: Railways completes arch bottom of tallest rail bridge
Opinion Poll
Question : As we enter FY 2021-22, a report estimates a 11% GDP growth. What is the most critical investment the construction and infrastructure sector needs to make this year?