Railways completes arch bottom of tallest rail bridge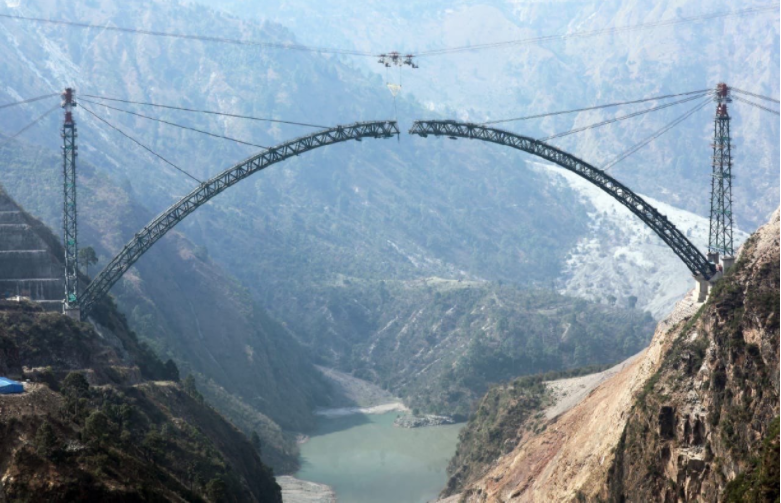 Railways completes arch bottom of tallest rail bridge
Mar 17 2021,04:03 PM Editorial Team
Indian Railways has completed the arch bottom of the world's tallest railway bridge—the Chenab Bridge, a steel and concrete arch bridge, currently under construction between Bakkal and Kauri in the Reasi district of Jammu and Kashmir (J&K). The next part of the construction is the upper arch of the Chenab bridge.
The Railways is planning to instal sensors on the bridge to check the wind velocity. In case wind speeds exceed 90 kmph, the signal on the railway track will turn red, stopping any train movement. According to railway officials, the bridge can withstand winds up to 266 kmph, will have a lifespan of 120 years.
The Defence Research and Development Organisation (DRDO) is working with the Indian Railways to ensure that the Rs 12,000 crore bridge is able to withstand major blasts.
Special 63 mm-thick blast-proof steel is being used in the construction of the bridge. The concrete pillars of this bridge are also designed in a way that they can withstand blasts or explosions. Consultants from Germany and Finland have designed the bridge. The arch bridge is also being designed in a way that it can withstand an earthquake of magnitude eight on the Richter Scale. Even though the bridge falls under zone 4, it is being built to handle earthquakes with an intensity of zone 5, the country's highest intensity zone.
According to officials part of the project, for building the arch of the bridge across the river, a novel method of construction using the cable car is being used. Two cable cars having a capacity of 20 mt and 37 mt work in tandem on cables connected to specially constructed high towers (Pylons), one on the Kauri end and the other on the Bakkal end across the gorge. Structural steel of 27,051 mt capacity will be used for the construction of this special bridge.
Excavation and earthwork amounting to 10.03 lakh cubic meter (cu m) are over, and all foundation work of Chenab Bridge & substructures have been done. Also, all Fabrication works for Piers, Trestles & Arch have been completed. Around 15,593 MT out of 27,051 MT steel structures have been placed in position.
The launch of a 490 m deck on transition and circular curve from Kauri end has been achieved, while 88% work of the main arch is complete. The 25 km Udhmapur-Katra, 18 km Banihal-Quazigund, and the 118 km Quazigund-Baramulla sections have already been commissioned. The remaining section, the 111 km Katra-Banihal section, is currently under execution. It is targeted to be completed in December 2022. Of 174 km of tunnels, 126 km on this section have been completed.
Technical specifications of the bridge:
Bridge length: 1,315 m (4,314 ft), including the 650 m (2,130 ft) long viaduct on the northern side
Deck height (height above river bed): 359 m (1,178 ft), (height above river surface): 322 m (1,056 ft)
Arch span: 467 m (1,532 ft)
Arch length: 480 m (1,570 ft)
---
Also read: World's tallest railway bridge by Indian Railways
Also read: How to get accurate site information using technology