APSEZ acquires 75 per cent stake in KPCL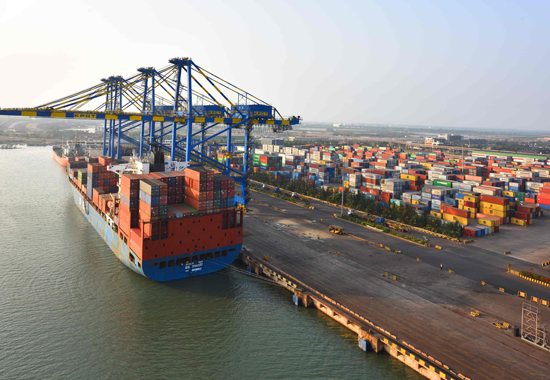 APSEZ acquires 75 per cent stake in KPCL
Oct 07 2020,05:10 PM CW Team
Adani Ports and Special Economic Zone (APSEZ) on 5 October completed the acquisition of the Krishnapatnam Port Company (KPL) in Andhra Pradesh for an enterprise value of Rs 120 billion. But, this enterprise value is lower compared to the deal that APSEZ signed with KPL at the beginning of the year. Present enterprise value is 13 per cent lower than the original deal value of Rs 135 billion.
This strategic and significant move will result in APSEZ having a controlling stake of 75 per cent in KPCL and will help in accelerating its progress towards 500 million tonnes cargo handling capacity by 2025.
KPCL is a multi-cargo facility port situated in the southern part of Andhra Pradesh, the state with the second-largest coastline of in India. In FY21, KPCL is expected to generate an EBITDA (earnings before interest, tax, depreciation and amortisation) of approximately Rs 12 billion, resulting in an acquisition EV (enterprise value) or EBITDA multiple of 10.
Andhra Pradesh government gave a green signal for this acquisition last month. APSEZ already control ports like Kattupalli and a terminal at the Kamarajar Port in Ennore, suburban Chennai. With this new addition, they will have 12 ports in their kitty and this will result in APSEZ controlling a third of the country's total port capacity.
The distance between Krishnapatnam and Bengaluru is 400 km and the port can help to attract industries even in Tamil Nadu's industrial town of Hosur to export or import.
Adani is also developing a deep seaport at Vizhinjam near Thiruvananthapuram which could help the company in offering a range of options to its users to connect with global destinations.
With acquiring controlling stakes in some of the major airports such as Mumbai and aiming to become India's largest private airport operator, Adani is on its way to emerge as an infrastructural giant in the near future.
Opinion Poll
Question : How can India stem inflationary trends likely from the currently all-time-high steel prices?