Janaagraha Awards: Odisha is best in urban governance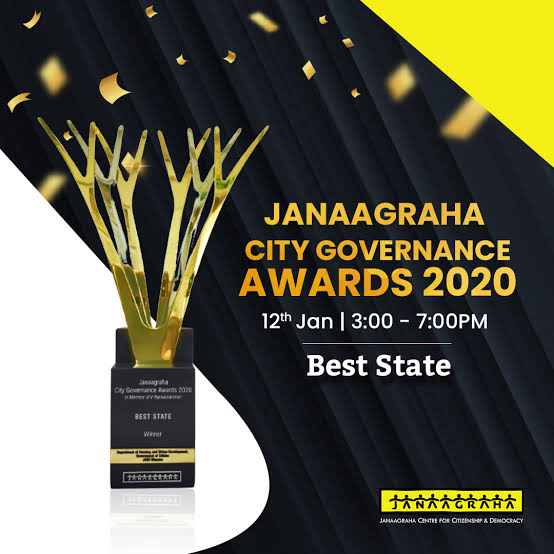 Janaagraha Awards: Odisha is best in urban governance
12 Jan 2021 Editorial Team
Odisha took home the Best State and the Best Civic Agency award, while Gujarat took home the Best State Election Commission and Kerala the Best State Finance Commission. Indore for its PPP Based Integrated Solid Waste Management took home the Best Municipality at Janaagraha City Governance Awards. Meanwhile, Maharashtra won runners-up in four of the five award categories.
Held in memory of V Ramachandran, a doyen of decentralisation, the awards recognize ground-breaking work in decentralisation in urban context by institutions across government. The awards were conferred in a virtual ceremony by Union Minister for Housing and Urban Affairs Hardeep Singh Puri on Tuesday.
Delivering the keynote address, Puri said that cooperative and competitive federalism are in-built into the design and execution of various schemes and missions. "My Ministry is clear that only a partnership between citizens, municipalities, states and MoHUA can deliver transformative urban change in this country."
Odisha won the Best State for its JAGA Mission under the Department of Housing and Urban Development. Meanwhile, the Best Civic Agency was awarded to Piped Water Supply Scheme for all Urban Households, Public Health Engineering Organisation, Odisha. G Mathivathanan, Principal Secretary, Housing and Urban Development, Odisha, received the awards for both the categories.
Kerala's Fourth State Finance Commission was feted for its recommendations on participatory governance and robust data ecosystem Decentralisation.
Indore Municipal Corporation was feted with the Best Municipality award for its PPP Based Integrated Solid Waste Management.
Winners of 2nd Edition of Janaagraha City Governance Awards
Best State
Winner - JAGA Mission, Department of Housing and Urban Development, Government of Odisha
Ist Runner-Up – Decentralisation of Plan Approvals, Urban Development Department, Government of Maharashtra
IInd Runner-Up – Geo-spatial Mapping of Urban Properties, Commissioner and Director of Municipal Administration Department, Government of Telangana
Best Municipality
Winner – PPP Based Integrated Solid Waste Management, Indore Municipal Corporation
Ist Runner Up - My City Beautiful City, Thiruvananthapuram Municipal Corporation
IInd Runner Up - GIS Based Property Tax Administration System, Raipur Municipal Corporation
Honourable Mention - Zero Waste Initiative, Kollam Municipal Corporation
Honourable Mention - Decentralised Solid Waste Management, Vellore Municipal Corporation
Honourable Mention - Decentralised Solid Waste Management, Petlad Municipality
Best Civic Agency
Winner – Piped Water Supply Scheme for all Urban Households, Public Health Engineering Organisation, Odisha
Ist Runner-Up – Municipal E-Governance Project, Punjab Municipal Infrastructure Development Company
IInd Runner-Up – Integrated Transport Management System, Navi Mumbai Municipal Transport
Honourable Mention – E-Platform and ERP System, Mussoorie Dehradun Development Authority
Best State Election Commission
Winner - E-Voting, Gujarat State Election Commission
Ist Runner-Up – Bifurcation of Assembly Rolls and Digitisation of Local Body Voter List, Maharashtra State Election Commission
2nd Runner-Up- E-Election Software, Uttar Pradesh State Election Commission
Best State Finance Commission
Winner - Kerala 4th State Finance Commission
Ist Runner-Up - Bihar 5th State Finance Commission
IInd Runner-Up - Maharashtra 4th State Finance Commission