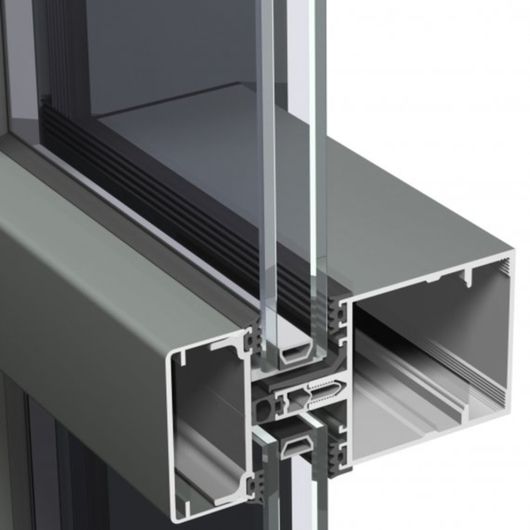 Aluminum curtain wall market to grow significantly: Polaris
A new study shows that aluminum curtain wall market is expected to reach $ 62.85 billion by 2027. According to a study conducted by Polaris Market Research, a market research and consulting firm, the demand for aluminum curtain walls is expected to witness significant growth over the next six years owing to the increasing demand for the protection of residential and commercial building walls. In addition, the use of exterior glass walls for commercial and infrastructural buildings is expected to have a positive impact on the aluminum curtain wall industry.
The report "Aluminum curtain wall market share, size, trends, industry analysis report, by type (stick built, unitised, semi unitised); by application (residential, commercial, infrastructure); by regions; segment forecast, 2020-2027" gives a detailed insight into current market dynamics and provides analysis on future market growth.
Source: Polaris Market Research analysis
Increasing urbanisation and several infrastructure projects sanctioned in the developing economies of Asia Pacific and Latin America is likely to complement aluminum curtain wall industry growth over the forecast period. Furthermore, the need for eco-friendly material and increasing regulations pertaining to the use of green building materials is expected to drive aluminum curtain wall demand.
Some key highlights of the study pointed out by Polaris Market Research are:
Unitised aluminum curtain wall accounted for the largest revenue share in 2019. The segment accounted for over 55% of the market share owing to the low cost of installation and growing demand in developing economies.
The commercial application segment accounted for the largest revenue share in 2019 with over 50% of the market share. This can be attributed to the growing demand for aluminum curtain walls for the construction of malls, offices, institutional buildings, and more.
Asia-Pacific region is dominating the global aluminum curtain wall industry, holding almost one-third of the market share throughout the forecast period. Increasing construction projects and rising investments by global market players in the region is likely to complement demand.
The major players operating in the aluminum curtain wall industry space provide several services to retain and gain customers. In addition, the growing construction projects across the globe have led manufacturers to provide customised solutions to meet specific requirements.
Key players
Alumil Aluminium Industry SA

EFCO Corporation

Gutmann AG

Hansen Group Ltd

Kawneer Company

Sapa Building Systems Ltd

Schuco International

Josef Gartner GmbH

Kalwall Corporation
The aluminum curtain wall market report has been segmented on the basis of type, application, and region.
New York-headquartered Polaris Market Research offers business insights on technologies and markets.