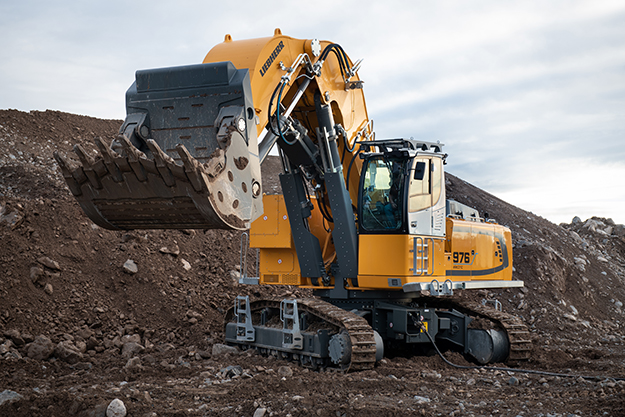 Liebherr introduces zero CO2 emission excavators
Apr 12 2021,02:04 PM CW Staff
Liebherr announced that the R 976-E and R 980 SME-E electric crawler excavators will be developed and produced by Liebherr-France SAS in Colmar, France.
The company stated that these excavators aim to withstand extreme conditions, they weigh 90 and 100 tonne respectively and are available in backhoe and shovel versions. They contain low noise level and zero carbon dioxide (CO2) greenhouse gas emissions during operation.
The electric system in the Liebherr R 976-E 400 kW crawler excavator is supplied with 6,000 V power via a cable connection, with the cable inlet in the centre of the undercarriage. A motor cable drum is also available as an option. The machine is powered by a high voltage 6,000 V/50 Hz current collector. A switch cabinet transformer (high voltage/low voltage) and a low voltage cabinet for power distribution and control of 690 V, 230 V and 24 V networks are located on the upper carriage.
The technology used in the R 976-E and R 980 SME-E offers constant speed, whatever the load. According to the company, the high availability of transient power for complex machine movements enables high productivity. The R 976-E's low-voltage electric squirrel-cage engine drives the hydraulic system. The engine features heat shielding on bearings and motor windings. Integrated into a frame with a reinforced flange, it enables soft starting. The two robust electrical cabinets are assembled by welding into a structure specifically designed to withstand extreme working conditions. The lockable watertight (IP 65) doors are fitted with safety switches and an emergency stop. The high voltage cabinet is a dedicated contact for power connection and voltage transformer, while the low voltage cabinet is used for power connection monitoring.
The company says that these two cabinets contain lower operating costs and are extremely quiet. The R 976-E and R 980 SME-E promise environmentally friendly extraction applications. They feature a spacious cab equipped with an automatic permanent air-conditioning and heating system while the exterior has a 270° camera system plus an armoured windscreen and roof window.
The operator's platform features a large number of additional monitoring functions and a standard large 9 screen.
The Liebherr Group is a manufacturer of construction machinery.
Written from a company news release.
Opinion Poll
Question : How can India stem inflationary trends likely from the currently all-time-high steel prices?