Exclusive Launches Will Ramp Up The Lok Of Your Space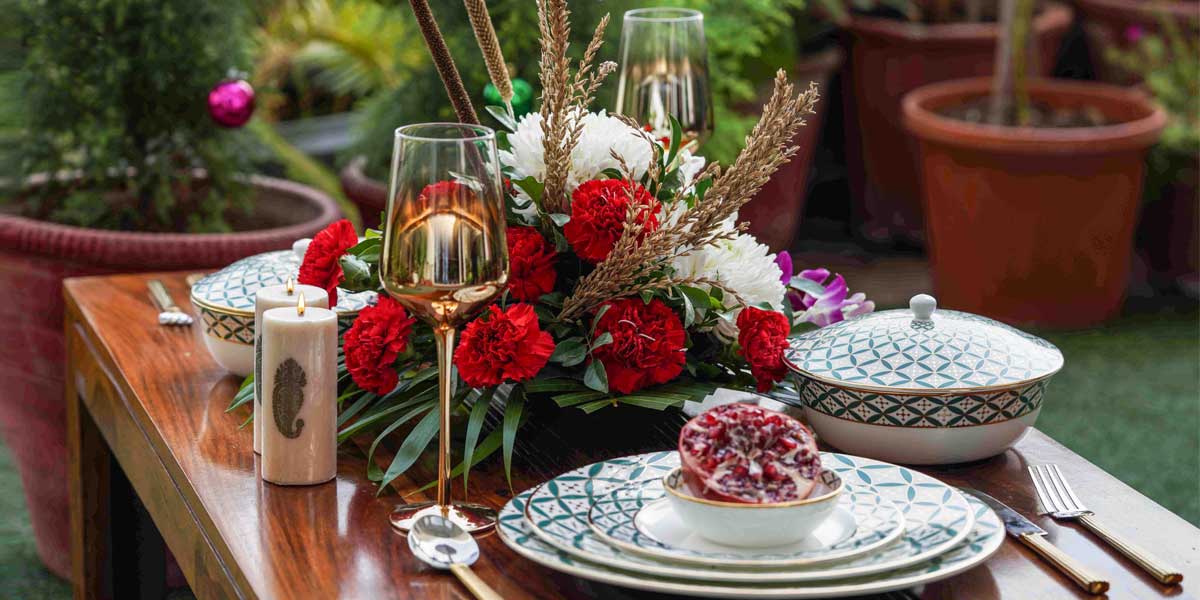 Exclusive Launches Will Ramp Up The Lok Of Your Space
16 Nov 2021 CW Team
Collection of Tableware by Kaunteya
With its Jyamiti dinnerware collection, luxury tableware maker Kaunteya has revealed lovely Christmas settings that highlight the creativity and symmetry of geometric lines to conjure elegance and joy.
The Kaunteya collections are a sweeping and nuanced celebration of Indian culture, mythology, and legacy. Jyamiti, the Hindi word for geometry, is a simple yet captivating interplay of geometric lines inspired by carvings on large domes, inlays on walls, and architectural components of Indian landmarks. The green and gold embellishments on a clean white background create a gorgeous dinnerware ensemble that exudes luxury and adds to the Christmas charm. To invoke happiness and brightness, the Christmas sets blend Jyamiti dinnerware with beautiful gold candle stands and botanicals and berries. Dinner plates, side plates, dessert bowls, dip bowls, soup bowls, serving bowls, serving bowls with cover in large and small sizes, rectangle cookie plate, square platter in large and small sizes, charger plate, jug, and coffee mugs are all part of the Jyamiti line. There are also attractive gift boxes available.
New Textiles Collection by RR Décor
RR Decor as a company stands out in the furnishings market for their exquisite hand-woven silk textiles with creative designs steeped in Indian traditions yet radiating an international appeal. Kalpvriksh - The Tree of Life – is a new textile line that embraces a mix of cryptic geometric and floral themes. The Kalpvriksh Collection, a rich tapestry of colours, themes, and patterns, breathes new life into every space it is put in. The tree of life, Kalpvriksh, is a style celebration of life itself, influenced by enchanting flowers and regal gardens.
The set is beguilingly textured with flower clusters and is breathtakingly detailed. It's made up of a kaleidoscope of geometric designs and blooms.
Rosabagh, Naqsh, Ekaya, and Vaatika are some of the subtle elements from the Mughal era. Use the rich textiles to dress up your windows and furnishings, and you'll be amazed at how wonderful they look. The textiles have a nice fall to them. They also work well as pop-up pillows.
Courtesy Shahi Furniture by Anil Shahi
Shahi Furniture by Anil Shahi, known for their handmade furniture in styles spanning from classical to neo-classical to modern, has showcased inspirational Christmas décor with a classic twist by merging its characteristic furniture pieces.
What would Christmas be without a dash of tradition? Of course, you don't have to abandon your love of modern music to do so. These gorgeous pieces from Anil Shahi's Shahi Furniture provide just the proper amount of old-world charm to your modern abode. The furniture pieces provide a delicate European flavour to your house with their rustic or bucolic appearance and sage green tones.
Aristo Lowboy: This wooden piece in a green with bucolic finish features beautiful curves and carvings.
French-Style Curio Cabinet: With dainty curved legs and frame in wood with distressed finish, this cabinet presents a clean look with hints of tradition.
Greenwood Dining: This wooden dining table showcases a natural and green finish with ornate details. A combination of cane work and fabric on the two end chairs adds a stylistic note.
Rustic Fireplace Mantel: Made of wood, the classic-style mantel is given a green and off-white bucolic finish.
Wallpapers by Nirmals Furnishings
Nirmals Furnishings, one of India's top home décor firms, is recognised for its hand produced textiles. They are the only ones in India to offer wallpapers from the 40th Anniversary collection of the renowned Spanish company Coordonné.
Coordonné is a Barcelona-based firm known for its high-quality wall coverings and fabric lines. Coordonné has introduced the 40th Anniversary Collection to mark its 40 years in business. The collection embraces design, art, and innovation. The collection includes contributions from forty designers who have worked with the company throughout the years.
Nirmals Furnishings has just unveiled an eclectic collection of wallpapers from the 40th Anniversary Collection in India, featuring exotic flora, fruits, and animals inspired by a variety of sources. Beautiful bouquets of antique flowers are featured in designer Lorenzo Meazza's wallpapers. Mercedes Bellido creates a dynamic environment by placing yellow grass snakes among low ground cover plants.
Andrea Zarraluqui's design has a painterly pattern of flowing green vines and rich crimson berries that contrast well with a cold white backdrop.
Kintsugui, a sculpture by Coordonné Creative Director Conce Fiol, contrasts the western beauty of the sculptural, polished, and pristine with the oriental beauty of wrinkles, scars, wisdom, and experience. Different designers give the same natural components a unique interpretation, resulting in a colourful variety for connoisseurs.
Also read
https://www.constructionworld.in/latest-construction-news/real-estate-news/interiors/these-latest-launches-are-what-you-need-in-your-space-right-now/30737