These Latest Launches Are What You Need In Your Space Right Now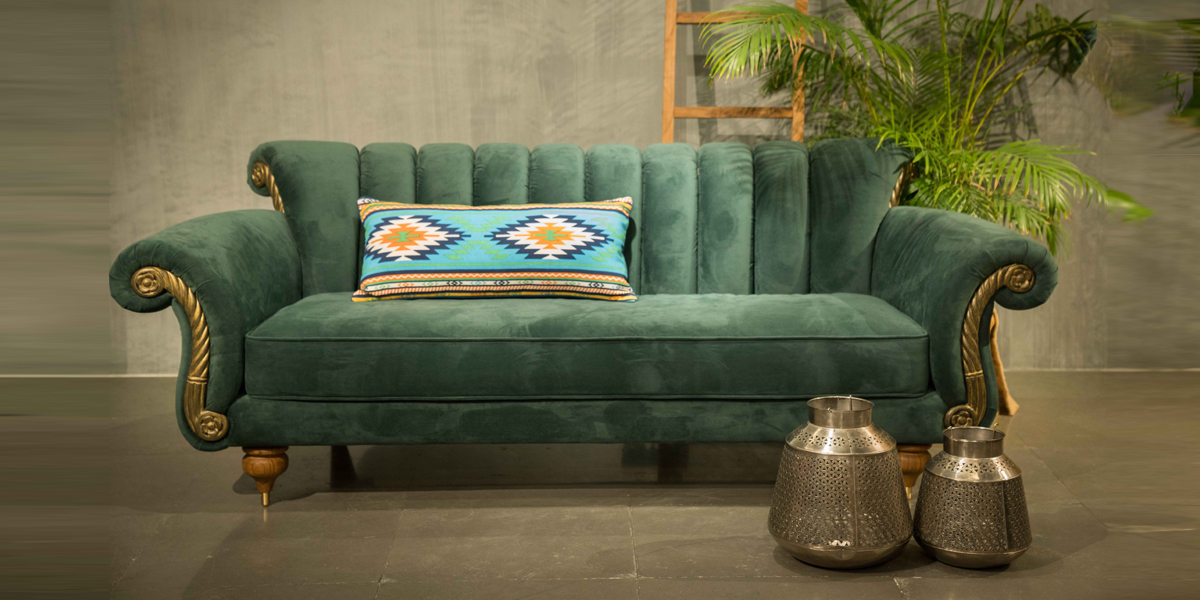 These Latest Launches Are What You Need In Your Space Right Now
03 Nov 2021 CW Team
Luxury Seating Ensemble by Inhabit
Neeta Kumar, furniture and interior designer, and founder of Inhabit, has carved out her own niche in the interior design industry with her acute anti-minimal and fiercely innovative approach to design. With its festive palette, a new set of luxury seating ensemble from Inhabit adds a distinguished character to your area.
With exquisite traditional elements and rich velvet upholstery, this seating piece from the Studio Collection creates a magnificent statement. Rich colours like sapphire, emerald, turquoise, ruby, quartz, and opal evoke a joyful attitude and richness in the Studio Collection. This collection's couches and chairs are very vibrant.
The green sofa has a lovely curving frame with brass accents and shoes. It is ready to blend into any contemporary house, with touches of old-world elegance and modern refinement.
The Jasper series, which was inspired by Quatrefoil, includes a brown couch and an accent chair. They include quatrefoil-patterned metal accents and a glistening velvet fabric that screams luxury.
i'Pix Collection by SICIS
SICIS has released its i'Pix Collection in India, which is available through Tessera India. SICIS is known for its magnificent mosaic masterpieces that epitomise great workmanship, design, and technology.
i'Pix utilises SICIS' extensive glass mosaic collections, including transparent, iridescent, mirrored, and textured materials, in the same way that a designer might pick and mix several fabrics to make an attractive evening gown.
Clients may pick from a variety of styles, patterns, and palettes thanks to the over 500 colours available. The i'Pix Collection displays infinitude with this autonomy, generating unique patterns that range from tone on tone to stark contrasts, both figurative and abstract. The surfaces are unexpected, adaptable to any sort of environment, and have the exquisite touch of unique design to cloak one's home with SICIS' unrivalled savoir-faire, 100% manufactured in Ravenna, Italy.
Home Side Tables by The Great Eastern
Look no farther than The Great Eastern Home for a side table that will fit into a corner of your living room or bedroom.
Side tables from Great Eastern Home are meant to be adaptable and practical flat surfaces that are generally coupled with the sides of seating such as sofas, armchairs, or beds. They are often used as useful tables in living rooms and bedrooms to hold glasses, remote controllers, books, and other objects. Great Eastern Home side tables are available in a variety of designs, shapes, and materials to complement your existing furniture.
Any space may benefit greatly from the addition of the Great Eastern Home side table. They may also be used as ornamental accents in any area, providing just the appropriate amount of colour or texture. The Great Eastern Home side tables are a stylish complement to any area, boosting the style factor by several levels. There is a side table for every dwelling at the Great Eastern Home.
Kitchens by Aster Cucine, Brought to India by Ottimo
Domina Kitchen by Aster Cucine, offered to India by Ottimo, will give your kitchen a beautiful and smart makeover. Domina kitchens have free-flowing designs that can be used to tame any area. Domina's sinuous curving lines defy the laws in order to provide the user power. The series exemplifies "design thinking," resulting in a work environment that is simple to move about and flow through. The Domina series is ideal for individuals who enjoy the contrast of strict, contemporary forms juxtaposed with the smooth flow of curved components.
Breakfast bars and shelves that float are a wonderful combination of aesthetic and functionality.
The Domina, with its sleek Corian surface or plain wood veneer, offers a genuine sense of freedom - freedom of creativity, a celebration of cross-juxtaposition, and adaptability.
The kitchen is an inspirational beginning place for any design with a Domina. The kitchen becomes the key design focus in the heart of your house, as it is flawlessly ergonomic and particularly useful. The end result is a kitchen that is flawless in terms of design, crafted from high-end materials and fully functional on every level. As you feast your eyes on its core curving lines, it takes you on a gratifying trip and gives you a sense of real belonging.
Serene SI 02, a dishwasher by Hafele
Juggling many jobs at home and at work may be exhausting, especially if you don't have the necessary gadgets to help you with your regular household chores.
Häfele's Premium Appliances Range gives you the option of focusing on tasks that require your whole concentration. The SERENE SI 02 is a semi-integrated dishwasher by Häfele that offers a sanitary and silent alternative to normal cleaning. This dishwasher has a large capacity of 14 place settings, making it ideal for a typical Indian home.
Even when completely filled, the height of the upper basket may be changed at various heights, allowing for flexible stacking of various types and sizes of plates, glasses, and other items. Furthermore, the dishwasher may operate at half load, which is an energy-saving alternative when there are less dishes to wash!
It has built-in programmes that allow you to wash your dishes in a variety of ways, depending on the material and how dirty they are. The items on the lower rack are treated to 20% greater spray pressure at a higher temperature in the intense mode, which is especially beneficial for persistent grease stains. The Serene SI 02 has a sophisticated sensor technology and an excellent filtering system that circulates enough water and detects any perceived water loss, providing a sanitary wash and eradicating 99.9% of bacteria and germs.
Also read
https://www.constructionworld.in/latest-construction-news/real-estate-news/interiors/charming-modern-classic-living-room-by-inhabit/30447