Our design philosophy is to create the reflection of our end user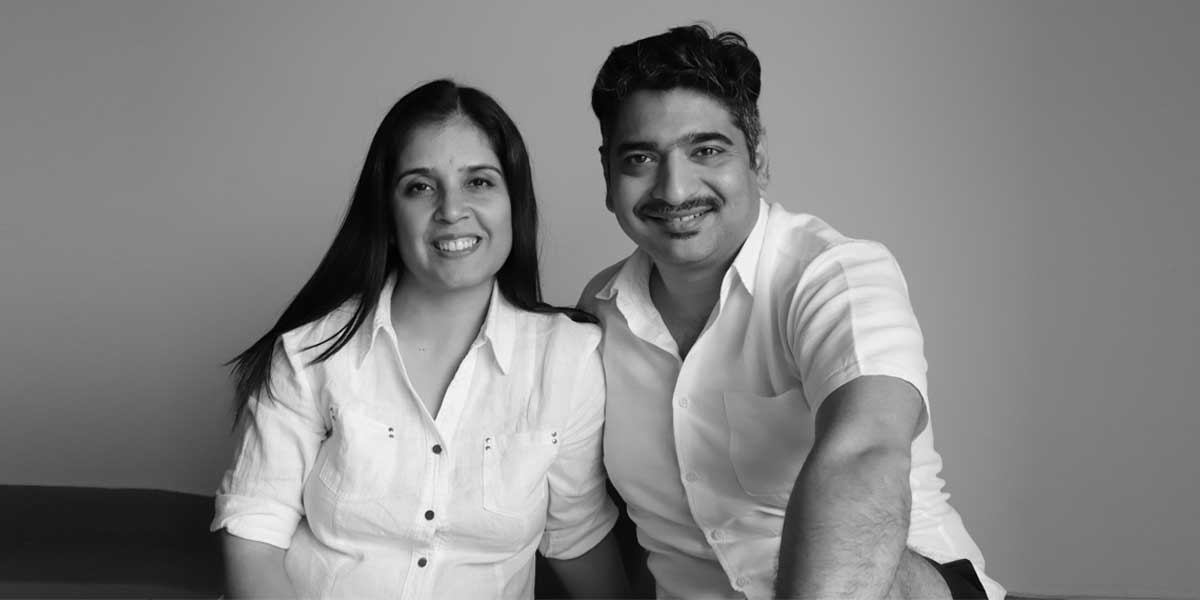 Our design philosophy is to create the reflection of our end user
12 Oct 2021 CW Team
With a keen desire to depart from conventional models, designers of 42mm Architecture strive constantly to create projects that stand out because of the distinct approach towards design, detail and the latest technology. A multi-disciplinary practice established in 2005, specialises in architecture, interior design and urban planning.
CW DesignBuild speaks to founders Rudraksh Charan and Priyanka Khanna about their vision, value engineering in design and more.
What is your vision for42mm Architecture?
We see 42mm becoming a more diverse and complex company, capable of handling highly specialized design projects and collaborating with specialized professionals for delivering extremely complex and unique projects.
What are the key changes you have observed in the design industry over the last decade?
Our industry is heavily dependent on physical contact; the process of building an infrastructure is extremely unique to each site. A lot of the aspects apart from construction also depend on a one-to-one interaction, like the material selection, market survey and installation that require collaboration with a large number of people. Therefore, it is natural that the architecture and construction industry has definitely hit pauses with the pandemic.
The industry today is headed to find more reliance on digital for communicating. To alter the effects of a volatile economy, ban on travel, import and export of materials, restrictions on physical marketing along with the uncertainties and life risks induced by the pandemic we are working to recreate physical experience digitally. Now, the focus is on creating processes that eliminate the necessity of physical contact to create the experience of the material and product. However, site and construction techniques still suffer a larger time lag as their technique of evolution would involve pre fabricating and controls a larger portion of the construction in factories (controlled environments).
Tell us more about the concept of Value Engineering at every level of design.
A project can be divided into four stages: 1) Spatial Planning 2) Design development- Integrating services 3) Working drawings - Detailing, material selection and site sensitivity 4) Execution - building the product
While we look at these stages, they are chronological. As architects a far ended visualisation of the final product is of at most importance even in the initial stages of planning. For instance, while planning a project, mindfully organising the scheme for the ease of services allows effective integration of functional systems with minor modifications. While developing the services considering appropriate execution margins and broad detailing ensures a perfect end product. The final stage of execution can only be perfected if we incorporate value engineering at all stages. This is done by being mindful of a step ahead and reverse engineering the details from the visualised end product.
Take us through your process of designing workspaces from concept to execution.
At 42mm the emphasis is on understanding the end-user in relation to its environment. We understand the necessity of the built environment to enhance the quality of life for the user, to be an expression of its true nature to the surrounding environment, to be responsive to regional sensibilities and to be responsible towards the environment. The Design Process for each project evolves from a detailed analysis of its Function and User in relation to its site and its social and cultural context.
Seamless integration of spatial organization with various systems, like structure, services, finishing and lighting contributes to the Spirit of the Place. Sensitive to issues regarding contextualization-globalization and environment, the intervention lies in creating meaningful, useful environments, which enhance the feeling of well-being. Sustainability plays a major role with passive and active solar design, enabling us to create clean, energy efficient and 'low burden' environments.
A collaborative approach and comprehensive consultation process allow us to respond to requirements, commercial environments, technical processes and practices, resulting in the optimum design solution. We believe in introducing clients to contemporary approaches and progressive design. A strong sense of commitment, ambition and service for each project has won the firm lasting relationships with our clients.
While creating workspaces, what are the key design elements that you take into account at the initial design stage?
The following are parameters that one should consider from the initial stages of design:
Firstly, understanding the vision of the workspace, that is the representation of the company's values and aspirations. Therefore, the ethos of the work space is established by the establishment's vision.
Secondly, for a commercial project, numbers play a key role in establishing the parameters of a workspace. The population cover determines, number of workstations, toilets, conference areas, canteens etc are required in the institution.
Thirdly, an understanding of cost and speed of execution. In commercial projects speed of execution and cost effectiveness also governs design as the quality is large.
What are the key challenges you face while designing office spaces?
The key challenge today in designing office space is creating a new definition of the space and optimising the design based on the changing needs. Large open offices with many workstations parked together consequently are soon to efface. The essentiality of social distancing, reduced gatherings along with the recognition of effective remote working have challenged the need for office spaces to be large. Offices now tend to shrink in terms of physical space, housing fewer people at one point in time.
They would transform into places of meetings, to host inevitable physical interactions. There will be a transition in offices from being spaces where people work at their desks to interaction hubs. But unlike the open office concept where all the space is combined as one, multiple small meeting cabins with fewer workstations shall dominate.
Although time demands minimisation in physical interaction but as social animals human beings need to connect. Therefore, glass conference rooms ensure seamless visual connectivity among the people while ensuring that the environments can be conditioned differently. The focus would be on creating extravagant cabins which are the owner's den as the need for open work station areas would reduce drastically.
Tell us more about the use of the latest technology softwares in your projects and how have they aided your work?
For a general population to visualise a space, its size and quality is close to impossible using 2D drawings. We use augmented reality- 3D renders to create a perfect visual impression of the space. While creating this representation we reverse engineer details in terms of finishes, margins lighting, HVAC etc. This helps us make our client understand the final outcome and explain the integrations of complex service layers that would have otherwise overwhelmed the clients.
How would you define your style of design? How do you ensure that your projects bear your signature?
42mm is a multi-disciplinary practice that emphasizes on style being a process which evokes meaning. Architecture is a language; it is a medium of expression. Like every language architecture also has syntax to express oneself. The spatial composition of functions and the experience created by it is also syntax that expresses the sense of architecture. All components when put together in any style should have meaning. This meaning may be defined by purpose, personality of the user or their lifestyle. It is this projected interpretation that gives meaning to our projects.
Our design philosophy is to create the reflection of our end user. The end user can be a single person or an intellectual public group. To understand, interpret and reflect their personality is what embeds meaning to the build form. Our buildings do not contradict the personality of its user unless we desire it to be a contradiction. Hence our emphasis is highly on the spatial arrangement/planning and the research to adopt any particular architectural style that can express the interpreted meaning to our built form. The style is not a part of our process but the research that leads to it. The quality of the spatial volumes is our signature. It is not commodified rather ingrained in the structure of our design.
How do you approach design to accommodate aesthetic and functionality in commercial projects?
Our process of design begins by achieving the best functional efficiency. Here we establish alignments and volumetric interactions. Hence this creates the framework and the aesthetic value of the space. The interior design in terms of materials, finishes is an addition to the aesthetic. We define aesthetics with spatial quality and use materials that can complement the established value.
How do you incorporate sustainability in your work?
Consciousness in luxury can be achieved in a fourfold process beginning at the planning stage.
First: The adequate use of renewable resources such as natural light and plants can accentuate the spatial quality and visual appeal.
Second: Following this is the choice of right materials, giving preference to natural and recycled products such as reclaimed wood, cork, ceramic etc.
Third: Technology plays the third role. The use of energy efficient lighting fixtures, double glazed windows and automation can optimize the energy consumption based on the user's need.
Fourth: Lastly, the space can be accessorized by revamping old furniture, creating art from scraps and locally sourcing antiques. Hence, sustainable materials in the modern homes disseminate a true sense of luxury defining it beyond its price tag.
Tell us about the projects you are working on currently.
We are currently working on a tea estate: boutique hotel, a futuristic pre engineered metal and reclaimed wood superstructure resting on a very vernacular rubble plinth. A house in Nepal overlooking the Himalayas- this house explores the views of the snow-clad Himalayas with morphology of stacked blocks. A set of luxurious farmhouses in Delhi: These are the ultimate super homes.
As experienced professionals from the field of architecture, how would you advise youngsters to approach architecture as a profession?
My advice to young aspiring designers is not to be reserved, rather experimental. Be bold in choice of work. It is also important to prioritize once aspiration while fulfilling responsibilities in life. Moreover, they should invest their formative years in gathering as much knowledge and create a strong groundwork for the journey ahead.
Also read:
https://www.constructionworld.in/latest-construction-news/real-estate-news/interiors/passion--perseverance-and-encouragement--the-building-blocks-of-quirk-studio/28030
https://www.constructionworld.in/latest-construction-news/real-estate-news/interiors/--design-is-a-reflection-of-our-social-behaviour-----amit-aurora/30185