Passion, perseverance and encouragement, the building blocks of Quirk Studio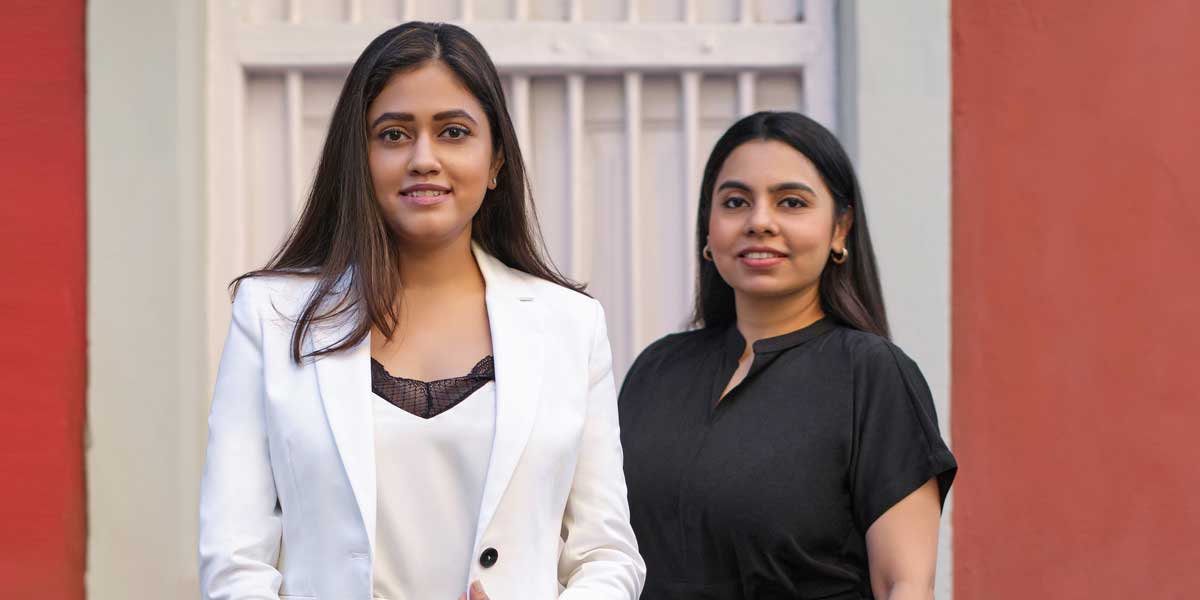 Passion, perseverance and encouragement, the building blocks of Quirk Studio
Jul 02 2021,12:07 PM CW Team
CW Design Build spoke to Disha Bhavsar and Shivani Ajmera about working as a duo, their design philosophy, statement style and a lot more.
What is your vision for Quirk Studio?
Our vision for Quirk Studio is constantly evolving. When we established this boutique design studio, our aim was to depart from the conventional notion of luxury to cater to modern, novel notions of comfort and self-expression. Our primary motivation, over the years, has been our drive to create spaces that provide for the users, inspire viewers and leave a deep, long-lasting impression.
How has your design philosophy changed over time, especially in the light of the pandemic? What changes have you made in your work protocol due to the pandemic?
In the new normal, functionality has become a key to designing spaces. In fact, multifunctionality has become imperative today. With the pandemic, people are staying at home and working from home as well, so every space and every piece of furniture is thought more critically because now it is used not by one person but by multiple end-users, all of whom use it differently. The bedrooms are used as workspaces, and the living room becomes a yoga room when needed. So, this multifunctional adaptability has become an integral part of our process.
In the last year, we have found our rhythm in being productive by collating our thoughts through consolidated effort. In terms of work protocol, we have learnt to be more productive while working remotely. We realise that not everything needs an actual meeting and a lot can be done by just working together online.
How do you approach design to accommodate aesthetic and functionality in residential and commercial projects?
Our design philosophy has always been about finding simplicity in clutter and creating in order to inspire. We genuinely believe in creating spaces that have the power to transport you into another world while evoking an emotional response. At Quirk Studio, our approach is consistent regardless of the type or size of the project. We are inspired not just to create aesthetic or functional spaces but to design tangible, balanced experiences within the spatial volumes for all our clients.
How do you incorporate sustainability in your work?
We mind the carbon footprints in our work. We are really conscious of any demolition work, and we try to reuse materials. Additionally, we are very particular about not wasting resources in all our projects.
A fraction of sustainability in our work also depends on the clients. We try to use led lights and energy-conserving appliances; however, not all clients are fully conscious of wanting to make sustainable choices. The construction industry, especially in India, has a long way to go to being sustainable, but it is a work in progress.
Tell us about your working style as a duo, especially in the context of creative decisions and differences.
Both of us worked at a publication house as colleagues at the beginning of our careers. What brought us together was a similar passion for design, similar aesthetic sensibilities and a larger passion to make an impact in the built environment through design. This similarity is what encouraged us to take the initiative to start our boutique design firm -- Quirk Studio. So, our decisions are usually in sync and differences are rare since we started as colleagues first, who worked very well together.
Which of your projects till date have been the most innovative and experimental and how?
It is needless to say that every project is designed with absolute passion and panache at Quirk Studio. Nevertheless, 'The Mill Project' is a significant project that played a vital role in our design journey and is symbolic of our design approach while catering to unique design briefs.
"The Mill Project" - The Mill Project (Ālai - translates to 'Mill' in Tamil) — an office crafted for a family-run enterprise wherein the patriarchal head and his two sons shoulder the operations. The project is a dexterous design endeavour that has inverted the approach towards conceiving spaces in the realm of industrialisation. Its acute devotion towards the adapted design grammar has allowed the workplace to redefine stated opulence in a novel light! The project liberates itself from archaic design directives to bestow its end-users with a venue that honours their bona fide roots while weaving together a perceptive narrative that straddles the past, present, and future with empathy.
How would you define your style of design? How do you ensure that your projects bear your signature?
Although our design approach is always evolving, we would categorize our work as contemporary, modern and minimalistic with a touch of eccentricity and surprise. We believe in crafting spaces that reflect our design philosophy using a diverse range of textures, colours, and eclectic elements.
When clients come to us, they come to us for our design sensibility. They have seen our work and chosen us because it aligns with their own aesthetics. This jumpstarts our process of bearing our signature because we are already bringing our style to the table.
Having said that, I feel that our inherent aesthetic is unforced, and that is where our strength lies. We let the space dictate our inspiration, so whether it is an art deco building or a modern building, our ideas reflect that. Then the client who dictates how we take things forward with this inspiration which becomes our signature. We never try to force a style or any particular kind of feature into any of our spaces. In fact, we are very clear that we want our space to always be almost fluid without shouting any kind of design style onto it.
Tell us about the major challenges you faced while starting your journey of establishing Quirk Studio.
Our journey has been progressive and accompanied by many challenges, but has been exceedingly satisfying. We cannot say what has been our highest high or our lowest low, as every success is a stepping stone to greater success and every low is an opportunity for us to improve and push our boundaries.
Our passion and perseverance, together with the support and encouragement from our clients has helped us build Quirk Studio, brick-by-brick. Perhaps our biggest lesson from our journey has been that there will always be challenges along the road, and that one has to approach every problem with patience, understanding and ardour.
However, we are constantly yearning for more opportunities within the industry and continue with our desire to make good design more accessible. That being said, we feel like we have just started and we have a very long way to go.
Take us through your design process from conception and design to final build.
Our approach to any project is to firstly, understand the brief of the project and to get to know the client, which allows us to translate their requirements into a tangible, cohesive design. Secondly, the architecture of the space also becomes a pivotal part of our conceptualization, as it is these spatial volumes that inspire our designs.
We draw inspiration from the spaces and environments that surround us and we stay keen and open to experiences when we travel; the study of art across disciplines has always been a great anchor for inspiration too! Often, while working on spaces, the clients and their sentimentality also becomes a pivotal source of inspiration for us, which is what shapes our designs.
What changes have you perceived in your clients (in terms of demands, awareness, aesthetics, etc.)?
Today, clients are exposed to the entire world of social media, especially Pinterest, that they have become much more aware, informed, and educated. Hence, they are making well-thought-out decisions when it comes to even choosing architects and designers they want to work with.
We think it is a good time to be in the design industry because sometimes this information works positively for both- the clients and the designers. The accessibility has primarily helped clients build a firm idea of what they want, how they want it, and how they want to use it. This kind of clarity really helps the designer as there is little guessing to be done about what they think the client would want. As a creative professional, it is then upto you to take off from that point and give your client what they want.
Tell us about the projects you are working on currently.
Currently, we have a whole mix of amazing residential spaces. Some of which are for young people and some for an older age group, so we have a wide range as well. The good thing is we are now not just pan-India but also doing international projects. It is a big step in the right direction for Quirk Studio. All in all, we are doing a great gamut of work in terms of style and creativity with a fantastic line of action and we are thrilled.
What advice would you like to give to aspiring architects/designers?
It is imperative that one must believe in themselves. We want to encourage young aspirants to take the plunge to achieve their goals. To sum up, keep your blinkers on and continue working towards your dream.