Simple Home Decor Elements That Will Transform Your Space Immediately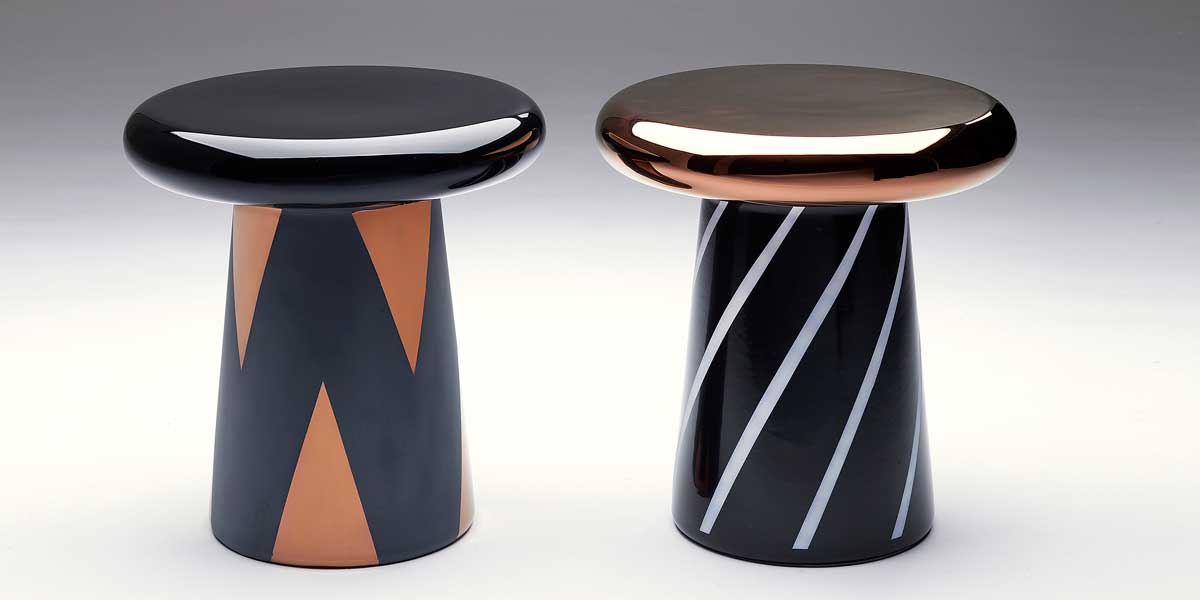 Simple Home Decor Elements That Will Transform Your Space Immediately
06 Apr 2022 CW Team
T-Table by Bosa, a well-known Italian brand that manufactures ceramic furniture and accessories, has been introduced by Sources Unlimited, one of the pioneers in delivering high-end international furniture, accessories, and lighting solutions to the Indian market.
The T-Table line, designed by Jaime Hayon, is utilitarian, basic, and organic. This collection of ceramic coffee tables is lightweight and portable. It's designed to be utilised as an auxiliary little table next to a chair, sofa, or lounger, and it can serve as both a support and a decorative feature. The T-Table can be used alone or in a group, and it resembles a clump of mushrooms in a forest.
Bosa's ceramic products and accessories not only showcase the company's extensive craftsmanship, but also its never-ending exploration of the medium's potential, with the goal of changing formal and functional conventions into new interpretations, functions, and magical worlds. With these awe-inspiring yet useful coffee tables that have stunning designs and are made of luxury materials, you can add pzazz to dreary areas or give that prim sofa a zany partner.
In 2005, Sources Unlimited was established with the goal of bringing high-end European furniture to the Indian market. Sources Unlimited, led by Falgun Shroff, currently has a team of over 100 specialists dedicated to serving selective clientele across the board. Members of the political elite to the entertainment sector are among his prestigious clients, who hail from Southeast Asia, Europe, and the United States.
Solution for interior cravings by JAVI
Javi Home specialises in hand-tufted, hand-woven, hand-knotted, hand-loomed, braided, and leather patterns, and is a renowned rug and carpet manufacturer. Fortunately, Javi Home exports to over 67 countries, satisfying the needs of a number of large-scale merchants, importers, and wholesalers.
JAVI is a dream come true for everyone who wants to make the process of purchasing home fashion products more aware and conscious. People have forgotten to care for the planet and the living beings on it as materialism has grown over the last century. JAVI aspires to be a brand that is both socially and environmentally conscious. The brand encourages us to buy less in order to save more of the world, which we can do when we buy high-quality goods.
JAVI is pressuring the company to be transparent in all of its interactions and raw material sources. This will not happen overnight, but the brand has committed to addressing every bottleneck in the production and supply chain in stages in order to meet its objective of becoming carbon neutral in the next several years. JAVI desires to raise your home aesthetics and make the world a better place for generations with their highly driven team of youthful and responsible professionals who believe in delivering better and responsible alternatives to consumers.
With the support of their suppliers, Javi Home offers a large choice of contemporary and valued products to its consumers. Going green at work, on the other hand, can save your firm a lot of money. JAVI HOME, as a one-stop shop for all things interior, also assists in implementing safe and healthy green practises in the workplace, such as cloud storage and turning paperless.
Mélange Collection of Coffee Tables by Serein Decor
The Mélange Collection of coffee tables by Serein Decor quickly transforms any area. Each piece is unique and created from the highest quality materials. The collection offers timeless art deco elements that are luxurious and extravagant. The Mélange collection of coffee tables are ideal focal points for your favourite spaces. Metal, leather, glass, and gold are used to create amazing utilitarian art pieces.
The Mélange Series is a collection of coffee tables that demonstrate the brand's signature high quality craftsmanship and timeless design sense. With these beautiful yet functional coffee tables that have graceful designs and are made of luxury materials, you can add pzazz to dreary areas or give that plain sofa an eye-catching partner. Every piece is expertly handmade and made using eye-catching materials and inventive design.
The following are some of the highlights from Serein Decor's magnificent Mélange Collection:

The Mélange Occasional Coffee/Side Table
The Mélange Occasional Coffee Table Large
The Mélange Triad Occasional Coffee Table
Oryn Collection of Candle Hurricanes and Lanterns by Serein Decor
Candle Hurricane Lantern Grey Woven Leather Large:
Elegant evenings call for a simple approach. This hurricane candle holder with a steel base and hand-woven leather embellishments, handcrafted by Serein Decor artisans, is the perfect glamour accent to present or keep!

Candle Hurricane Lantern Grey Woven Leather Small: The ultimate glamour element for creating an amazing evening is this artisan crafted hurricane candle holder with a steel base and hand woven leather embellishments.


Candle Lantern Tan woven Leather: Make the most of those patio-perfect evenings with a Candle Lantern Tan woven Leather. This Candle Lantern is tastefully fashioned for classy evenings with tan braided leather.


Woven Wicker Candle Hurricane: For those evenings when you want to stay up late. The perfect home accessory is Serein Decor's artisan crafted hurricane candle pillar with a steel base and hand-woven wicker details.


Refined Waste Hurricane: Serein Decor's open-air hurricane is refined and industrial at the same time, highlighting the light of a solitary pillar within. The sustainable design, which is made from refined waste, creates a trendy accent that's ideal for your house or as a present. For convenience of usage, the cylindrical shape opens from the top.

Candle Hurricane: With its dull gold base and gold rim, this exquisite clear rimmed cylindrical glass hurricane offers a subtle bling effect. The sleek silhouette opens from the top for simplicity of use and may be reused and refilled multiple times.
The Iconic Harbor Laidback Armchair by B&B Italia
The classic Harbor Laidback armchair has been released in India by B&B Italia, the world leader in contemporary furniture. It's available at Scala Home, a New Delhi-based retailer of high-end furniture.
Harbor Laidback is a versatile and creative armchair that redefines the concept of relaxation and comfort thanks to an unparalleled mechanism that permits simultaneous movement of the backrest and seat.
By using a lever strategically located between the cushion and the armrest, you can control the movement and set a comfortable position. The seat moves nearly imperceptibly in tandem with the backrest. A height-adjustable cushioned headrest, as well as a comfy matching footrest and a round ottoman with removable wood tray, are included with the chair.
Harbor Laidback is an unusual, yet lovely shape that follows in the tradition of the Harbor armchairs, a classic with an inverted truncated cone shape and a harmonious and flowing line. Leather or cloth upholstery with a beautiful saddle stitch are both available. The zip that runs across the backrest is both decorative and useful. Harbor Laidback is excellent for any occasion, whether it's to simply unwind and watch a movie or read a book, or to catch up on some work. The proportions of the seat and the height of the seat's top make it ideal for using a computer or tablet.
Also Read
https://www.constructionworld.in/latest-construction-news/real-estate-news/interiors/designer-and-elite-products-will-elevate-your-home-decor/32554
https://www.constructionworld.in/latest-construction-news/real-estate-news/interiors/mood-lifting-luxury-recreation-areas-by-design-deconstruct-/32558