Designer And Elite Products Will Elevate Your Home Decor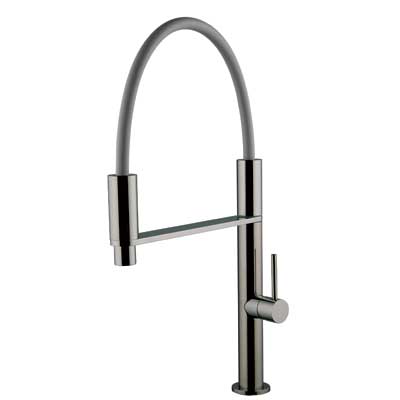 Designer And Elite Products Will Elevate Your Home Decor
16 Feb 2022 CW Team
Chic & Exclusive Tap Collections by Fima Carlo Frattini
Fima is an Italian brand with a three-generation history. Fima Carlo Frattini has always been distinguished and characterised by its constant search for beauty and spasmodic attention to every detail, from the selection of machinery to the study of the components of a new product to the development of its explanatory brochure. This well-known company has introduced two new kitchen tap collections, Galileo and Flexi, that seamlessly combine functionality and style.
Galileo Collection – a revolution in the kitchen:
The wider base adds to its elegance and makes installation on all worktops easier. The mixer's control centre is the core. It has a clean and elegant design and is located at the top of the base for easier use in everyday situations. With the option of a distinctive pin lever that is included in the packaging and can be easily added if consumers opt for it, the handle gives a minimal and contemporary look.
Flexi Collection – scenographic architecture in the kitchen:
The Flexi F7047 is distinguished by a pull-down hand shower with a return spring and a swivelling spout that allows for 360-degree use. The silicone flexible hose comes in a variety of finishes (chrome, brushed nickel, matt white & black, black chrome, and brushed black chrome) to coordinate with the body mixer and hand shower, resulting in an eye-catching overall look.
New Table Top Décor Accessories by Ochre:
Ochre at Home (OAH), based in Kolkata, is known for their bespoke furniture and accessories, which feature radical and forward-thinking designs while remaining rooted in tradition. They've just released a new line of carefully curated tabletop accessories that bring charming shapes and vibrant colours into your home.
With their colours, shapes, and textures, décor accessories add the perfect finishing touches to the interiors. That's exactly what these carefully curated décor articles do, and more. They add a striking element to any space in which they are placed.
The best part is that they're available in colours that complement Pantone's Color of the Year, 'Very Peri.' As a result, these accessories will add a trendy feature to your home, as they come in vibrant and cheerful colours that instantly brighten up the environment.
Moreover, their organic forms are enthralling. This fun combination of trend and design will flatter your interiors.
New Collection of Textiles by Nirmals Furnishings
Nirmals Furnishings, one of India's finest home décor brands, is known for their bespoke crafted textiles. They've just released a new line of luxury textiles in solid colours ranging from bright to pastel. Plain fabrics add their own charm to a space with their unique colours and textures.
Nirmals Furnishings' new fabric collections include some interesting and trendy colour options.
The Raffia collection's polyester jute fabrics come in a variety of colours, from neutral grey and charcoal to fluorescent red and yellow. The fabrics also have a lovely sheen to them, which adds brightness to any space they are used in.
Bright pastel shades such as peach, beige, emerald green, and others are featured in the Cernobbio velvet fabrics. They have a silky smooth nap that creates luxurious surfaces. Upholstery, cushions, and curtains are all good candidates.
Block Print Cushions by GharGhar
GharGhar is a home décor brand that specialises in artisanal and sustainable contemporary rugs, cushions, and other accessories that are inspired by art, culture, and heritage. They've just released a lovely new block print cushion collection.
Block printing is an ancient Indian art form that continues to be popular among designers and patrons. Gharghar's block print cushions are made with block printing, a centuries-old art form that draws inspiration from Rajasthan's rich history.
Intricate geometric patterns are combined to create a striking look, and subtle lace, threadwork, and embroidery add to the cushions' appeal.
They're made of cotton and come in a variety of muted colour palettes with a vintage feel.
The Cristallo Hinge by BLUM for Crystal Clear Designs
You can make elegant crystal-clear glass showcases and cabinets with glass or mirror using Cristallo hinges. These high-quality hinges have been custom-made to meet the demands of today's fashions. The all-new Cristallo hinge opens up new possibilities for designing your furniture, whether in living rooms or bathrooms. It combines exquisite design, cutting-edge technology, and exceptional motion quality in one package. The BLUMOTION feature is built into this revolutionary hinge for glass and mirror doors. The hinge achieves an exceptional level of stability, ensuring that it meets even the most stringent specifications. The soft-close CLIP top BLUMOTION CRISTALLO comes to the rescue because one does not want the hinges to peep out of the finely furnished glass doors. The new hinge's linear design ensures that it blends in seamlessly with furniture such as glass display cabinets. They can hold on to heavy doors despite their diminutive size.
Also Read
https://www.constructionworld.in/latest-construction-news/real-estate-news/interiors/these-lavish-products-will-dramatically-beautify-your-space/32175
https://www.constructionworld.in/latest-construction-news/real-estate-news/interiors/these-sumptuous-items-are-what-you-need-to-beautify-your-space/32025