The language of architecture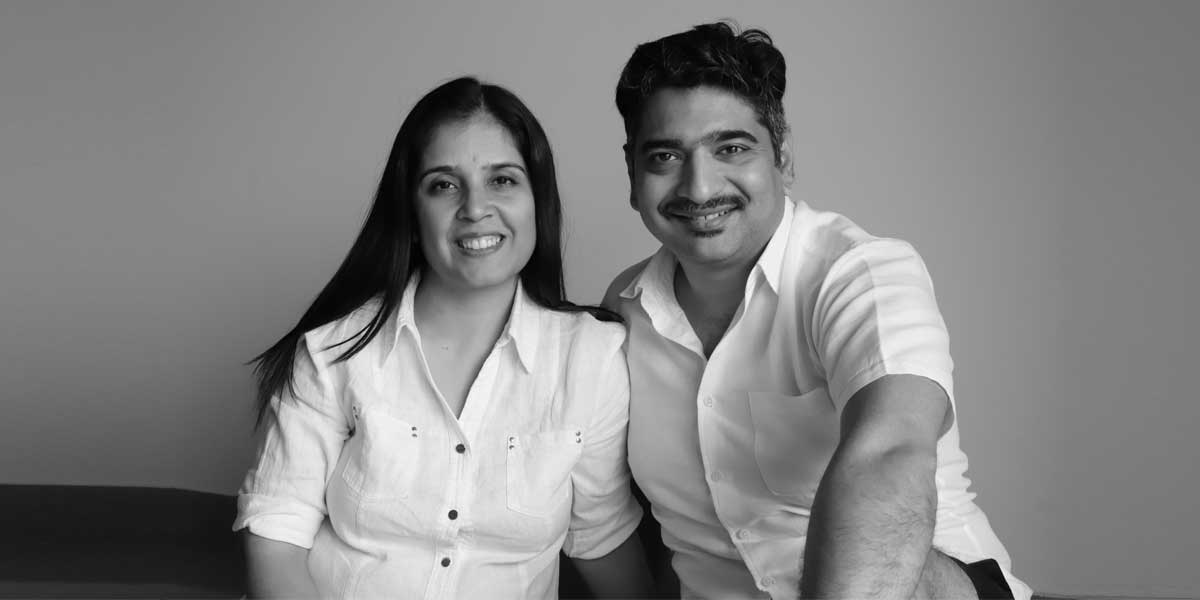 The language of architecture
May 03 2021,12:05 PM CW Team
Rudraksh Charan and Priyanka Khanna, Founders and Architects, 42mm Architecture, discuss the nuances of modern urban design and architecture as a collaborative effort.
How has your design philosophy changed over time, especially in the light of the pandemic?
42mm is a multi-disciplinary practice that emphasises style as a process, which evokes meaning. Architecture is a language; it is a medium of expression. Like every language, architecture also has syntax to express oneself. The spatial composition of functions and the experience created by it is also the syntax that expresses the sense of architecture. All components when put together in any style should have meaning. This meaning may be defined by the purpose, personality of the user or lifestyle. It is this projected interpretation that gives meaning to our projects.
Our design philosophy is to create the reflection of our end-user. The end-user can be a single person or an intellectual public group. To understand, interpret and reflect their personalities is what embeds meaning to the built form. Our buildings do not contradict the personality of its user unless we desire it to be a contradiction. Hence our emphasis is highly on the spatial arrangement/planning and the research to adopt any particular architectural style that can express the interpreted meaning to our built form. The style is not a part of our process but the research that leads to it.
Therefore, our design philosophy has remained the same in principle and enhanced in its expression and interpretation. But radical change like the pandemic has challenged our ways and forced us to innovate strategically to achieve our vision. We face new obstacles in terms of communication, market expedition, and procurement etc, which we are overcoming with the help of new technology and by adopting a new management strategy. The core values have remained the same but the process to achieve them has evolved due to the pandemic.
What changes have you made in your work protocol due to the pandemic?
The pandemic has brought about a radical change in our lifestyles that was not accounted for. Working from home is the most widely accepted protocol during this period of restricted mobility. We followed a protocol of 50% of the population working physically on alternate days and for the rest of the days working virtually. This helped us to have the necessary interaction for the completion of tasks while not overcrowding our workplace. We have widely turned to Zoom meetings and online interactions when it comes to discussion and exchange of information. Physical meeting and site visits have been restricted to only issues that cannot be resolved virtually. Moreover, we try to combine agendas to resolve maximum issues in one visit.
What are your views on the modern urban design concepts?
Modern Urban design is a macro process of integrating larger urban planning into architecture. Urban design is a strategy based process where the core idea is to make architecture seamless. The idea is to dissolve the knots of traffic, services and real estate through a backward integration of architecture by dissolving social and economic disparities, spatial transition through the interactivity of different architectural buildings into the larger urbanscape. The impact and function of urban spaces are redefined to handle extremely complex mechanisms by increasing life cycle cost and elongation of the time cycle.
Urban design models are looking at mixed land use developments that are not just conventional model. One piece of land has retail, offices, entertainment and residential spaces all stacked together. We are also looking at dissolving boundaries between neighbourhood level space, public spaces and urban spaces. It is a high street that bifurcated into residential spaces like the tot lots, cycle tracks and parks for the kids to play that further deciphers into small food courts at an urban level. These become a space for integration that is space for retail in the morning, recreational space for the local residents in the evening and spill out for street restaurants at night. A single space attains multiple functions during different fractions of time. This not just ensures an increase in life cycle cost and elongation of time cycle but also ensures safety at an urban level.
Real estate in urban spaces is now very important. The retail value of a better-designed space is much higher per square feet – better paving, better quality lighting, better fountain overall a better street experience. Hence for better usage of the space, we need to elongate the time cycle. For this to happen all architectural buildings like institutional, shopping complex, or residential spaces are backward integrated into the urban interstices to create a seamless realm.
Take us through your design process from conception and design to execution.
At 42mm, the emphasis is on understanding the end-user in relation to its environment. We understand the necessity of the built environment to enhance the quality of life for the user, to be an expression of its true nature to the surrounding environment, to be responsive to regional sensibilities and to be responsible towards the environment. The design process for each project evolves from a detailed analysis of its function and user in relation to its site and its social and cultural context.
Seamless integration of spatial organisation with various systems like structure, services, finishing and lighting contributes to the spirit of the place. Sensitive to issues regarding contextualisation-globalisation and environment, the intervention lies in creating meaningful, useful environments, which enhance the feeling of well-being. Sustainability plays a major role with passive and active solar design, enabling us to create clean, energy-efficient and 'low burden' environments.
A collaborative approach and comprehensive consultation process allows us to respond to requirements, commercial environments, technical processes and practices, resulting in the optimum design solution. We believe in introducing clients to contemporary approaches and progressive design. A strong sense of commitment, ambition and service for each project has won the firm lasting relationships with our clients.
What kind of projects do you enjoy working the most on, and why?
I enjoy working on projects with a larger social impact. Group housing projects that involve the livelihood of a large number of people, have larger complexities to resolve. The space between two or three buildings is the negative space that can be treated as an urban intervention at the same time as a landscaping exercise. While physically it might seem like a small space but looking into the social dynamics one can understand that such a space has varied meanings for various people. It forms the social spine of the locality. Historically revivalist projects are also extremely challenging and exciting pieces of work. Recently we engaged in the restoration of an 1851 cottage near Gomati River. The challenge here is to understand the historical relevance of the building while transforming it into a useful asset in the present day without losing the essence of its historicity.
What is your vision for 42mm Architecture?
We see 42mm becoming a more diverse and complex company, capable of handling highly specialised design projects and collaborating with specialised professionals for delivering extremely complex and unique projects.
Tell us about the projects you are working on currently?
A tea estate – boutique hotel, a futuristic pre-engineered metal and reclaimed wood superstructure resting on a very vernacular rubble plinth A house in Nepal overlooking the Himalayas – this house explores the views of the snow-clad Himalayas with the morphology of stacked blocks.
A set of luxurious farmhouses in Delhi – these are the ultimate super homes.
What advice would you like to give to aspiring designers?
My advice to young aspiring designers is not to be reserved rather experimental. Be bold in your choice of work. It is also important to prioritise once aspiration while fulfilling responsibilities in life. Moreover, they should invest their formative years in gathering as much knowledge and create a strong groundwork for the journey ahead.