These Opulent Launches Will Add Exuberance To Your Space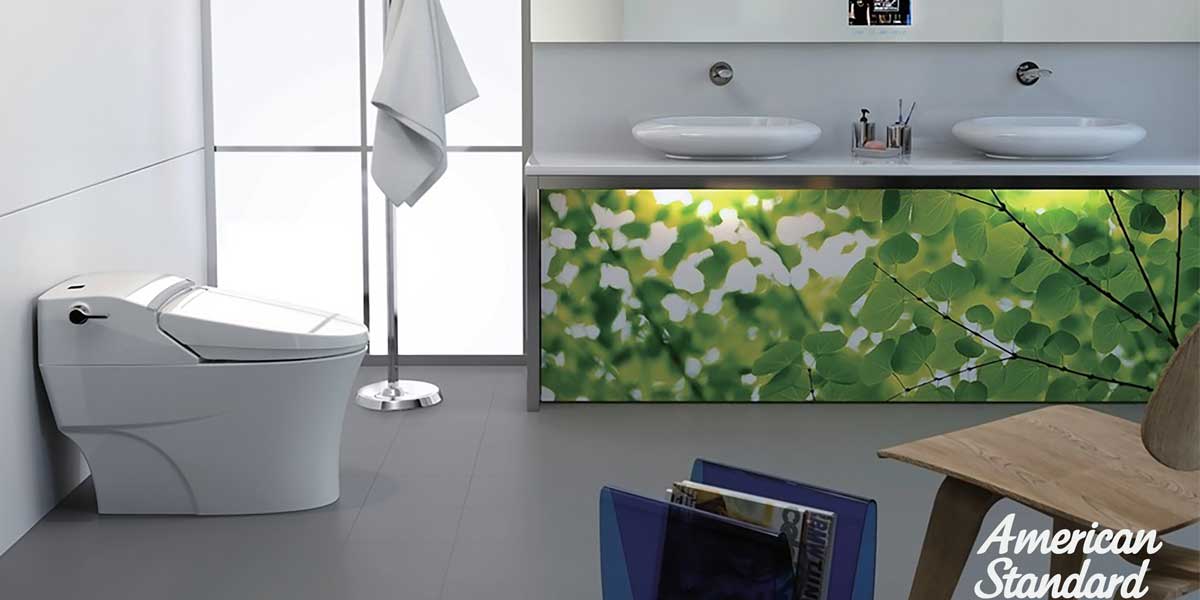 These Opulent Launches Will Add Exuberance To Your Space
21 Oct 2021 CW Team
American Standard Spalet
The Spalet is a new product from American Standard, a subsidiary of the LIXIL Group and one of the most recognisable international sanitaryware companies. Beautifully constructed shower toilets like the Aerozen and Acacia E, as well as electronic bidet seats with soothing spa-like features, are all part of the American Standard spalet line, which provides everyday comfort and improved personal hygiene right in your own home. The Dual Nozzle, which has separate front and back cleansing nozzles, is one of the sanitary characteristics of the American Standard spalet. Posterior Cleansing is a strong, direct spray that thoroughly cleanses the skin. A smooth flow of warm aerated water delivers a relaxing shower that is mild enough for a woman's delicate regions with Feminine Air Bubble Soft Cleansing. Then there's the deodorizer, which starts working as soon as the user takes a seat. Antibacterial protection is also included, with antibacterial resin used on the seat, cover, nozzle, and remote control.
Siphonmax is a dynamic vacuum system that employs side water jets to generate a strong swirl and a bottom jet to remove heavy and light trash entirely. Self-Cleaning Nozzles advantage nozzle tips that are cleaned with water before and after each usage. A nozzle shutter prevents waste materials from reaching the nozzle tips, resulting in improved cleanliness. The Auto Drain System replaces wasted water in the boiler after 72 hours to avoid bacterial development. For added comfort, the spalet features a Fast Heating System that offers instant and continuous warm water as well as a heated seat with temperature control. It also features a Massage spray that alternates between powerful and soft sprays to provide a soothing massage. The dryer's temperature may be readily adjusted for maximum comfort. The computer remembers the settings, so the prior user's preferences are preserved.
The Quick-Detach Seat Cover design makes it easy to remove the seat cover for cleaning hard-to-reach locations. It also includes an Auto seat and flush, which is a sensor that detects your presence and automatically opens (and closes) the lid and flushes; this feature decides the flush type based on the length of time spent on the shower toilet. The Remote Control makes it simple to operate all bidet operations with a convenient remote control. It also has energy and water-saving features like the One-Touch Power Saver, which turns off water heating and seat heating while enabling cleansing and flushing to continue.
The system will revert to its previous settings after 8 hours. It conserves water in both an ecological and financial perspective. The power supply will be shut off automatically with the aid of the Circuit Breaker under exceptional conditions, assisting in energy saving.
You will be pleasantly pleased by this innovation's highly advanced capabilities, and you may even wonder why it didn't make its way into your bathroom sooner.
Tap Collection by FIMA Carlo Frattini
FIMA is a three-generation family business based in Italy. FIMA Carlo Frattini has always been recognised and characterised by its constant search for beauty and spasmodic attention to every detail, from the selection of machinery to the research of the components of a new product to the production of its explanatory brochure. Fl, a new tap series from this well-known company, is both beautiful and practical. The lever is at the heart of the design, bolstered by its aesthetic and expressive value: on the one hand, the organic and feminine silhouette, which is extremely thin and slightly bent, evokes visual lightness and sensuality; on the other hand, the special slide opening mechanism makes its movement almost a magical game, enhancing the body of the mixer, which rises above the spout and merges with the upstand. The collection's leitmotiv is a sinuous and elegant design that reflects the difficulty of striking the right balance between fluidity, elegance, and solidity; between ease of use and innovation. The Fl Collection comes in a variety of eye-catching finishes.
Eclectic Faux Leather Furnishings by RR Décor
RR Decor as a company stands out in the furnishings industry for their beautiful hand-woven silk textiles with distinctive designs steeped in Indian traditions yet radiating a worldwide appeal. They've launched a collection of unique faux leather furniture that impresses with superb craftsmanship and a rich palette while providing a great alternative to leather. If you're wanting to go for the opulent vibe of leather without actually picking the material this holiday season, there's good news for you. RR Décor's latest imitation leather furniture come in a variety of colours, finishes, and richness. From classic leather tones like tan, brown, green, and ivory to vivid colours, the collection has a wide range of options and, of course, excellent quality.
All of the fabrics in this collection may be used to upholster couches, headboards, wardrobe fronts, furniture pieces, and other items, as well as cushions and wall claddings. An earthy pallet of colours with rustic tones, vibrant hues, and neutral tints is excellent for a variety of purposes. They are really comfortable and soft to the touch. They exude obvious luxury with their beautiful, brilliant surface. Faux leathers have the added benefit of being simple to maintain and clean. Spills and stains may simply be wiped away with a wet towel.
Sail Doors Collection by Sources Unlimited
Sources Unlimited, one of the first companies in India to introduce high-end foreign furniture, accessories, and lighting solutions, has introduced an exquisite Rimadesio door collection. Rimadesio, a well-known Italian business, creates solutions for separating spaces and architecturally defining rooms. Doors, sliding panels, storage units, walk-in wardrobes, and a variety of complementing furniture: an ever-expanding range of products with a continually evolving style.
Sail becomes a true ornamental object, combining excellent technical and practical performance with an original aesthetic and a powerful expressive value, as a result of extensive technological study and an intricate manual assembling work of the components. Rimadesio glass coatings may be mixed and matched with the aluminium structural element, which is also available in walnut or heat-treated wood veneered versions. Rimadesio's goal is to continue to create its own design culture and manufacturing technology in order to be able to deliver functionally new concepts that are also unique in terms of aesthetics and can be relied on for a long period.
Harlow Collection of Lighting Fixtures by Sources Unlimited
Sources Unlimited, one of the first companies in India to introduce high-end foreign furniture, accessories, and lighting solutions, has introduced a new line of lighting fixtures by Gabriel Scott, a well-known luxury furniture and lighting fixtures brand from Canada.
The Harlow Collection is a true show-stopper, with an exquisite starburst of light that reflects and refracts through its mold-blown glass shade. With its metallic frame encasing a translucent glass, the Harlow is directly inspired by the world of jewels, bringing a touch of elegance to any room. The Harlow Collection includes chandeliers, pendants, and wall sconces.
This one-of-a-kind collection transforms every area by setting the tone and elevating the ambience. It adds a personal touch to the area and quickly gives it a distinct personality. This collection of striking lighting fixtures provokes sentiments, generates moods, and emanates individuality. The beautiful pieces of the Harlow Collection are also available in bespoke sizes and finishes.
Also read
https://www.constructionworld.in/latest-construction-news/real-estate-news/interiors/these-latest-authentic-launches-are-embellishments-to-today-s-home/28651
https://www.constructionworld.in/latest-construction-news/real-estate-news/interiors/astonishingly-elite-furniture-launches/28488