Astonishingly elite furniture launches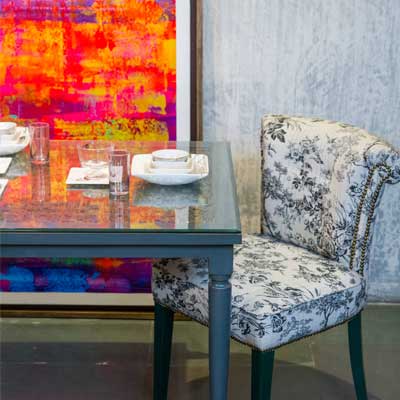 Astonishingly elite furniture launches
21 Jul 2021 CW Team
Stylish Dining Tables from Studio Collection by Inhabits
The diverse and artistic flavour Neeta adds to her designs is shown by a series of elegant dining tables released by Inhabit. Neeta accomplishes a festive palette for this dining table set, bringing "eating in style" to the next level, by drawing influence from rich natural colours such as sapphire, emerald, turquoise, ruby, quartz, and opal. She insists, "It's more about soul than style."
Neeta creates beautiful tables that demand a second look by combining contemporary colours and industrial style. She weaves bright, complex, detailed, and exact patterns that evoke wonder and adoration while avoiding imagined dichotomies of traditional/modern, ethnic/contemporary.
Picture details:
Pic 1 & 8:
Simple lines and subtle details result in a sleek and elegant table that impresses with a gleaming surface.

Pic 2, 3 & 4:

Wooden top with charming contours and a wrought iron base are combined to achieve a sophisticated industrial flair with this table.

Pic 5, 6 & 7:
Traditional shapes meet contemporary distressed paint finish to create a chic table that can sit in any space comfortably.
Eco Collection of Fabrics by Clarke & Clarke, Maishaa
Maishaa, a luxury home furnishings business known for creating high-quality fabrics for home décor and introducing international textile brands to India, has introduced a new line of ecologically friendly fabrics by Clarke & Clarke, a well-known British brand.
Clarke & Clarke answers to the demand for flexible, high-quality designs with one of Sanderson Design Group's most varied portfolios. The brand makes gestures from the sleekly modern to the decadently gorgeous, always keeping a finger on the pulse of current trends.
The beautiful Eco Collection of textiles, made completely of recycled plastic bottles, appeals to both the fashionable and ecologically aware consumer. This vast collection has helped to environmental stewardship—on average, recycling 90 plastic bottles yields one metre of cloth. This collection is perfect for trend-setters who are aware of their environmental effect.
The perfect marriage of three durable, easy-to-use designs is created by a classic herringbone, rustic multi-colored plain, and soft faded chenille. These flexible dual-purpose patterns are excellent for all ornamental purposes and are washable with a wonderful soft grip. These eco-friendly weaves quickly improve the look of any room.
A New Collection of Faux Leather Furnishings by RR Décor 
RR Decor as a company stands out in the furnishings industry for their beautiful hand-woven silk textiles with distinctive designs steeped in Indian traditions yet radiating a worldwide appeal. They've just released a new line of fake leather furniture that adds an undeniable feeling of refinement and richness to your home.
Faux leather is a flexible leather substitute that comes in a variety of bright colours. The best thing is that it's simple to clean and maintain with a wet towel soaked in lukewarm water. The new RR Décor line promises a stunning spectrum of colours and sumptuous textures that will give any space a feeling of elegance.
Malibu, Bukatti & Sherwood
An earthy pallet of colours with rustic tones, vibrant hues, and neutral tints is excellent for a variety of purposes. The new furniture are plush and gentle to the touch, providing great comfort. They inspire luxury with their delicate, brilliant surface. They're great for upholstered headboards, console tables, and other pieces of furniture, as well as for cushioning.
An Awe-inspiring New Chandelier by Sans Souci
Martin Lukacka designed this breathtaking chandelier for Sans Souci. There is no light without darkness, yet there is a glimmer of light in complete darkness. The enchantment of a starlit sky is brought inside by a whimsical cascade of gold and silver-colored orbs. These hand-blown crystal balls with complete or semi-transparent metal finishes create a dazzling, almost mystical atmosphere when illuminated.
This eye-catching chandelier creates a mood and enhances the atmosphere of any room. Furthermore, the Twinkle chandelier is available in six distinct configurations and four different finishes. Crystal argent nano coating, crystal aurum nano coating, cognac nano coating as well as sandblasted crystal.
I start sketching - anything – while I'm seeking for inspiration. I've loved it since I was a kid and drew my first floor layouts. At the age of 15, I attempted to build a house, which piqued my interest to the point that I decided to pursue architecture as a career. During my time in the military. During my studies, I became interested in allied disciplines such as painting, graphics, and interior design in addition to gaining actual experience. Though what I love the most is product design. It is not elusive and can give shape to the finest of details," states designer Martin Lukacka.
Sans Souci's goal is to experiment with light and its various forms in various dimensions. It is based on the experiences of previous generations of glassmakers, with the quality of their work determined by their goods' completely Czech provenance. The masters of branding in railings, stairways, tables, skylights, and other unique architectural elements columns, as well as others.
Spectacular Dining Room Servers Ashley Furniture
Ashley Furniture Home Store has introduced a new line of dining room servers that claim to infuse your modern rooms with an outstanding antique feel. Dash Square transports them to India.
In every interior setting, a mix of styles and textures creates an awe-inspiring visual delight. And these vintage-inspired items are always in style. The new dining room servers, constructed of wood, have a worn, rustic appearance that adds that much-needed additional chicness and a touch of cosiness to your modern area.
Raehurst Dining Server: The Raehurst dining room server is a feast for the senses, with its rich approach on contemporary elegance. It's a modern twist on the double-sided sideboard, with open and closed storage space that's wonderfully balanced. The two smooth-gliding drawers are ideal storing linens and kitchenware, and are made with dovetail construction and felt lining. Plates and bowls may be displayed on four shelves. This dining server's rich warm brown finish is made of wood, mango veneers, and engineered wood.
Dellbeck Dining Server: Mortise and tenon joinery, as well as a beautiful diamond-pattern veneer inlay, are all Craftsman touches. Two spacious cabinets and two smooth sliding drawers make entertaining a pleasure if space is a concern. This dark brown dining server is made of wood, veneers, and engineered wood. The cabinets include adjustable shelves and soft-close door hinges.