We believe, "Good architecture always lets nature in"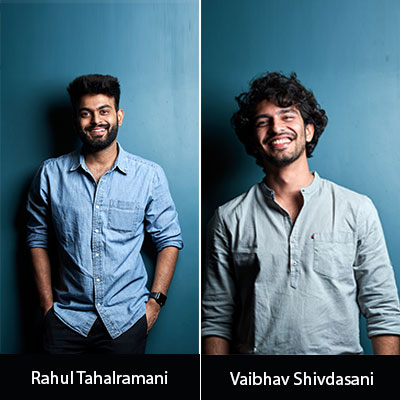 We believe, "Good architecture always lets nature in"
24 Mar 2022 CW Team
CW Design Build speaks to Vaibhav Shivdasani, Principal Architect, Meraki and Co. and Rahul Tahalramani, Principal Designer, Meraki and Co. about curating designs, uniqueness in every project and a lot more.
How do you structure your interior design projects? Tell us about your design philosophy.
We, at Meraki & Co. believe in team work and have always been working in artistic and practical aspects that are inseparable. It thus makes a continuous process of incarnation into substance. A major challenge calls for running a team of a wide spectrum in correspondence. Love, Creativity & Soul, we put in all these ingredients into our designs and work, and that's where the word MERAKI comes into the picture. Every project that unfolds, reflects not just our vision but outshines ours and the user's personality. We are ruled with strategies, planning, passion drive, and a pinch of heart in every work of ours. When we start working for a new project, the first job of ours is to listen carefully about the brief and requirements of the clients which then leads to the next step that is brainstorming and conceptualization of the project. Having a thoughtful concept helps us a lot in deciding the path in which our design elements ought to be followed. We believe, "Good architecture always lets nature in." At our firm, our designs revolve around nature and we believe in creating any space with great natural light and cross ventilation. Our design philosophy is to let the user experience as much nature as he/she could while being in the city.
What is the one key consideration you are always mindful about curating design?
"Form follows function" is what we have always focused upon in our process of designing any project. A good space is always properly planned and thought about in terms of the circulation and the ease of accessibility as per the lifestyle of the user. If the functionality of the space is helping the user for better, that's when we feel we have delivered our best. This is one of the major factors of how we go ahead with the overall look and feel of the project keeping in mind the building services and the requirements.
How do you prioritize design tasks for renovation projects?
Any project which has already been built a couple of years ago and has to be renovated needs a little extra care and a complete analysis before starting any design process; so as to not let the old structure get disturbed in any way and smoothens further work on site. Our team of structural designers and engineers help us with the shifting, demolishing, and building of any new structure in the building as per our layout of the project. And in case there are any changes, we usually do it on site as per the condition.
Renovation projects are a bit challenging when it comes to designing as per our thoughts and concepts but the more the challenges, more is the enthusiasm. Again, our focus shifts to the amount of nature we are letting in our projects which basically leads to increase in the sizes of fenestrations, adding more open spaces for good cross ventilation and providing more green spaces (courtyards) inside the building as well.
How do you bring out the uniqueness of a brand in every project that you design?
When it comes to using any material in our projects, we are always very inquisitive and curious which allows us to learn about the specifications of materials in detail. It eventually helps us make a decision for any particular brand or type of the material which suits the requirements. The material when used in its original form and state with the major focus on the USP of it, automatically reflects the elegance of the material which enhances the overall experience.
Which project in your portfolio do you find the most interesting and why?
In the year 2018, we started designing one of our best designed projects which is a restaurant named Le' Greek House. Le' Greek House is a Mykonos (Greek) based restaurant designed to cater a comfortable surrounding within the city. One experiences the touch of Greek colors as soon as they enter into the premises with a welcoming pool by the open-air lounge area. This project was designed from the scratch and the entire construction and the design took almost 8 months to finish. There is a great sense of calmness in the complete area as the entire restaurant is built by keeping in mind the sun movement, wind directions, play of shadow, use of natural materials, greenery placed inside & out, and much more. The amazing play of nature with the built mass makes it feel as if the restaurant is a part of nature itself and makes it all the more beautiful. The tropical vibes give the users an experience of being content and it has become a place to enjoy beautiful sunsets and evenings with a touch of Greek elements around us.
How do you adapt to the changing trends of design in the industry?
Being an architectural and interior design firm, we have always put in our mind in using and designing only what is important for the project, and eliminating anything which we don't believe would help the user in any way. We have tried to incorporate minimalism in our process which has been really helpful for the same. "Less but better" has been our agenda for choosing any component of our designs. The use of basic materials and tones makes it easy for our designs to last longer than usual and "basic never goes out of style" for us. Also, when there is an amalgamation of nature and the designs, we don't really have to worry about the changing trends.
Tell us about the use of software and technology used in designing or client presentation?
Our design priorities are place, relationship and sequential experience. Walking on site, sketching plans, sections, making block models and preparing mood boards are all involved in the design process. There comes a time when we need the abstraction of paper to think beyond the confines of the present. The design goes for layouts in a 2d drafting software called Autocad where all the working drawings and detailed drawings are made. For the 3d visualisation we use Sketchup for modelling and Tray & Lumion for our renders. The renders go for a little enhancement on Photoshop and finally for client presentation we use Canva app.
How do you incorporate sustainability in your designs?
With the use of lesser processed materials, and more natural ones, we have been trying to minimize plastic and other chemicals which could harm nature or the humans in any way. By putting more courtyards and green spaces in our buildings, the variations in localized climate around a building also makes our design energy efficient and environment friendly. Also, by focusing on the weathering conditions, wind movement, and the sun positioning, we try to orient our designs accordingly.
What advice would you like to give to aspiring architects/ designers?
The one piece of advice we would love to give to our future generations would be to keep in mind why they started in the beginning. One should keep following the track and stay alert while thinking about the designs which have to have nature as a parallel element of thought with the built masses. We as architects and designers could definitely bring upon this change as we are the ones who set the trends in our industry.
Also Read:
https://www.constructionworld.in/latest-construction-news/real-estate-news/interiors/we-take-every-project-as-a-blank-canvas---flutomic-designs/33014
https://www.constructionworld.in/latest-construction-news/real-estate-news/interiors/designing-homes-with-a-holistic-approach-purple-backyard-/33111