Designing homes with a holistic approach – Purple Backyard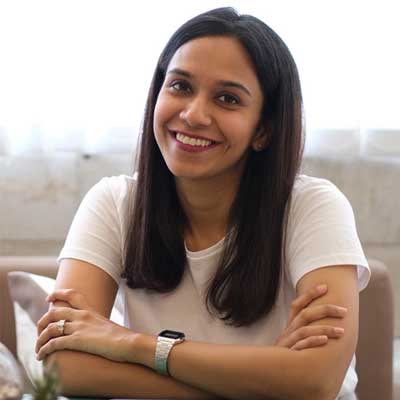 Designing homes with a holistic approach – Purple Backyard
15 Mar 2022 CW Team
CW DesignBuild speaks to Kumpal Vaid, Founder, Purple Bakyard about her design philosophy, design trends and a lot more.
Tell us about your design philosophy, considerations while curating designs and priorities for project renovation.
At Purple Backyard, we take up projects not depending on the size or scale but the intension that clients have. What our clients intend to set out to do, helping us understand the design challenge the project offers, encouraging us to dive in the material research, ideation that can lead to new ideation and dialogue between the space aesthetics, and not just the looks. Purple Backyard is inspired by nature and ever evolving human behavior. We chose to believe that we are special designers and specially with our current projects we are looking at it holistically and not just interiors, landscaping or architectural environments. Ideally what we want to achieve is that there shouldn't be any differentiation between the inside and the outside, if its your space it should be designed holistically. Especially given the pandemic, we have all become well aware about the spaces that we live in and I think we have learned to value that and we as designers have built on that same ethos from the last 2 years. Also, we only do end-to-end projects, making sure that we are in control of the end product and can absolute do justice to what the client is going to experience in the end after going through multiple workshop and designing process with us.
How you bring out the uniqueness of a brand in every project that you design?
For projects, we first learn about our clients, their ideas, wants, needs and expectations from any space. So, we take help from our clients to help ourselves in giving their space a unique voice, in the form of its narrative. Thus, establishing what is the most important step before creating any space, or its narrative.
Which project in your portfolio do you find the most interesting and why?
Speaking about our recent projects, we believe it has this unique voice and we have built that house around our ethos. Both of our recent projects are from the same team, has very unique narrative and has gone through the same process but when you look at the final outcome they vary. One looks really understated chic and the other one celebrates a lot of Indian product material and sort of looks like India meeting Japan, having earthy vibes. It was made in a very sustainable way and the other house is all about showcasing understated lux nature and how any apartments can have their unique bespoke voice.
How do you adapt to the changing trends of design in the industry?
At Purple Backyard, I mean the word trend is something I'm not going to say we stay away from but the truth is that as humans we always evolve. And along with it, spaces and the environment too evolve. I think our designs are all about classics and super transitional in nature. I love to borrow from different schools and designs and bring them in today that can age really well with tomorrow.
When it comes to trends, speaking about tech related trends or a new material, a new way of doing something, we do dive into and try and research as much as possible. Then we consider which things would work for us and our clients specially. We try and imbibe and get that into our eco-system and evolve from there. I guess that's the kind of trend we would want to follow rather than follow trends that are only aesthetic driven.
How do you incorporate sustainability in your designs?
When it comes to sustainability, we break into needs and wants. We start at the microscopic level where we set up our first meeting with clients and understand what they really want. We look into the kind of material that they would want to use, knowing the final intention of the space, knowing how the property is being built from the scratch, from the architectural landscape or is it only the interior part of it. We try and look at product and material that obviously has a lesser carbon footprint but we also try and involve solar water heating, panels for electricity. We try to make sure that the space is built for the future. And at this point, such things do come with a price tag but we do try to educate our clients about how amazing it would be if they invest in the future which is all worth it. So, considering sustainability we realistically want to and always hope that our clients are involving at the holistic level of the project and we can certainly have these dialogues with every collaborator on the project as to how is it that we can create or use building material that can reduce the load on the environment or the property or the structure. And once you move in, you obviously try and use products that can be re-worked on easily and do not create heavy impact on the environment in the future. So, those are solutions we are moving onto, slowly and surely.
What advice would you like to give to aspiring architects/designers?
For the young designers, I would say being authentic, spending time and gaining site experience is really important. If you have got some skill of design and aesthetics then its really important for you to understand that how will it turn out or being achieved through executional stages. Because I learned it the hard way that you can design but execution is the bigger chunk of things. If you can't see what you have built through in the sturdiest manners you might not have very lasting experience with the client. So, in the real world be authentic and focus on learning and try and have a mindset of a learner more than trying to be somebody to get to the end point like you know it all. Be a learner, always as it comes as a big help, especially when you are looking forward to build a career as an interior designer or as a special designer. And also, persistence and patience gets you crazy integrity and helps you build spaces which are truly honest in terms of clients briefs and what you set out to build.
Also Read:
https://www.constructionworld.in/latest-construction-news/real-estate-news/interiors/we-have-a-distinct-design-approach-for-every-project/32828
https://www.constructionworld.in/latest-construction-news/real-estate-news/interiors/we-take-every-project-as-a-blank-canvas---flutomic-designs/33014