We take every project as a blank canvas" – Flutomic Designs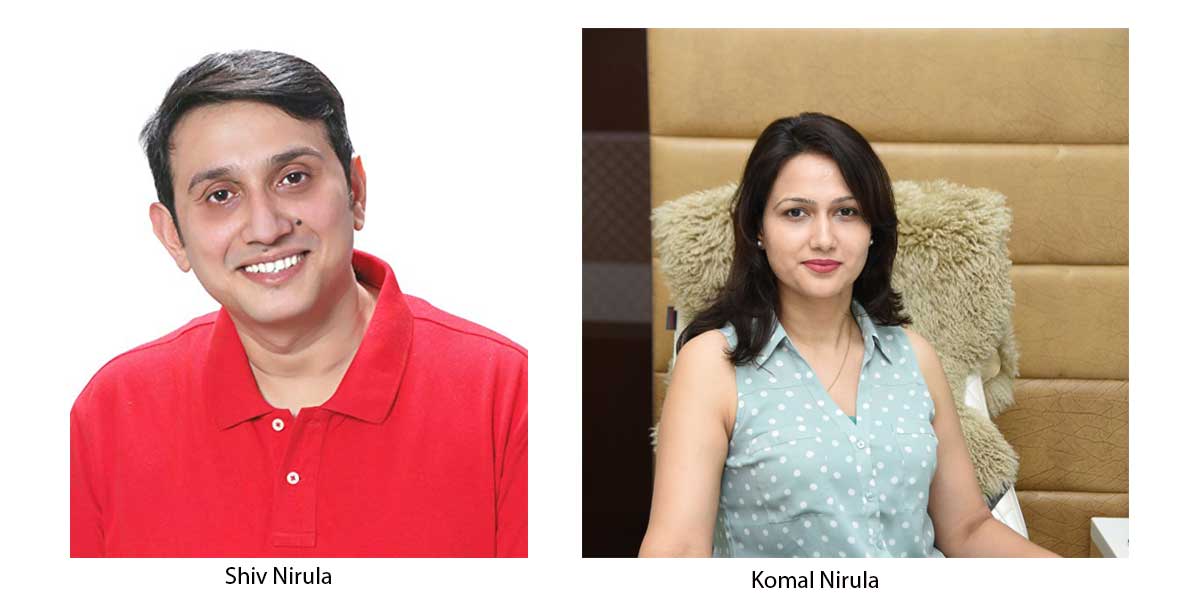 We take every project as a blank canvas" – Flutomic Designs
10 Mar 2022 CW Team
CW DesignBuild speaks to Shiv Nirula, Managing Director and Komal Nirula, Creative Director, Futomic Designs about their work style, trends, sustainability and much more.
What is the first thing that you notice in a space before revamping it?
Every space has its own mojo, its own aura, which can only be felt when you look at it deeply. Taking the very basic requirements in mind, we visualize how the place will look like with the main design components, the themes & the overall functionality. Once that is conceived the drawings & detailing begin.
How do you decide which projects are a good fit for you and your firm?
We like to get into projects that have a good creative potential and more so with owners who want the best in terms of design & styling. Whether it is designing someone's dream home, a trendsetting suave office or a thematic restaurant, we take on projects where there is a thirst for finding something finer or classier. What we definitely don't take on projects wherein the requirements are mundane or very basic.
Do you have a predefined design style or are you able to design based on an individual clients' aesthetic aspirations?
Any good interior design firm has to take every project as a blank canvas and draw what the project inspires rather than any pre-conceived designs or styles. While we do have our favourite style ideas, we balance it with clients' preferences, site requirements, latest trends, & most importantly the inspiration that the place gives. By showcasing our ideas in 3D Panoramas & 4D Walkthroughs, we endure that the client gets a clear idea of our planning before the project goes into execution.
How do you address client issues or last-minute changes suggested by them?
We always involve clients in the overall design process that starts from ideation, mood boards, reference collections, 2d visualization options & ultimately 3D Panoramas & 4D Walkthroughs where needed. Post this there are very few factors where last-minute changes or issues arise. Still, when they occasionally do, we handle them on merit and incorporate in a way that it improves on the aesthetics overall.
What are some key décor elements that will elevate an empty corner of the room?
It depends on the overall theme & the vibe that the designer has planned for the home. Typically, if it is an earthen home, plants (especially air purifying plants), and giant vases would be a great mix especially with the colour variety that they bring. If it is a minimalist or neo-contemporary home then we can also put book shelves, trendy lamps (like giant floor lamps) or statues.
What is your idea behind pastel colour theme that it trending currently?
Pastel colours are an evergreen & always pleasant palette for homes & offices. They are not only attractive but also help in giving a larger & cleaner look to the place. We recommend that pastel colour themes are further amplified with some vivid colour lines to create a comprehensive designer feel.
How do your incorporate sustainability in your work?
Sustainability can be achieved in an Interior design project in various ways starting from the use of low carbon footprint elements like LED lights, motorless fans, automated lightings, smart home automation to reduce unnecessary air conditioning load, smart appliances that work only as much required. On the softer side this can also be achieved by using more eco-friendly materials, stronger base materials that last longer, covering balconies & terraces with hydroponic plants or vertical gardens, and finally options of solar panels, solar geysers etc at home level.
What message would you like to give it to budding interiors from your past learnings?
The most important things for any budding interior designers to note are to Thoroughly explore the markets for latest materials & trends Listen carefully to clients' requirements in detail & then match own style to it Ensure that all solutions are not only robust but also low maintenance Take care of all functional requirements as per todays standard like Wi-Fi/Charger Points, IOT Devices, Portability & Modular product lines.
Also Read:
https://www.constructionworld.in/latest-construction-news/real-estate-news/interiors/a-power-couple-creating-striking-home-interiors/32731
https://www.constructionworld.in/latest-construction-news/real-estate-news/interiors/we-have-a-distinct-design-approach-for-every-project/32828