Mumbai gets first multi-level robotic shuttle parking system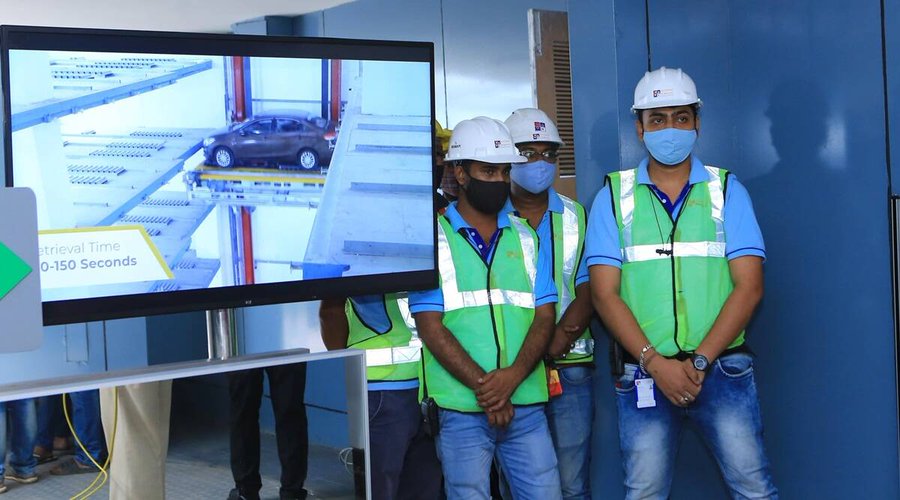 Mumbai gets first multi-level robotic shuttle parking system
Jun 25 2021,03:06 PM CW Team
On Thursday, Bhulabhai Desai Road in the Breach Candy area of Mumbai became home to Mumbai's first multi-level robotic shuttle parking system.
Mayor Kishori Pednekar and state Minister Aaditya Thackeray jointly inaugurated the 21-story structure, which can accommodate 240 cars.
There are two exits and two entry points at the facility. In an hour, the automated system can handle 60 cars. The parking structure will be open 24 hours a day, a BMC official told the media.
There are also four automatic turntables, smart sensors, two lifts, vertical transporters, and robotic silomats on each floor.
Transfer cabins are used to park and retrieve vehicles from shuttle systems, autonomous robots are used to transport vehicles to and from elevators and parking spaces, and lifts are used to access multiple floors or height differences.
The number of vehicles parked in a parking space can vary, but the deeper you nest the vehicles, the longer it takes to retrieve the ones in the back.
Some systems do not use platforms to move the vehicles around. A robot with roller arms lifts the vehicle by its tyres, allowing the system to operate without a tray. The robot essentially positions itself beneath the vehicle before swinging its arms out to scoop up the tyres.
When there are multiple floors or level transitions, lifts are used. Some are designed to transport the robot alongside the vehicle, while others are only designed to transport the vehicle.
---
Also read: Oberoi Realty takes over Rs 3,000 cr rehab work for Worli society
Also read: Parinee Realty raises over Rs 325 cr for commercial project in Worli
Opinion Poll
Question : How can India stem inflationary trends likely from the currently all-time-high steel prices?