Cargo traffic at govt-run ports declines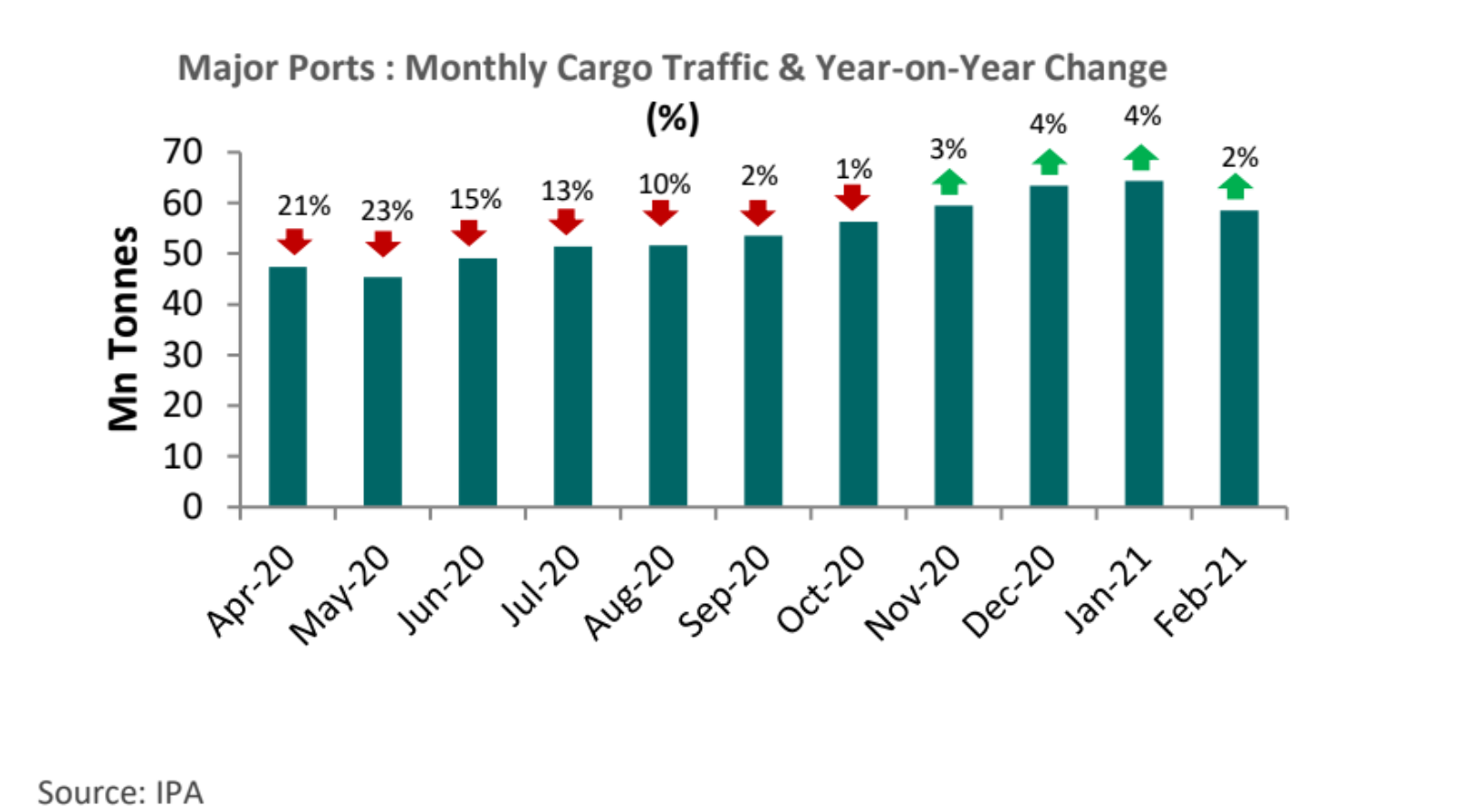 Cargo traffic at govt-run ports declines
The volume of cargo traffic handled at the government-run Indian ports has witnessed a decline in the current financial year, owing to the disruption brought about by the pandemic. There has however been a progressive improvement in the volume of cargo traffic at the major and non-major ports from the lows of April-May 2020. The recent surge in Covid-19 infections and the consequent reimposition of coronavirus restrictions in various regions━Europe and the US have raised concerns over the sustainability of the rebound in cargo volumes. At the same time, there is growing optimism over the vaccination programme-led economic recovery that is expected to lead to a rise in trade across economies and thereby cargo traffic at ports.
Cargo traffic at India's 12 major ports, which handled a little more than half (53%) of the country's total cargo volumes, has declined by 7% to 601 million tonnes during April to February of FY21, compared with 643 million tonnes in the year-ago period.
Following the sharp contraction during April-May 2020 which was the period of the nationwide lockdown, there has been a sequential as well as an annualised pickup in traffic at these ports following the unlocking of the economy.
According to the report, after a gap of eight months, traffic volume registered year-on-year gains from November 2020, growing in the range of 2% to 4% in the subsequent four months. This improvement coincides with the pick up in the economic activity and trade, domestically as well as globally. There has, however, been a moderation in the monthly growth of cargo traffic in February 2021, after rising on a sustained basis for eight months since June 2020. Traffic volumes were 9% lower than that in January 2021 and can be attributed to the renewed restrictions amid the surge in Covid-19 infections, especially in the advanced economies.
Read the full ports sector update in the latest CARE Ratings report here.
Opinion Poll
Question : As we enter FY 2021-22, a report estimates a 11% GDP growth. What is the most critical investment the construction and infrastructure sector needs to make this year?