Govt upped capital and revenue spend in FY21: CARE Ratings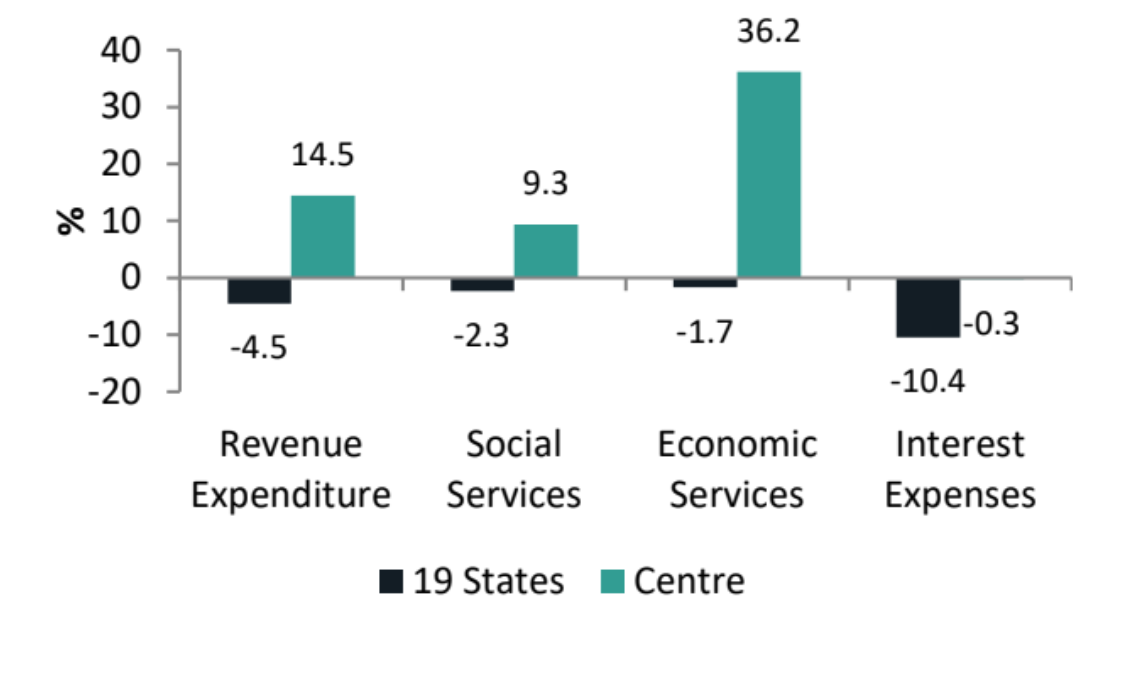 Govt upped capital and revenue spend in FY21: CARE Ratings
Mar 24 2021,11:03 AM CW Staff
The pandemic and resultant restrictions of the last year led to a drop in economic growth in the nation and has upset the finances of the government at the centre as well as the states. According to a CARE Ratings report, revenue as well capital expenditure has grown in FY21 over FY20 at both levels of government. There have been significant deviations between the revised estimates and budget estimates of expenditure for FY21 for the central and state governments. The revised revenue expenditure estimates for FY21 for the state governments (at the aggregate level) was lower than the budget estimates (by 4.5%), while it was higher in the case of the central government (by 14%).
In terms of revenue expenditure, in FY21, both the Central government and 19 state governments have registered notable growth in revenue expenditure compared with FY20. The revenue expenditure for the Central government has grown by 28% in FY21, outpacing the growth for the 19 states at 12.3%. All 19 states have registered a positive growth and 11 states, accounting for 53% of total revenue expenditure of the states, have registered double-digit growth in FY21 (Y-o-Y). All three key heads (social, economic and interest) have grown by double digits in FY21 for both Central and 19 state governments.
States' revenue expenditure, which accounts for around 85% of the total budget size, witnessed a fall in revised estimates of FY21 by 4.5% compared with the budget estimates of FY21. The revenue expenditure of the Central government grew by 14% in FY21 compared with the budgeted numbers chiefly on account of higher food subsidies and increased spending towards rural development.
---
Read the CARE Ratings report here.
---
In case of energy, which accounts for 20% of total spending under economic services, spending by state governments was higher by 7.4% as against lower spending by the Central government. Seven states (38% share) had more spending in FY21 compared with the budget estimates.
Railways are budgeted to see the highest allocation towards asset creation of Rs 1.06 lakh crore, which is marginally lower (by 1%) than the allocations of FY21. This is closely followed by the expenditure on roads and bridges at Rs 1 lakh crore (16% increase over FY21). Both these heads of expenditure are estimated to account for nearly 60% of the outlay of economic services.
Special area programmes and science & technology too are slated to receive a higher allocation of 27% and 77% respectively in FY22 over the revised estimates of FY21.
Most states faced with a revenue deficit have cut-back their spending on asset creation from what was initially budgeted for FY21 (by 35%). The central government's capital expenditure is higher than the budgeted amount (by 7%). The state governments have also been incurring capital outlay towards social services like water supply and sanitation, medical and public health, urban development, housing and education.
Central Government Capital Outlay: Economic and Social  Services  
Source: CMIE and CARE Ratings 

State Government Capital Outlay: Economic and Social  Services  

  Source: CMIE and CARE Ratings