Sabka Prayas: PM Modi calls for development of country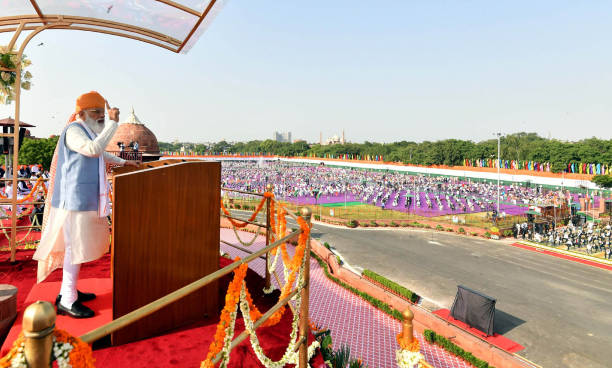 Sabka Prayas: PM Modi calls for development of country
16 Aug 2021 CW Team
Prime Minister Narendra Modi said the time had come to redefine India from the ramparts of the Red Fort on Sunday, as the country entered its 75th year of independence and called for sabka prayas to help the country reach new heights.
This is the time, the right time, precious time for India, the Prime Minister said in a 90 minute address, setting national goals for the centennial of Independence in 2047, a 25 years period called Amrit Kaal.
The Prime Minister promoted the phrase sabka prayas to the government's sabka saath, sabka vikas, sabka vishwas pledge, saying, Now they have to move towards saturation of all welfare goals — 100% of households must have bank accounts, 100% of villages must have roads and 100% of women must have Ujjwala benefits.
The PM announced two major initiatives in the works—the PM Master Plan and the National Hydrogen Mission calling for next-generation infrastructure, world-class manufacturing, and new-age technology as the pillars for India's future.
The Prime Minister, in outlining vision for India in 2047, urged manufacturers to pay attention to the quality of their products, stating that every item they export serves as an ambassador for India.
The Prime Minister assured farmers that the reforms were for their benefit. The Prime Minister mentioned that 80% of farmers have less than 2 hectares of land and that decisions are now being made with small farmers in mind. They had previously been overlooked. The ambition is to desh ki Shaan, Chhota Kisan.
Modi also informed that girls will be able to attend Sainik schools soon.
He also informed that the delimitation commission in J&K was working and that an election would be held after that.
The Prime Minister also emphasised the importance of citizen responsibilities, saying that if the country is to progress, every Indian must own the national pledges and that there was no time to waste.
The Prime Minister had previously described the declaration of August 14 as Partition Horrors Remembrance Day as a deeply felt national decision.
---
Also read: PM Modi says Indian economy recovering at CII annual meet
You have 2 FREE Article(s) left
Access Unlimited Content with

Subscription