JSW Neosteel (TMT Rebars) receive GreenPro Certification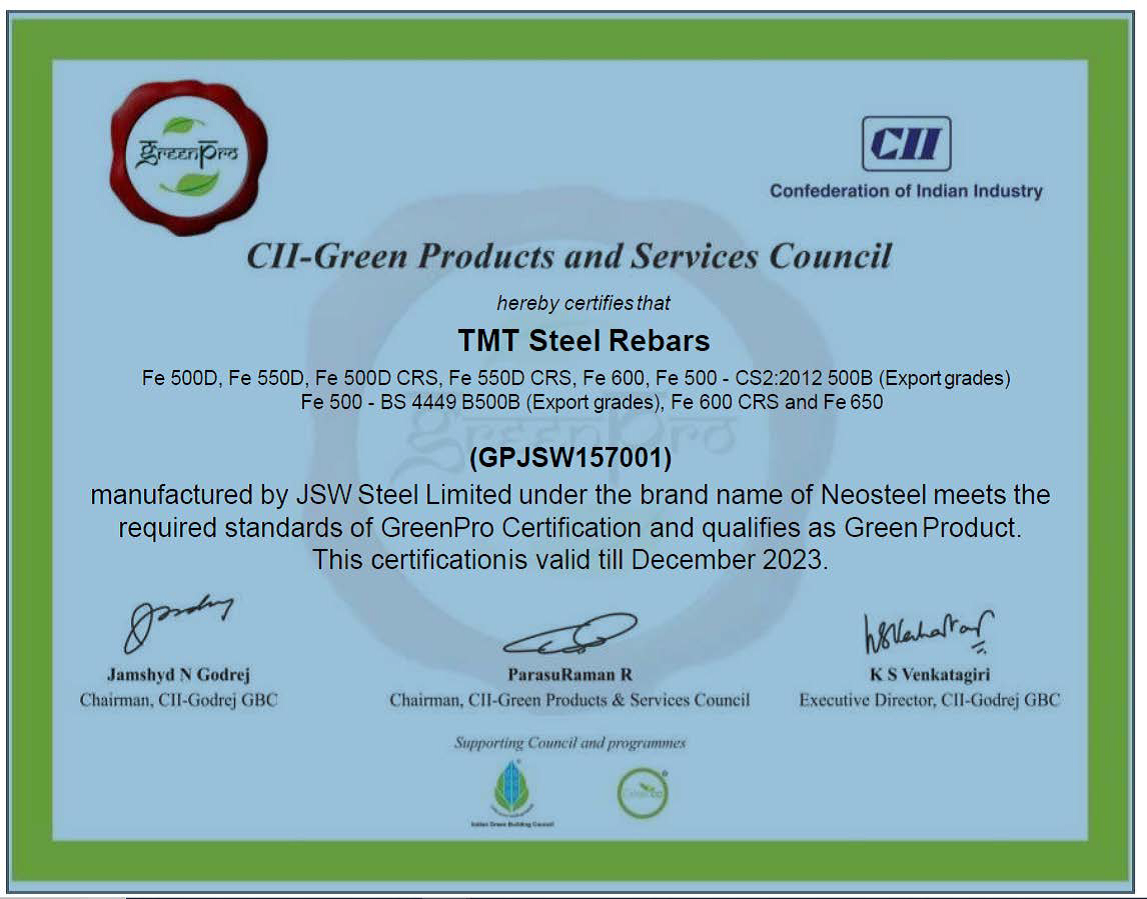 JSW Neosteel (TMT Rebars) receive GreenPro Certification
Jul 02 2021,05:07 PM CW Team
JSW Steel is one of the first steel companies in India to get the GreenPro ecolabel certification for JSW Neosteel, its brand of TMT rebars.
GreenPro is a Type – 1 Ecolabel by Confederation of Indian Industry (CII) which enables the end users in the building sector and manufacturing sector to make informed decisions by choosing sustainable products, materials and technologies for the construction, operation and maintenance of their buildings and factories.
JSW Steel has always been the front runner in the industry to demonstrate its commitment to sustainable products. JSW Neosteel TMT bars are manufactured through High Yield Quenched and Self Tempered (HYQST) technology which ensures uniform quality across the bar. In addition, the TMT bars have the highest grade of purity and lowest sulphur and phosphorus content which makes it stronger and more sustainable.
In addition to the product sustainability, Green Pro assigns credits to the environment friendly manufacturing processes thus recognising JSW Steel as a sustainable manufacturer.
All our rebar manufacturing units along with all grades (Fe 500D, Fe 550D, Fe 600, CS2:2012 500B, BS 4449 B500B, Fe 500D CRS, Fe 550D CRS, Fe 600 CRS, Fe 650) are covered under the certification.
Jayant Acharya, Director, Sales, Marketing and Corporate Strategy, JSW Steel, said: "Sustainability is at the heart of the JSW group and the GreenPro Certification for JSW Neosteel is a testament to this. We believe that certifications like these while disclosing the environmental friendly footprint of our products, will enable our customers to make smart and informed choices for their critical building and construction products. JSW Neosteel TMT bars not only have the perfect balance of strength and ductility, but are also better for the environment offering 100% recyclability and life cycle cost."
JSW Neosteel has its presence in major projects of national importance and some landmark structures of India, like high speed rail projects, metro rail projects, atomic power plants, refinery projects, expressways, heavy bridges, ports, airports, landmark high rises, commercial complexes and many more.
As a group, JSW is committed to provide green product choices to the customers in the construction sector and promotes green buildings that will help to build a climate resilient and low carbon society. JSW Cement products have the lowest GHG emission intensity and its products Portland Slag Cement (PSC), Ground Granulated Blast Furnace Slag (GGBS) and Composite Cement (CC) are already GreenPro Certified and together with the JSW Neosteel it promotes product sustainability by reducing overall environmental impact of the structure over its life cycle.
Opinion Poll
Question : How can India stem inflationary trends likely from the currently all-time-high steel prices?