HRC, TMT steel price cut: CARE Ratings analysis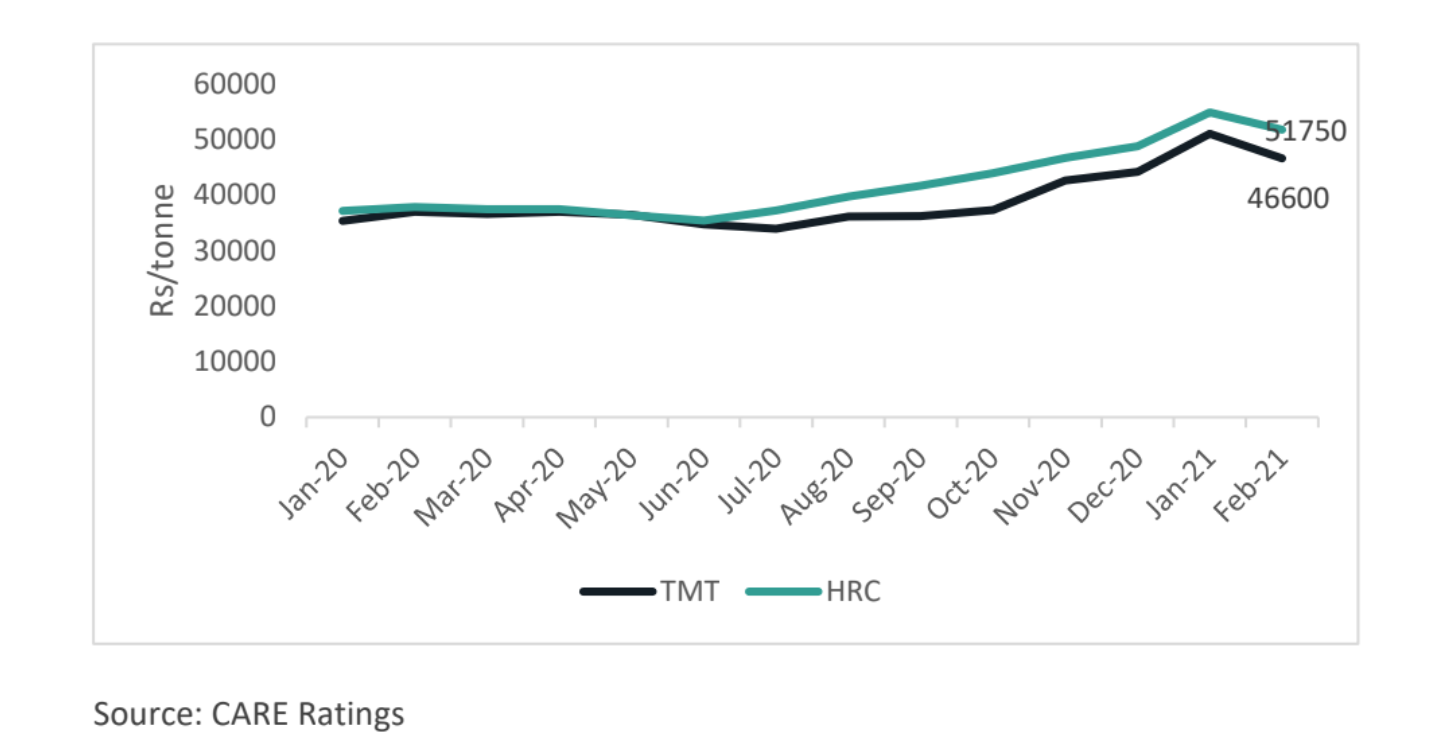 HRC, TMT steel price cut: CARE Ratings analysis
After undertaking several price hikes since August 2020 domestic steel companies have cut prices of HRC and TMT bars in the range of 6-9% m-o-m in February 2021. This came on the back of a correction in iron ore prices. NMDC cut iron ore prices for the first time in seven months by 11-12% due to increased production with the restart of operations at Donimalai mines in Karnataka. The mine has the capacity to produce 0.5 million tonnes of iron ore a month.
Steel prices in China which were driving global prices higher stabilised and remained mostly unchanged during the first half of February 2021 at $ 585 per tonne due to the Lunar New Year holiday period. However, prices increased in the second half to $ 634 per tonne, indicating strong underlying demand in China.
According to the report, other than China, prices have also picked up substantially in the US and European markets since January 2021. In the US market, steel prices have climbed at a nearly 13-year high as domestic supply struggled to keep up with a rebound in demand. The average HRC prices in the US stood at $ 1,271 per tonne in February 2021, which was nearly double the HRC price in India at Rs 51,750 per tonne ($ 709/tonne). The US has a 25% tariff barrier though.
Western Europe HRC price at $ 883 per tonne, ex-works was nearly $174 per tonne higher than Indian HRC prices. An imbalance in the demand and supply is driving steel prices higher. While demand for steel has rebounded sharply supply is lagging as mills are slow in returning to their pre-covid production levels and lead times are getting longer while inventories are low.
Read the CARE Ratings report here.
Opinion Poll
Question : As we enter FY 2021-22, a report estimates a 11% GDP growth. What is the most critical investment the construction and infrastructure sector needs to make this year?