US recorded 16.8 GW wind power capacity in 2020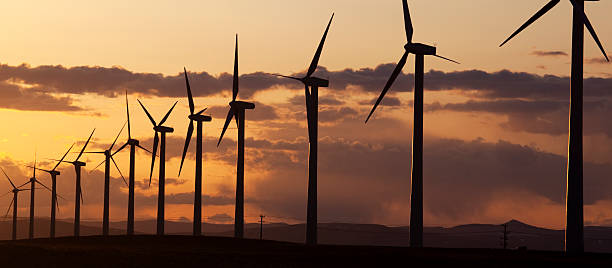 US recorded 16.8 GW wind power capacity in 2020
02 Sep 2021 CW Team
The United States recorded 16.8 GW wind capacity addition in 2020. Wind power was estimated to be 42% of the added capacity in 2020, implying an investment of $24.6 billion.
The levelised prices for newly constructed projects were found to be just more than $33 per MWh, as per a report by the US Department of Energy.
The report was published by Lawrence Berkeley National Laboratory.
Total wind capacity grew to about 122 GW. Additionally, 3,087 MW of existing wind plants were partly repowered in 2020 by enhancing rotors and major nacelle parts of existing turbines.
In 2020, wind energy composed 42% of all new capacity increases, moving forward of solar energy for the first time in many years. It was despite a record-breaking year for solar capacity increases, while natural gas capacity increases dipped to a five-year low.
The national average cost of wind power purchase agreements (PPA) has fallen from a high of $70 per MWh in 2009 to $20 per MWh in the central region of the country and an average of $30 per MWh in the east and west. Low PPA costs have been facilitated by the combination of higher capacity factors, decreasing installation and operation charges, and low interest rates. The production tax credit has also been an important enabler.
Texas established the most capacity in 2020 with 4,137 MW, while 16 states surpassed 10% wind power penetration as a fraction of total in-state production. Oklahoma, Iowa, Wyoming, Illinois, and Missouri all added over 1 GW of new wind in 2020.
Wind generated 68.6% of the electricity sold in Iowa. Kansas with 61.2% and North Dakota with 61.7% were the other states where wind produced over 50% of the electricity sold. Sixteen states have reached wind penetration levels of 10% or above.
The average wind turbine costs were determined to be $775 per kW to $850 per kW. The average established cost of wind plants in 2020 was $1,460 per kW, dipped over 40% since the peak in 2010. These cost reductions, combined with enhanced turbine technology, have exerted downward pressure on project expenses and allowed decreases in wind power costs and the Levelized cost of wind energy.
In 2020, General Electric Company owned 53% of the U.S. market for turbine establishments, accompanied by Vestas at 34% and SiemensGamesa Renewable Energy at 9%. Vestas was also the world's biggest supplier of wind turbines last year across the onshore and offshore wind, as per the preliminary rankings given by the Global Wind Energy Council Market Intelligence.
Jobs related to wind in the United States rose in 2020 to 116,800 full-time workers despite Covid-19.
Independent power generators held 73% of the new wind capacity established in 2020, with the remaining 27% controlled by investor-owned utilities.
As per a report from Wood Mackenzie, a total of 114 GW of new wind capacity was added worldwide in 2020, signifying an 82% rise year-over-year. It is the largest global yearly installation total on record.
---
Also read: India adds 2,488 MW solar capacity in Q2, rising 19% QoQ over Q1