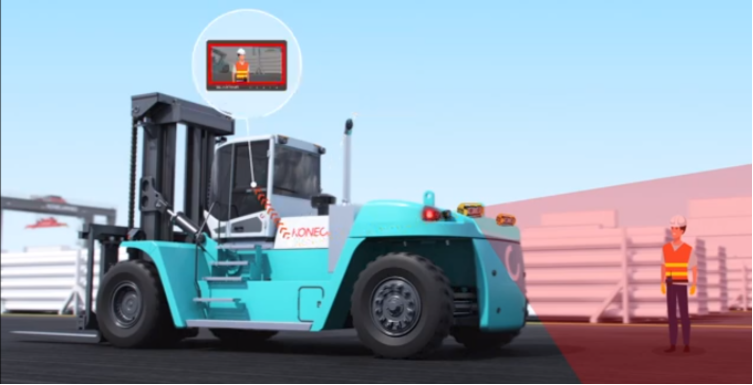 Blaxtair's pedestrian detection system
May 21 2021,06:05 PM CW Team
Blaxtair pedestrian detection system is an obstacle recognition technology that helps prevent collisions between pedestrians and vehicles.
The system uses forklifts to transform industrial and commercial workplaces to improve safety and increase their calibre and performance.
With the pedestrian detection and anti-collision 3D camera, Blaxtair, the driver is only alerted during close calls by the use of artificial intelligence(AI) in distinguishing between objects and people for forklifts and other industrial vehicles.
Blaxtair aims to incorporate technologies like radar or radio-frequency identification (RFID) -based systems to decrease the number of alarms heard by operators so that they stay alert on hearing alarms without being negligent.
Though the introduction of these technologies could bring changes to the current problem, there still exist certain concerns in making them practical.
One is the requirement to wear tagged equipment for RFIDs to be detected as it can be hard to manage for a huge crowd and the other being RFIDs create ineffective alarms when close to a forklift under no dangerous circumstances.
The radar systems can also bring trouble by going off at anything in the protected zone, but the vicinity technologies can come in handy in wide-open spaces with minimum interaction between PIV's and people.
With AI involved, the system is capable of identifying the obstacle as a pedestrian or not by analysing its shape.
In case of an emergency, the driver will be alerted with the intention to avoid a potential accident.
The best quality of Blaxtair is that the system only sends out warnings under genuine threats thereby not affecting productivity.
Blaxtair vicinity detection guarantees total pedestrian safety without unnecessarily distracting the operator creating an ideal workplace.
---
Also read: Dynapac adds safety cabs to its vibratory soil compactors
Also read: Liebherr introduces its smallest mobile construction crane
Opinion Poll
Question : How can India stem inflationary trends likely from the currently all-time-high steel prices?